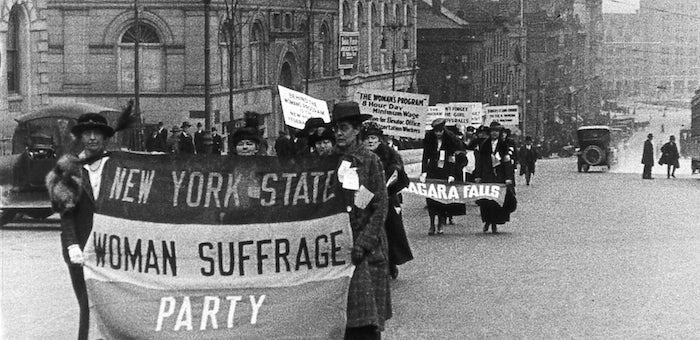 Women's suffrage demonstrators in 1919


Download a sample list of available titles and additional research resources at UCLA in PDF format.
UCLA's Hearst Metrotone News Collection is one of the largest newsreel collections in the world. It contains over 27 million feet of distributed newsreels, unreleased stories and outtakes.
The Hearst newsreel went through a series of incarnations. Beginning in the 1910s, these newsreels were first envisioned as a way to boost Hearst-owned newspaper readership. The tabloid style of Hearst papers would heavily influence the style and content of the newsreels, and arguably television news forms as well. The silent Hearst reels covered topics such as the First World War, the Mexican American War, the Black Sox Scandal, adventurous aviators and North Pole explorers. European royalty were given special attention in the newsreels. The attraction of celebrity served the reel further when it became half-owned by MGM. Distributed with MGM features throughout the 1930s and 1940s, the reel could promote the studio's stars in the guise of news items.
Although the reels were fashioned for the most part to be entertaining, they uniquely document the events of their time. During their heyday, the newsreels presented everything from the battle for recovery from the Depression to the battles of WWII. The onset of television news ended the golden age of the newsreel, but it nonetheless continued to be distributed theatrically well into the 1960s. In addition to providing on-site viewing at the Archive Research and Study Center (ARSC), the Archive's Media Licensing department licenses footage to a variety of U.S. and international productions, including feature films, television documentary series and museum exhibitions.


Watch a selection of newsreel footage on the Archive's YouTube channel.