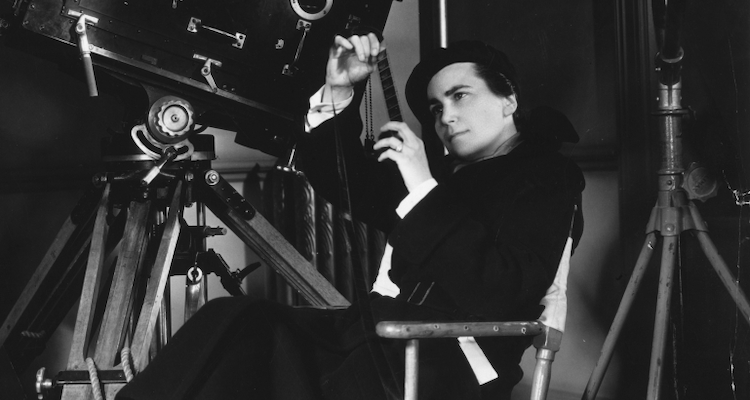 Dorothy Arzner

With over 350,000 motion pictures and 170,000 television programs, and 27 million feet of newsreel footage, the UCLA Film & Television Archive is the largest university-held collection of motion pictures and broadcast programming.
For more information on our collections or to arrange research viewing, please contact the Archive Research and Study Center (ARSC).
Search the UCLA Film & Television Archive's holdings, as well as collections across all 10 UC campuses.
Motion Picture Collection Profiles
Material dating back to the 1890s, including:
Films from major studios; Columbia, Paramount, Warner Brothers, Twentieth Century Fox and others

Industrials and sponsored films

Amateur films and home movies

Independent films from the Sundance and Outfest LGBTQ collections
Donations and deposits from institutions, such as:
American Film Institute

Academy of Motion Picture Arts and Sciences

Directors Guild of America

Stanford Theatre Foundation
Donations and deposits from renowned individuals, such as:
Robert Altman, Hal Ashby, Mayme A. Clayton, Donna Deitch, Cecil B. DeMille, Arthur Dong, Cheryl Dunye, Todd Haynes, Dustin Hoffman, Rock Hudson, Stanley Kramer, Liza Minnelli, George Pal, Rosalind Russell, John Sayles, Sandi Tan, Hal Wallis, William Wyler, King Vidor, Loretta Young
Television Collection Profiles
The John H. Mitchell Television Collection at UCLA Film & Television Archive consists of over 170,000 holdings spanning the entire course of broadcast history, such as:
DuMont TV

Primetime and Los Angeles area Emmy Award nominees and winners

KTLA newsfilm

ABC-TV Collection of over 20,000 titles, early television dating back to the late-1940s

Over 10,000 commercials

50 years of Hallmark Hall of Fame broadcasts

A significant collection of Golden Age anthology dramas

Over 100,000 news programs and broadcasts taped off the air from 1979 to 2003
Hearst Metrotone News Collection
The Hearst Metrotone News collection is one of the largest newsreel collections in the world, containing over 27 million feet of theatrically released newsreels, unreleased stories and outtakes that span 1914 through 1968. In 1981, the bulk of the Hearst Metrotone News collection was donated to the Archive along with the copyright for these materials.
Audio Collection
The Archive Research and Study Center audio collection consists of:
A wide selection of radio programming, including The Goldbergs and series by Ralph Edwards Productions

Audio-only segments of special UCLA Film & Television Archive and UCLA School of Theater, Film and Television events

Unabridged interviews with 1970s-era filmmakers conducted during the production of the IFC documentary, A Decade Under the Influence (2003).