Representative works from UCLA Film & Television Archive's groundbreaking "L.A. Rebellion: Creating a New Black Cinema" exhibition will screen in select North American cities, showcasing new prints and restorations.
A milestone in American cinema, the L.A. Rebellion began in the late 1960s when a number of promising African and African American students entered the UCLA School of Theater, Film, and Television. From that first class through the late 1980s these filmmakers forged a unique and sustained alternative Black cinema practice in the United States. Their frequent collaborations with other students of color and engagement with cinemas and concerns of the Third World created fascinating, provocative and visionary films that have earned an impressive array of awards and accolades at festivals around the world, in addition to blazing new paths into the commercial market.
In this tour, we proudly present 36 titles that range from well-known works securely in the canon to others seldom seen since school days, such as: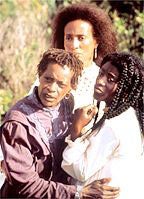 • A new print of Julie Dash's Daughters of the Dust (1991), the first American feature directed by an African American woman to receive a general theatrical release
• A new print of Haile Gerima's influential first feature, Bush Mama (1975), a study of a Watts welfare mother's political awakening
• The newly restored Water Ritual #1: An Urban Rite of Purification (1979), Barbara McCullough's depiction of a Black woman's attempt to cleanse herself and her blighted urban environment
• A new print of Jamaa Fanaka's Emma Mae (1976), a portrait of a young Black woman from the South and her difficult adjustment to life in the big city
• A new print of Ben Caldwell's I & I: An African Allegory (1979), an experimental mix of drama and documentary
• A new print of Larry Clark's rare masterpiece, Passing Through (1977), about a jazz musician released from jail, searching for his mentor and grandfather
• A new print of Alile Sharon Larkin's A Different Image (1982), in which a woman living away from her family yearns to be recognized for more than her physical attributes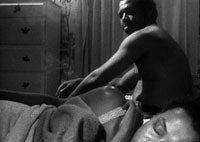 • The newly restored Bless Their Little Hearts (1984), a collaboration between director Billy Woodberry and writer/cinematographer Charles Burnett that focuses on a black family in crisis
• The director's cut of Charles Burnett's My Brother's Wedding (1983/2007), a tragicomic portrait of a young man's complex relationship with his Watts community
• Zeinabu irene Davis' Compensation (1999), which depicts two Chicago love stories, one set at the dawn of the twentieth century and the other in contemporary times
• and much more!
Tour dates and venues:
October 25 – November 24, 2013
Atlanta, GA

Emory University, Georgia State University and
Atlanta Film Festival

May 23 & June 6, 2013
Evanston, IL
Block Cinema at Northwestern University
April 25 – June 7, 2013
Chicago, IL
Film Studies Center at the University of Chicago
April 21 – May 13, 2013
Silver Spring, MD
AFI Silver Theatre
April 16 – May 6, 2013
Boston, MA
Harvard Film Archive
March 28, 2013
Chicago, IL
Conversations at the Edge at the
School of the Art Institute of Chicago
March 3 – April 20, 2013
Washington, D.C.
National Gallery of Art
March 1 – March 24, 2013
Seattle, WA
Northwest Film Forum
February 2 – February 24, 2013
New York, NY
Museum of the Moving Image
January 31 – February 19, 2013
Toronto
TIFF Cinematheque
January 5 – January 26, 2013
Philadelphia, PA
International House Philadelphia
September 6 – October 30, 2012
Berkeley, CA
Pacific Film Archive