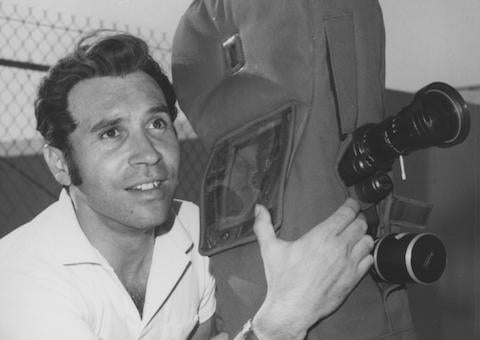 Pat Rocco
We are deeply saddened by the passing of Pat Rocco, a pioneering filmmaker, activist and friend of the Archive, who died on November 8, 2018 at the age of 84. Beginning in the late-1960s, Rocco produced a vast and remarkable body of work, from gay erotic short films to documentaries capturing the burgeoning gay rights movement. He was also an active member of the LGBTQ community, co-organizing the very first L.A. Pride parade and serving in leadership roles at the Hudson House (an emergency shelter for LGBTQ people) and other organizations.
Pat Rocco was born Pasquale Vincent Serrapica in 1934 to an Italian-American family in Brooklyn, New York. As a charismatic, openly gay youth, Rocco pursued a career in entertainment in Southern California, singing and appearing on televised talent shows. A job as a photographer of male nude studies turned into a successful mail-order business of his own 8mm and 16mm films. Shown publicly for the first time in 1968 in L.A.'s Park Theatre, Rocco's films were widely embraced by the gay community and favorably reviewed by mainstream press. The films were ecstatic affirmations of gay love and identity, groundbreaking at a time when homosexual activity remained illegal. "They were the first really overt gay films with nudity in a public theater […] they had something to say that was positive," said Rocco in a 1983 interview. The significance of the films was deeply felt: "I've had a number of people tell me that 'I came out because of your films.' I can't tell you, the letters, the phone calls, the things like that. 'They made me feel like I was not alone.' 'They gave me a real positive feeling about myself because I could relate to the people on the screen.'" What was once a clandestine, black-market activity became a celebratory event.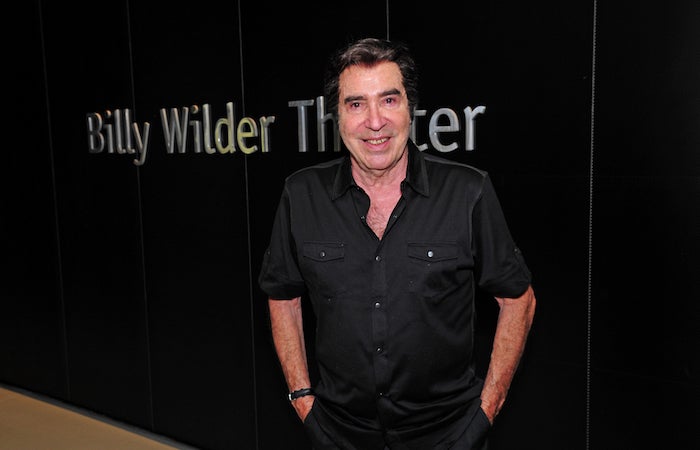 Pat Rocco at the Billy Wilder Theater, 2014
In addition to his gay erotic shorts and features, Rocco shot footage of LGBTQ demonstrations, parades, festivals and other events, providing some of the only existing moving images of the major beginnings of the gay rights movement. He addressed the discriminatory practices of law enforcement and businesses against the queer community. And he documented the places where queer culture thrived in Los Angeles—in Hollywood, Echo Park, Los Feliz and beyond.
The UCLA Film & Television Archive is honored to be the caretaker of Pat Rocco's prolific and historically important legacy. The Pat Rocco collection, which includes 840 holdings, has been with the Archive since the mid-1980s, and continues to be one of the most frequently utilized resources by historians and media scholars. Several of his films have been restored as part of the Outfest UCLA Legacy Project.
"For the past 30+ years, the UCLA Film & Television Archive has been extremely honored to serve as the guardian and conservator of Pat Rocco's unparalleled, pioneering film career. By the time Mr. Rocco approved the symbolic-placing of his moving image collection into the then-newly named Outfest UCLA Legacy Project in 2007, his body of work had already long-proved to be the most regularly accessed LGBTQ collection in the Archive. On a personal note, Pat was the first filmmaker I began regularly communicating with when I started at the Archive in 2000 and I am eternally grateful to him and his partner David for their friendship and support through the years. Pat's unwavering enthusiasm and hands-on approach to his collection emphasized his constant drive to share his groundbreaking social activism in order to inspire a new generation of LGBTQ youth. I am honored that we will continue to pursue the preservation and exhibition of Pat Rocco's historic legacy for generations to come via the Outfest UCLA Legacy Project."—Todd Wiener, Motion Picture Archivist.
In memory of Pat Rocco, the UCLA Film & Television Archive, Outfest and the ONE National Gay & Lesbian Archives will co-host a memorial tribute and screening at the Billy Wilder Theater on Friday, March 15 at 7:30 p.m.

View a selection of highlights from the Pat Rocco collection: 
Learn more about Pat Rocco
Discover the Pat Rocco Collection at UCLA, which features hundreds of his gay erotic shorts, features, documentaries and home movies. This blog is a behind-the-scenes look at the work being done to process the collection.
Read an essay about Pat Rocco by historian Whitney Strub.
Read an extensive oral history with Pat Rocco from 1983.
Read a tribute from the ONE National Gay & Lesbian Archives.
Search the Pat Rocco Papers at the ONE National Gay & Lesbian Archives, which include photographs, scripts and other documents related to Rocco's career.
—Jennifer Rhee, Digital Content Manager