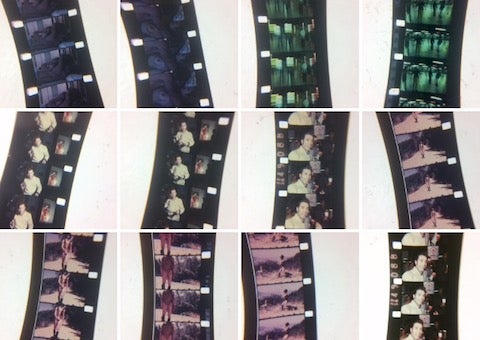 This summer I had the great pleasure of interning at the UCLA Film & Television Archive in Santa Clarita, California.  The recent summer break marked the end of my first year as a graduate student in the UCLA Department of Information Studies, where I am working on an MLIS degree with a concentration in Media Archival Studies.  I had recognized the Archive's great contributions to the film preservation community, and was thus very eager to utilize the Archive as a learning resource and a complement to my media-centric MLIS curriculum.  Mostly, I was happy to finally obtain small-gauge film processing experience.
Coursework at UCLA inspires students to develop a critical perspective on current methods and matters within the Information Studies (IS) field.  IS students learn about the varied ways in which media repositories, policies and workflows function at different institutions, and they are fortunate to be able to gain such knowledge directly from local media archivists and preservationists.  Students hungry for practical experience are encouraged by the IS department to seek out internships and volunteer work so that they can accrue skills that might not be foregrounded in traditional coursework.  Internships are integral to students in our field, providing a first-hand look at the routines and realities faced by archivists on a daily basis.  Here we can cut our teeth and learn how to perform basic film conservation such as tape splice repairs.  We can also learn how to properly wind a reel to a new core (and believe me, this takes much time, patience and repetition).  We are additionally taught why old elements need to be inspected, re-housed, and re-labeled, and how important it is to create accurate and concise database records.


| | |
| --- | --- |
| | |

Although I entered into this program with a great deal of knowledge of cinema history and technology, my material experience with film was still at novice level.  The extremely hands-on nature of my processing internship at the Archive was like a crash course in small-gauge handling.  By the end of my internship, I found that I was relatively comfortable handling a variety of film formats, including 16mm, 8mm, Super 8 and some magnetic sound.
Common with processing internships, I worked predominantly on a single collection: the Pat Rocco holdings, which are housed under the Outfest UCLA Legacy Project for LGBT Moving Image Preservation.  Rocco's vast collection is held on deposit at the Archive, and is one of the most utilized resources by scholars, researchers, historians and others interested in LGBTQ culture.  Already an entertainer for many decades, Pat Rocco had been a fundamental figure as an L.A.-based amateur erotic filmmaker and, years later, as an activist and documentarian of the city's budding LGBTQ movement from the 1960s through the 1980s.  In conjunction with Outfest Legacy UCLA Project, the Archive has inventoried and preserved many of Rocco's erotic works and demonstration footage, including First Los Angeles Gay Pride Parade (1970) and Harvey Milk's "Hope Speech" (1978).


| | |
| --- | --- |
| | |

Access and preservation are goals held dearly by the Archive, therefore my internship served to help fulfill these two goals.  My day-to-day job centered on identifying unidentified elements within the Pat Rocco collection.  I wound through 8mm and 16mm film reels and searched for identifying markers that might indicate a film title, time period, place, actor, and other details.  Identification can be a cumbersome task, but two things made my workflow easier: the Archive's vast Pat Rocco Collection inventory list, and the fact that Rocco was adamant about crediting himself as a media creator.  I would always search first for title cards—once they were found, I prepared films for re-housing.  When Rocco films lacked title cards, further research was needed to help figure out what the movie might be.  Luckily, many Rocco titles have been digitized by the Archive and made available at the Archive Research and Study Center (ARSC), their access portal located at UCLA's Powell Library.  Here, students can request DVDs and video access copies from the Archive's vast collection.  Since I had spent my first few days as an intern viewing Rocco footage at ARSC, I was modestly familiar with some of his more well-known narrative films and documentaries.


| | |
| --- | --- |
| | |

The cans, reels and cores came in varying conditions.  Some reels were tightly wound and in fine shape while others were in desperate need of assessment and/or minor conservation.  The most troubling reels consisted of separated strips (usually trims/outs) that were wound overlapping each other.  If one were to wind through these reels, the non-spliced strips would fall apart and "bloom" out, making it very difficult to store or put back together.  On the other hand, many tape splices were performed on the 8mm and 16mm reels, as a combination of time-based degradation, lack of winding, and pre-existing splices highlighted the fragility of Rocco's collection.  Luckily, few reels exhibited major color fading, and only a handful displayed signs of vinegar syndrome.


| | |
| --- | --- |
| | |

A surprising number of inspected elements consisted of 16/8mm film negatives.  16/8mm reels appear to be normal 16mm negatives—but closer inspection indicates that they feature two 8mm negatives printed opposite each other onto a 16mm film reel in an "up and down" fashion.  This was common practice for amateur filmmakers who wanted to save money on film processing and printing costs.  As such, these elements pose somewhat unusual problems for archivists who have to grapple with best preservation and conservation practices.  Most of the negatives existed in this 16/8mm format, whereas film prints ranged from standard 8 to Super 8 and 16mm film.  Negatives were often silent (featuring no soundtrack), while film prints were either silent or contained optical or magnetic soundtracks.  Although Rocco's erotic shorts lacked dialogue, they often made use of lush orchestral scores or upbeat rock 'n' roll soundtracks.
Rocco's erotic films and early activist work have been preserved by the Archive and made accessible for audiences ranging from amateur enthusiasts to professional scholars.  I encourage all to visit ARSC and view the Rocco holdings and the rest of the Outfest UCLA Legacy Project Collection.


About the author
Jon Naveh is currently an MLIS student in the Information Studies department, where he is specializing in Media Archival Studies.  He also holds a B.A. in Contemporary History & Film Studies from SUNY Potsdam and an M.A. in Film Studies from Ohio University.  His research interests include the history of film archiving, the preservation of ephemeral and marginalized cinemas, and surveillance image-production, technology, and storage.


| | |
| --- | --- |
| | |

"We're thrilled with Jon Naveh's recent work on the Pat Rocco Collection — particularly since it is one of the main cornerstones of our massive Outfest UCLA Legacy Project Collection at the Archive (currently over 39,000 holdings).  Due to the fact that Rocco's collection has been with the Archive since the mid-1980s, it is one of the few Legacy Project collections that has benefited from previous extensive cataloging and therefore is the most widely utilized by researchers.  However, out of the 840 holdings in Rocco's collection, about 125 remained elusively unidentified.  As we are stretched thin with so many various curatorial duties each and every day, it was fantastic to have someone come in and specifically focus on this remaining identification.  This specific project is a wonderful example of how securing additional curatorial and cataloging resources could be employed to enhance the many other under-identified and under-utilized collections in the Legacy Project." — Todd Wiener, Motion Picture Archivist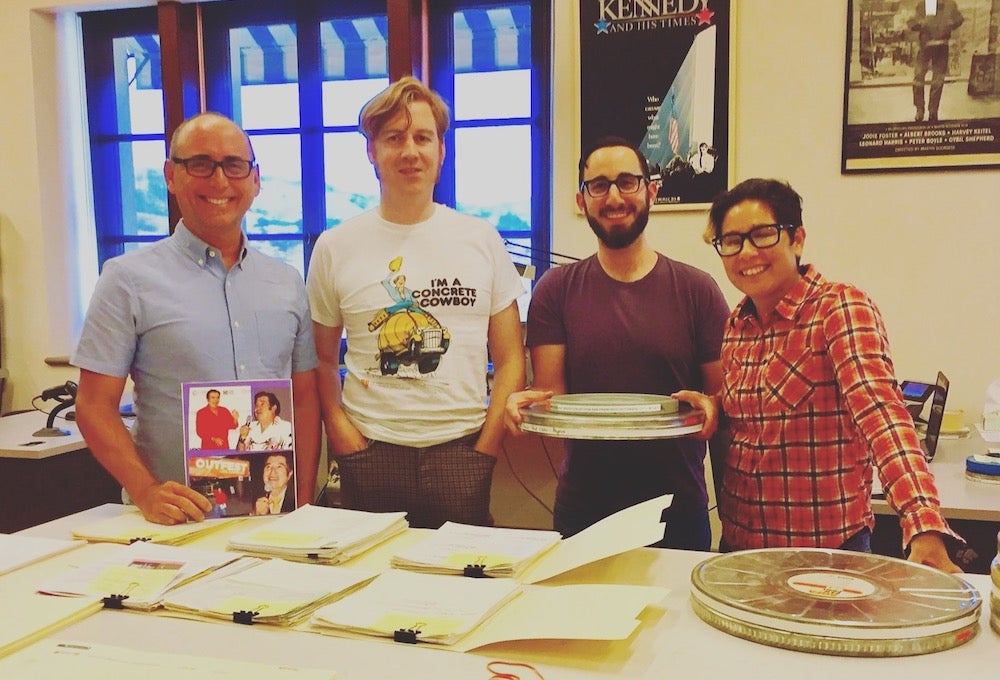 Left to right:  Motion Picture Archivist Todd Wiener, Collection Services Assistant Wallace Meek, Jon Naveh, Collection Services Manager Lisa Fuguet.  Photos courtesy of Jon Naveh.



Related readings on Pat Rocco
Hey Look Me Over: The Films of Pat Rocco