With over 35,000 holdings in our collection, the Outfest UCLA Legacy Project for LGBT Film Preservation has established itself as the leading archive for LGBT media preservation.
Here are a few sample areas:
ONE National Gay & Lesbian Archives Collection (1965-1999)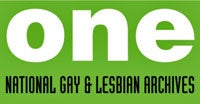 This Collection consists of film and video materials from the ONE National Gay & Lesbian Archives, the world's largest research library and archive devoted to lesbian, gay, bisexual and transgender (LGBT) concerns. The Collection features film and video materials that reflect the history of the lesbian, gay, bisexual and transgender community, including interviews with pioneers of the LGBT movement such as Jim Kepner, Dorr Legg, Morris Kight, Pat Rocco, Stewart Szidak, Bob Basker, Cliff Anchor, Sarah Dreher and Samuel Steward. Other notable materials included are mental hygiene films, AIDS awareness videos from the Los Angeles County AIDS Office, Christopher Street West parades in Los Angeles, gay protests in Washington D.C. and the film and video collection of female impressionist Charles Pierce (1926-1999). The collection also includes erotica and sexually explicit adult films and video.
For additional information, consult the Collection's Archive Catalog record.
Download an informal list of approximately 1,700 moving image holdings in the ONE National Gay & Lesbian Archives Collection of film and video at UCLA as a PDF document.
GLAAD Trans and Intersex Media Collection (1984, 1992, 1999-2006)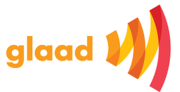 The Gay & Lesbian Alliance Against Defamation (GLAAD) is a non-profit organization of LGBT activism that is dedicated to promoting and ensuring fair, accurate and inclusive representation of people and events in the media as a means of eliminating homophobia and discrimination based on gender identity and sexual orientation. GLAAD was founded in 1985 in New York City in direct response to allegedly inaccurate, defamatory and sensationalized coverage of the AIDS epidemic by the New York post. GLAAD's influence soon spread to Los Angeles where organizers began working with the entertainment industry to change the way gay men and lesbians were portrayed on screen. One of GLAAD's more visible programs is the annual GLAAD Media Awards, which honor individuals and projects in the mainstream media and entertainment industries for their fair, accurate, inclusive and favorable representations of the LGBT community and the issues that affect their lives.
This Collection of reference videocassettes and DVDs documents GLAAD's designation of positive and defamatory media potrayals of trans and intersex people. The collection consists predominantly of television entertainment programming such as the 2003 Court TV coverage of the Michael Kantares trial (a female-to-male transexual seeking custody of his children), 2002 media coverage of the killing of transgendered teen Gwen Araujo and portrayals of transgender and intersex people in made-for-TV movies, documentaries and television series such as The Sopranos (1999-2007), Ally McBeal (1997-2002), Friends (1994-2004), Nip/tuck (2003-), The Oprah Winfrey Show (1986-), Dr. Phil (2002-), Entourage (2004-) and Ugly Betty (2006-). The collection consists of 1/2-inch VHS videocassettes, 1/2-inch Betacam SP videocassettes and DVDs.
Collection List: Download an informal listing of approximately 285 videocassettes and 175 DVDs holdings in the GLAAD Collection at UCLA as a PDF document or an Excel spreadsheet.


Television Holdings
In addition to feature films and shorts, the Outfest/UCLA Legacy Collection includes television programs, public service announcements, commercials, music videos and electronic press kits.
Download the Outfest UCLA Legacy Project Television Study Guide.


Q Television Network LGBT Collection (2005 - 2006)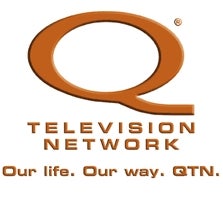 Q Television Network (not to be confused with the San Francisco cable program QTV News Magazine) was a national gay television cable television channel programmed for LGBT audiences. The short-lived, ambitious channel produced and aired a wide spectrum of original entertainment and news and public affairs programming. QTN World News, a program of the Q Television Network, aired from August 2005 until the network went off air in May 2006 and was one of the first live daily half-hour newscast focused on gay and lesbian issues. The news program  reported  on domestic and international issues and was noted for its for its HIV/AIDS reporting. Personalities associated with QTN programming included Jack E. Jett, Jackie Enx, Rob Williams, Elizabeth Melendez, Nick Oram, Steve Kmetko, Honey Labrador, Joe Bechely, Reichen Lehmkuhl, and Chrisanne Eastwood. The network ceased regular operations in 2006 amid controversy and legal issues regarding its labor practices and fiscal management.
Original text from a 2005 Q Television Network press release:
"This 24/7 premium television network is organized to create, develop and feature television programming for the gay and lesbian community, including live & interactive content every weeknight, plus sports, information and entertainment. While the company expects much of its subscriber base to be comprised of members of the gay and lesbian population, management also believes that quality programming about the gay and lesbian experience, designed to entertain, educate and inform, will attract many other segments of the viewing public. The company's programming is available on a subscription basis to those desiring to subscribe. The network is telecast 24 hours per day, 7 days per week. Providing distribution via satellite ensures availability of the network across the United States, including Alaska, Hawaii and Puerto Rico. Q Television Network is the official network of Gay Games VII. The network is also ad-supported."
UCLA Film & Television Archive has a collection of over 5,500 holdings of Q Television Network programming, including titles such as The Queer Edge, Q On the Move, On Q Live, In Focus, coverage of the Gay Games, and much more.
Download an informal listing of the Archive's Q Television Network Collection as a PDF document.
To arrange onsite research viewing access, please contact the Archive Research and Study Center (ARSC).


Alexandra Juhasz:
Women of Vision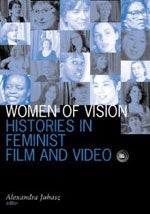 The Legacy Collection includes unedited oral history interviews conducted by media scholar Alexandra Juhasz for her documentary Woman of Vision: 18 Histories in Feminist Film & Video (1998). These interviews with independent and experimental film and video filmmakers offer a detailed history of feminism and feminist film and video, from the 1950s to the present. Transcripts of the interviews are also available for study.
Download a list of the interviews. For a summary of each interview, and additional information on the interviewees, consult the Archive Catalog record.
"The Legacy Project insures queer mediamakers that the traces of our work, images, efforts and stories will stay available to history." - Alexandra Juhasz
Pat Rocco Collection (ca. 1948-2000)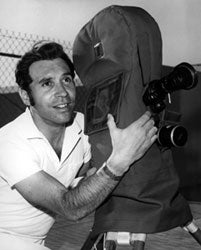 A collection of gay erotic shorts, home movies and other material, approximately 700 items.
Pioneering activist and filmmaker Pat Rocco produced short-form gay erotica in the 1960s that was widely embraced by the gay community, and received positive reviews from the mainstream press, including Variety, the Los Angeles Times, and Playboy magazine. Rocco's prolific output of erotic films slowed in the early 1970s as market preferences shifted toward hardcore fare. In the late 1960s through the 1980s, Rocco shot historically important footage of gay demonstrations, parades, marches, festivals and events, providing some of the only existing moving image documentation of the major beginnings of the gay rights movement in the U.S.
The collection features Pat Rocco's gay erotic shorts, features, documentaries, and home movies including footage of gay pride parades, demonstrations, and events and festivals. Films include Yes (ca. 1968), Disneyland discovery (1969), Let there be boys (1969-1970), Sign of Protest (1970), Sex and the single gay (1970), Mondo Rocco (1970), Drifter (1974), and We were there (1976), Rocco's documentary about gay pride events in Los Angeles and San Francisco during the U.S. bicentennial year.
Download an informal listing of over 700 holdings in the Pat Rocco Collection as a PDF document or an Excel spreadsheet.



John Canaly (Canalli) Collection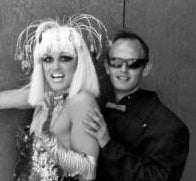 Notable independent filmmaker John Canaly (often credited as "Canalli") continually wrote and produced LGBT-themed dramas and documentaries until his untimely death from AIDS in the spring of 1992.  An active leader in LGBT film programming, Canaly served as Assistant  Film Festival Director for the 9th International Lesbian and Gay Film Festival in 1985, where his dramatic short One Sings was screened. Canaly went on to develop the Gay Video Festival in San Francisco in 1986,  and later co-developed west coast programming for the Gay Cable Network, which featured interview programs produced out of San Francisco  and New York.  Canaly also documented the AIDS crisis, writing and producing Heroism : A Community Responds, which highlighted the gay community rising in crisis and coming together to take care of one another by founding  "meals on wheels, "and other forms of compassionate outreach.   Among his most celebrated works,  Canaly produced a number of video documentaries about "Wigstock," a popular annual drag performance party in New York City's Tompkins square park.
As part of the ONE National Gay & Lesbian Archives Collection and the Outfest UCLA Legacy Project for LGBT Film Preservation, the John Canaly (Canalli) collection is available for research viewing at UCLA by appointment.  The collection includes interviews with Canaly, numerous examples of his work including Wigstock outtakes, the documentary Heroism : A Community Responds, and excerpts from unfinished works.
Andre Burke Collection
This collection of films by writer-director Andre Burke includes award-winning works such as the experimental video A (1986), a controversial evocation of AIDS hysteria, and Carrier (1984), a super-8 postmodern odyssey across the streets of Los Angeles. The collection also includes Burke's stark black and white drama, Pleas, which gained notoriety at the 1987 Berlin Film Festival with its graphic depictions of erotic bondage.
Burke's films have been featured at such diverse venues as the Torino Festival Giovani, Kijkhuis Video Festival in The Hague, AFI Los Angeles Video Festival, Collective For Living Cinema, the New Museum, Intermedia Arts Foundation, Los Angeles Contemporary Exhibitions, the Los Angeles Municipal Museum and others. Burke's honors include first prize of the "Sony-Visions of U.S." competition, the AFI Student Video Competition and others. He received his Master's Degree in Film Production from UCLA, his BA in physics from Harvard University, and studied computer science at the University of Paris with a fellowship from the Rotary Foundation.
Download an informal listing of Andre Burke Collection as a PDF document.


Arthur Dong Collection at UCLA
Acquired in collaboration with the Outfest UCLA Legacy Project and the Sundance Institute, the Arthur Dong Collection at UCLA Film & Television Archive includes archival masters and invaluable extended interviews and production outtakes from the award-winning independent filmmaker's landmark documentaries Forbidden City, USA (1989), Coming Out Under Fire (1994), Hollywood Chinese (2007) and many others.
For more information on the Arthur Dong Collection, please visit the collection profile.