Examples of available LGBTQ+ materials in the general collection of the UCLA Film & Television Archive.
Additional LGBTQ+ materials can be found in the Outfest UCLA Legacy Project collection.


Motion Pictures
Stereotypical gay characters and gay subtexts can be discerned in older Hollywood films such as Tillie's Punctured Romance (1914), Turnabout (1941), and Red River (1948); the works of gay filmmakers such as George Cukor and Dorothy Arzner can also be studied for evidence of a gay sensibility interpreting heterosexual subject matter.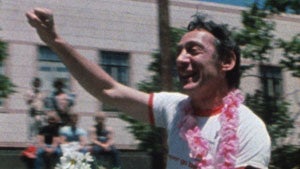 A franker portrayal of gay characters and themes emerges in films beginning with Tea and Sympathy (1956) and continuing through The Killing of Sister George (1968), Making Love (1982), Torch Song Trilogy (1988), Stonewall (1995), The Talented Mr. Ripley (1999), etc. Documentary features about the gay rights movement and gays in American life include The Times of Harvey Milk (1984) and The Celluloid Closet (1995).
Short films include many examples of gay erotica produced in the late 1960s by Pat Rocco and extensive footage of early Gay Pride celebrations (1970-5), also shot by Mr. Rocco.
Learn more about the Motion Picture Collections.


Television
Television comedy and dramatic series with significant gay characters include Soap (1977-81), Brothers (1984-9), Ellen (1994-8), Will and Grace (1998-2006), Queer As Folk (2000-2005), and The L Word (2004-). Single programs include Out of the Shadows (1970), What If I'm Gay (a "CBS Schoolbreak Special," 1987), The Truth About Jane (2000), and a rare program about transsexuals, Changing Gender (2001).
Download the LGBTQ Television Movies Study Guide.
Download the LGBTQ Episodic Television Study Guide.


News and Public Affairs
National and local news broadcasts collected by the Archive occasionally feature public figures who are gay and stories on topics such as gays in the military and gay rights. Gay-themed public affairs programs include Gay Power, Gay Politics (1980) and the West Hollywood Citychannel 10 series Get Used to It (1995-). Gay-themed stories have also been broadcast on more general public affairs programs such as Larry King Live, Dateline NBC, CNN Today and 20/20. The AIDS crisis has been dramatized in TV movies and mini-series such as An Early Frost (1985), And The Band Played On (1993) and Angels in America (2003). Non-fiction coverage includes the specials Remember My Name and An Epidemic in Fear.
Learn more about the News and Public Affairs (NAPA) Collection.


Lifestyle Update
The UCLA Film & Television Archive holds over 70 installments of Lifestyle Update, a Los Angeles-based cable access public affairs program which examined a wide range of LGBTQ issues. In programs from 1986-89, health, science, and sociopolitical concerns relevant to the emerging AIDS crisis are extensively explored. The series also covered important political and activist events, such as the National March on Washington for Lesbian & Gay Rights, and the first benefit for the Minority AIDS Project. Prominent guests featured on the program included Randy Shilts, author of And the Band Played On and Gay Liberation movement pioneer, Harry Hay. Entertainment and lifestyle features included segments with the performer Divine and film director John Waters and coverage of regional and national events such as the 2nd Annual California Gay Rodeo and the 16th Annual Gay Pride parade.
Download the Lifestyle Update Collection Profile.