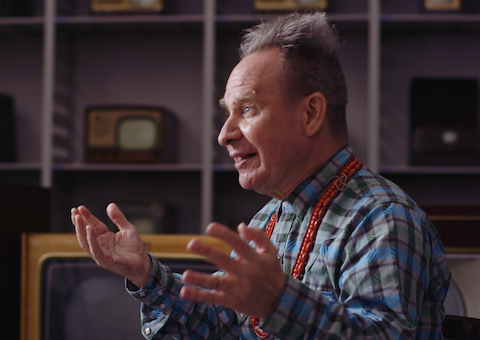 UCLA Distinguished Professor Peter Sellars

"See the Bigger Picture" is a series of short films from the UCLA Film & Television Archive made by UCLA alumni and student filmmakers. The goal of each film is to present a unique story — and to expand the view into the regenerative role of the Archive, from advancing UCLA's research mission and preserving cultural heritage to showcasing international cinema and championing historically marginalized creators and communities.
The UCLA Film & Television Archive expands the view and understanding of global cultures, histories and modes of storytelling by showcasing various national cinemas through its public programs and research initiatives. Over the decades, the Archive has premiered in the U.S. works by filmmakers who have become major international figures, including Pedro Almodóvar, Hou Hsiao-hsien, Abbas Kiarostami, Arturo Ripstein, Mani Ratnam, Tsai Ming-Liang and Wong Kar-Wai. It has also presented retrospectives and surveys of contemporary work from Brazil, China, the Czech Republic, Greece, Italy, Japan, Mexico, Taiwan and beyond, including the UCLA Celebration of Iranian Cinema, a three-decade-long tradition. At UCLA Powell Library, the Archive Research and Study Center (ARSC) facilitates research and educational opportunities focused on the Archive's international collections for the design of innovative classroom curriculum and the production of groundbreaking scholarship.
In 2017, the Archive launched Recuerdos de un cine en español: Latin American Cinema in Los Angeles, 1930-1960, funded in part by the Getty initiative, Pacific Standard Time: LA/LA. This significant survey of Latin American cinema culture in the United States and its exhibition history in downtown Los Angeles brought together restoration, public programming and education by re-introducing to viewers—in the theater and the classroom—celebrated titles such as Romance tropical (Puerto Rico, 1934), Enamorada (Mexico, 1946) and Los tallos amargos (Argentina, 1956), and led to the book project Cinema Between Latin America and Los Angeles (Colin Gunckel, Jan-Christopher Horak, Lisa Jarvinen, eds., Rutgers, 2019).
Scholars also consult the Archive's catalog to examine Hollywood's place in the global film community. The Archive has one of the most complete collections of film and television from the career of Anna May Wong, who was Chinese American and one of the most prominent actors of Asian heritage working in Hollywood during the 1930s. For her book, Anna May Wong: Performing the Modern (Temple University Press, 2019), Shirley Jennifer Lim visited ARSC to study Wong's feature films, appearances in Hearst newsreels and the rare episode of ABC's travelogue series Bold Journey, "Native Land" (1957), featuring Wong, to better understand the performer's international influence. ARSC works closely with UCLA faculty and students to facilitate collection materials for class instruction and course assignments; international titles screened include Gamperaliya (1964), the first independent film from Sri Lanka (formerly Ceylon), restored by the Archive in 2009, and Anders als die andern (Different from the Others, 1919), a German silent film that is arguably the earliest surviving full-length film featuring a gay protagonist, restored by the Archive in 2013.
Learn more about the Archive Research and Study Center and how to make a research viewing appointment.
—Maya Montañez Smukler, Archive Research and Study Center Officer


Further reading and viewing:
"See the Bigger Picture with Chon Noriega" by John H. Mitchell Television Curator Mark Quigley.
"See the Bigger Picture with Zackary Drucker" by Motion Picture Curator Todd Wiener.