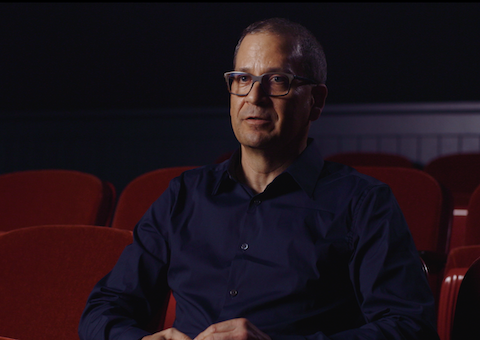 UCLA Distinguished Professor Chon Noriega

"See the Bigger Picture" is a series of short films from the UCLA Film & Television Archive made by UCLA alumni and student filmmakers. The goal of each film is to present a unique story — and to expand the view into the regenerative role of the Archive, from advancing UCLA's research mission and preserving cultural heritage to showcasing international cinema and championing historically marginalized creators and communities.
Partnerships with campus departments and faculty are the fuel that drives much of what the UCLA Film & Television Archive is able to accomplish. UCLA School of Theater, Film and Television Professor Chon Noriega's immeasurable, decades-long contributions to the Archive represent the heights such teamwork can reach — especially in regard to key access and preservation initiatives involving the television collection at UCLA.
One significant illustration of this partnership is the Archive's recent multi-phase project around the Chicano public affairs television program Reflecciones (KABC-TV, 1972-74). This landmark local series offered Chicana/o/x perspectives as an alternative to mainstream news sources, whose coverage often ignored or stereotyped people of color. Viewed today, episodes of Reflecciones provide a critical moving image record of how Chicana/o/x communities represented themselves during a pivotal time of social change in Los Angeles. Thanks to the collective efforts of the UCLA Chicano Studies Research Center, Prof. Noriega, and the support of the John H. Mitchell Television Endowment, over 50 endangered videotapes of the Reflecciones series have been preserved by the Archive. These rare holdings are now available for individual research, classroom screenings and course reserves at UCLA through the Archive Research and Study Center in Powell Library. In addition, plans are currently in development to make the newly digitized holdings available for online study with the Archive's partners in UCLA's Digital Library Program.
As part of other collaborative efforts to serve diverse constituencies, Prof. Noriega frequently introduces Archive television holdings to audiences at the Billy Wilder Theater and beyond. From contextualizing Ricardo Montalbán's groundbreaking role in an NBC-TV production of "The Fantasticks" (1964) at the UCLA Festival of Preservation to moderating a virtual event commemorating the 50th anniversary of the Chicano Moratorium, Prof. Noriega continues to be an invaluable contributor to the Archive's mission of enriching and expanding the knowledge base for students, researchers and the public at large. Most recently, Prof. Noriega presented a screening of the cable access work Imperfecto (1983) with its director, acclaimed Chicano artist Harry Gamboa Jr., as part of the Archive's just-completed Orphan Film Symposium: All-Television Edition.
—Mark Quigley, John H. Mitchell Television Curator


Read about and watch "See the Bigger Picture with Zackary Drucker" on our blog by Motion Picture Curator Todd Wiener.
Please check our blog next week for another "See the Bigger Picture" spotlight.