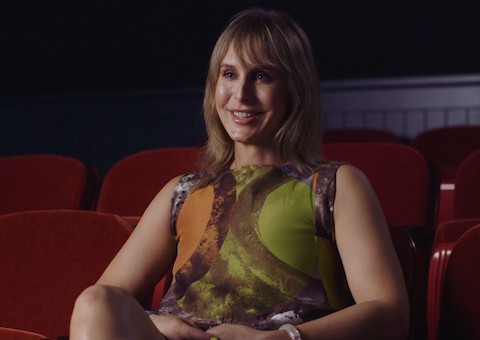 Filmmaker and artist Zackary Drucker

"See the Bigger Picture" is a series of short films from the UCLA Film & Television Archive made by UCLA alumni and student filmmakers. The goal of each film is to present a unique story — and to expand the view into the regenerative role of the Archive, from advancing UCLA's research mission and preserving cultural heritage to showcasing international cinema and championing historically marginalized creators and communities.
At the 2005 Outfest Film Festival, when then-Outfest Director Stephen Gutwillig announced the launch of the Outfest UCLA Legacy Project, he stated that the new LGBTQ+ moving image collection and preservation partnership with the UCLA Film & Television Archive was essential in many ways. Most of all, he stressed its importance in light of the increasingly virulent attacks from the conservative right towards the queer community. "With recent victories in hand, they are emboldened literally to take books and movies off library shelves and to make any discussion of sexual and gender identity forbidden to the very young people who most need to hear that they aren't alone," he said. "Their goal is to try to make our communities as unmentionable and as invisible as they once were. I know I speak for us all when I say, we will not go back."
Almost 20 years later, the national conversation around trans and queer visibility has become a legislative lightning rod that is currently threatening human lives and our country's democratic principles. Given this current climate, filmmaker Zackary Drucker's "See the Bigger Picture" video spotlight with its focus on transgender visibility and representation in relation to the Outfest UCLA Legacy Project is particularly moving. Drucker's important 2021 HBO documentary mini-series, The Lady and the Dale (co-directed by Nick Cammilleri), and her new 2023 documentary feature, The Stroll (co-directed by Kristen Lovell), both utilize early transgender-related footage found in the Legacy Project that has been photochemically and/or digitally preserved by the Archive. In some cases, the wonderfully humanistic and poignant films like Behind Every Good Man (1967) (named to The Library of Congress' National Film Registry in 2022), Changes (1970), Queens at Heart (1967) and Trans (1994) were lost to audiences for decades, and were rediscovered and screened in recent years thanks to the advocacy of colleague collectors, archivists and community activists. By preserving and promoting the access to these films, UCLA has the honor of supporting a bridge between the trans pioneers of the past to the current and future trans/gender-non-conforming activists and storytellers such as Drucker. Drucker refers to the current culture war at the end of the piece, and reflects that even if the state can take away a person's autonomy and life, there is great comfort in knowing that these archived histories will live and impact people well into the future. Quite poignantly, these preserved stories at UCLA now include her touching short film, At Least You Know You Exist (2011), a portrait of queer pioneer and mentor Flawless Sabrina.
—Todd Wiener, Motion Picture Curator


Read about and watch "See the Bigger Picture with Chon Noriega" on our blog by John H. Mitchell Television Curator Mark Quigley.