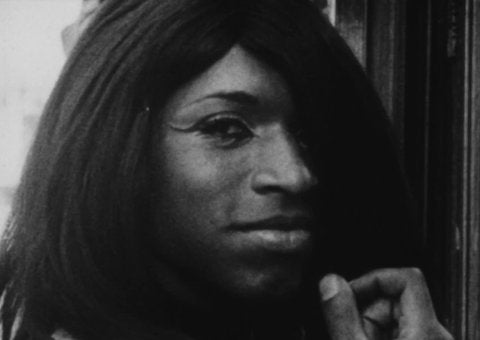 Behind Every Good Man (c. 1967)


Celebrated annually on March 31, International Transgender Day of Visibility is an opportunity to recognize the courage and contributions of transgender and gender-diverse people, and a chance to share their stories of struggle as they continue to face inadequate legal protections, stigma and violence. Identity-affirming representations on screen are critical to advancing awareness and acceptance. Since 2005, the UCLA Film & Television Archive has partnered with Outfest to preserve transgender stories in the Outfest UCLA Legacy Project collection, the largest publicly-accessible archive of LGBTQ moving image media. Often produced on the margins of the mainstream, these works are especially at risk of being lost or forgotten, particularly records of pre-Stonewall life.
"It can be helpful for trans, Two Spirit, nonbinary, intersex, and gender-nonconforming people today to know that they have a rich history, including a rich history behind and in front of the camera," said Laura Horak, Director of the Transgender Media Portal and Associate Professor of Film Studies at Carleton University. "Even though the media sometimes makes it seem like trans people just arrived yesterday, in fact trans people have been creating and participating in audiovisual media for at least the past half century."
Horak has utilized the Legacy Project collection for research several times over the years through the Archive Research and Study Center: "The collection is a real treasure trove of aesthetically innovative, politically important films and videos dating back to the 1970s. One of my favorite finds was a short documentary by Penelope Spheeris about the romantic relationship between a cis lesbian and a genderfluid person, called I Don't Know (1971). There are also some fantastic films from the late 1990s, such as Ivan Coyote's experimental short Transmission (1998), Mark Achbar's collaborative documentary Two Brides and a Scalpel: Diary of a Lesbian Marriage (1999), Christopher Lee's outrageous Sex Flesh in Blood (1999), and Lulu Ogawa's documentary We Are Transgenders (1999)."


Watch Online
Here are some film and TV works from the Legacy Project that shed light on the lives of transgender people, their aspirations, hardships and acts of resistance. Many more titles from the collection are available for on-site viewing through the Archive Research and Study Center (please note that it is temporarily closed).
The short film Behind Every Good Man (c. 1967) offers a rare portrait of an African American trans woman in mid-1960s Los Angeles. Horak: "Behind Every Good Man used to be this almost legendary film that no one seemed to know how to get a hold of. That film proves that our idea that trans people never played trans characters in the past, or that trans people were only ever shown as unattractive, is simply not true. Our history holds a lot of surprises."



Directed by pioneering gay documentary and erotica filmmaker Pat Rocco, Changes (1970) is a profile of Jimmy Michaels, a transgender person living in Los Angeles.


 
During its trailblazing, 20-year run on public television, In the Life (1992-2012) served as a primary news source for social, political and legal issues facing the LGBTQ community. In this segment from the 2012 episode, "Words Do Matter," transgender advocate Janet Mock interviews transgender model Isis King about media portrayals of transgender people.
A mother and her 8-year-old transgender boy are interviewed about the child's transition in this segment from the 2012 episode, "Becoming Me."



In 2001, transgender Navajo teen Fred Martinez was brutally murdered for his gender identity. Martinez is remembered by friends and family in this moving segment from the 2001 episode, "Vital Discoveries."



L.A. City Fire Department Captain Michele Kammerer shares her experience as a transgender woman in a male-dominated workplace. From the 1999 episode, "In the Midst of Change."



Transgender author/artist Dylan Scholinksi and others bring attention to the traumatic effects of being mis-diagnosed with "Gender Identity Disorder" and the challenges of accessing adequate health care. From the 2009 episode, "Gender Revised."



Transgender advocates Kate Bornstein, Leslie Feinberg, Riki Anne Wilchins and Martine Rothblatt discuss what it means to be transgender and the sometimes violent opposition that transgender people are confronted with. From the 1996 episode, "The State of AIDS."


All 21 seasons of In the Life are available for free streaming on our website, and the production's paper records are available for research at the UCLA Library Special Collections.
Also on our blog: check out Safer at Home Cinema, Edition #2, where our Film Programmers recommend additional streaming options that focus on transgender and gender-diverse stories.

—Jennifer Rhee, Digital Content Manager