Laurence Anyways

Looking for your next at-home movie fix? Each week, our staff will offer their recommendations for international films old and new, classic and obscure, all available online through streaming platforms. The Billy Wilder Theater may be temporarily closed, but we can continue to watch movies together while practicing safe distancing at home. Share your thoughts with us on Twitter, Instagram and Facebook, and subscribe to our email list to receive updates!
This week, Film Programmers KJ Relth and Paul Malcolm highlight four works for International Transgender Day of Visibility:
 
The Ballad of Genesis and Lady Jaye  (dir. Marie Losier, 2011) 
KJ Relth, Film Programmer: On March 14, 2020, groundbreaking artist and musician Genesis Breyer P-Orridge "dropped h/er body" at age 70 due to complications from leukemia. Founder of U.K. industrial band Throbbing Gristle and experimental outfit Psychic TV, P-Orridge met professional dominatrix, nurse and performance artist Jacqueline "Lady Jaye" Breyer in 1993. The two fell into an all-consuming romance, which evolved into their "Pandrogeny Project," the pair's unification through body modification. There to document their relationship and transformation was French-born filmmaker Marie Losier, who shot primarily on her beloved Bolex camera. After six years of filming, through and beyond Lady Jaye's untimely death in 2007, Losier assembled a warm, life-affirming work that premiered at the Berlin Film Festival in 2011, a film that P-Orridge h/erself describes as "Fellini meets documentary." That P-Orridge's passing happens to coincide with this current moment of self-isolation means that Losier has graciously made this revolutionary documentary available for free on her Vimeo channel.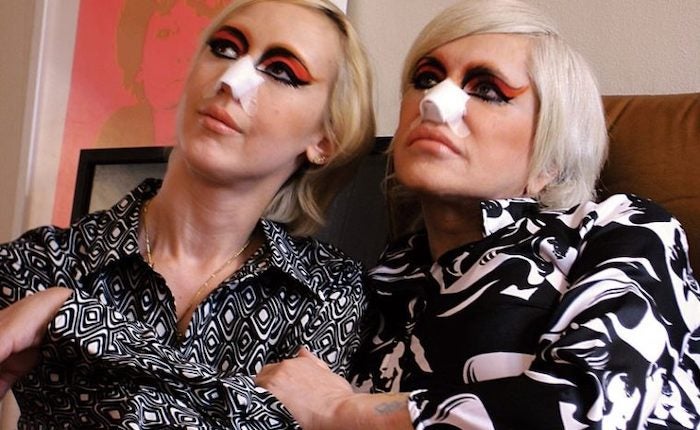 The Ballad of Genesis and Lady Jaye


In a Year of 13 Moons (In einem Jahr mit 13 Monden, dir. Rainer Werner Fassbinder, 1978)
Paul Malcolm, Film Programmer: At first, it's possible to suspect that Elvira (Volker Spengler), the central character of Fassbinder's In a Year of 13 Moons (1978), fits the mold of the tragic transgender cliché. "All people do is scream at me and try to hurt me," she complains and we bear witness to her endurance through torrents of verbal and physical abuse from lovers, family, friends and strangers before her inevitable end. In the film's most notorious sequence, Elvira, once a butcher by trade, strolls through a bloody abattoir recounting her transformation from husband and father to transsexual sex worker. It's a jarring setting for a confession and drives home like a sledgehammer that Fassbinder is going to preclude our judgment by keeping us unnerved every step of the way. From abattoir to the streets of Frankfurt, Elvira embarks on a journey of self-discovery sparked by the violent departure of her latest lover. Soon the film becomes populated with allegorical characters, as marginalized as she is, whose stories inform her own struggle to reconcile her identity and desire to a seemingly unyielding reality. Only the film's symbol of callous capitalism seems to succeed at destroying and transforming without consequence and so Elvira transcends again to become us all. Streaming on Amazon Prime.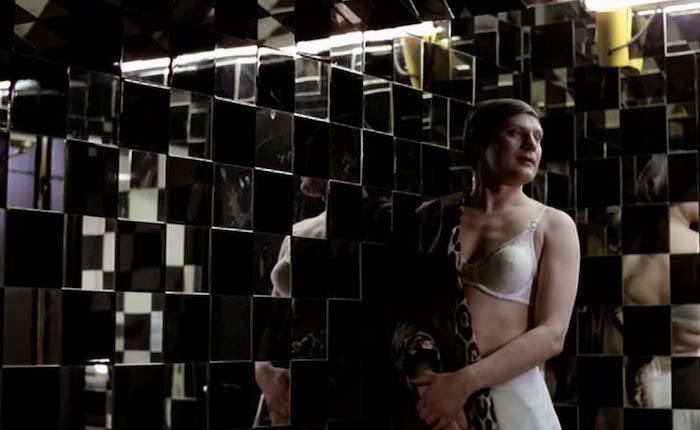 In a Year of 13 Moons


Funeral Parade of Roses  (dir. Toshio Matsumoto, 1969)
KJ Relth, Film Programmer: Until it was preserved from the original camera negative to a vibrant, crisp 4K digital restoration by Cinelicious in 2017, Toshio Matsumoto's Japanese New Wave miracle was nearly branded a film maudit, long unavailable stateside. A queer, proto-punk riff on the Oedipus myth, Matsumoto's film simply vibrates with the leading presence of Warhol-Superstar-esque "Peter" as Eddie, who's caught in a professional and personal All About Eve feud with fellow Genet club performer, the elder, geisha-robed Leda. Part political manifesto, part man-on-the-street interview documentary, part formal experiment, and slightly body-horrific, Funeral Parade of Roses takes risks where Matsumoto's contemporary European counterparts dared not: from its pronoun fluidity and its matter-of-fact acceptance of what was then known as "cross-dressing" down to its depictions of same-sex attraction and the physical expression of thus, Roses feels as fresh and exciting as the day it premiered in the U.S. 50 years ago. Streaming on Kanopy.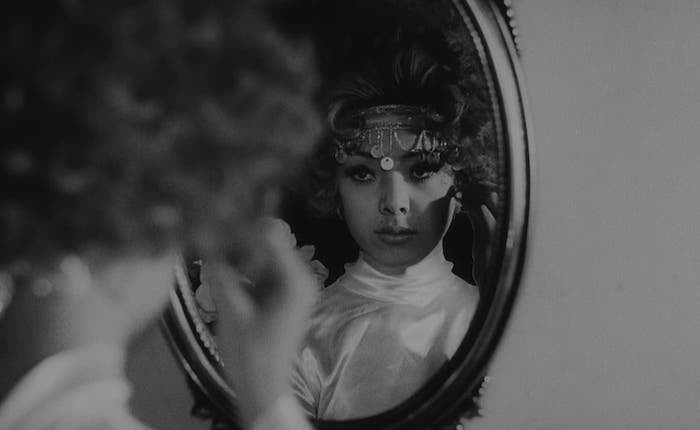 Funeral Parade of Roses


Laurence Anyways  (dir. Xavier Dolan, 2012)
Paul Malcolm: Every explosion of cinematic exuberance that breaks across the screen in Xavier Dolan's Laurence Anyways—brightly colored clothes wafting from a blue sky, a waterfall cascading into a living room—suggests new ways of being in and perceiving the world. If any one could take advantage of such possibilities it would seem to be young lovers Laurence (Melvil Poupaud) and Frederique (Suzanne Clément) who set themselves and their shared pop/punk romanticism (circa late 1980s Montreal) defiantly against convention. That passion is put to the test when Laurence confesses to Fred (her suddenly ironic nickname) that he can longer continue "stealing the life of the woman he was supposed to be." The rest of the two-hour plus film tracks the couple's course over a decade as Laurence transitions and Fred struggles to understand and support him. Melodrama plays a necessary part in the emotional ups and downs that follow as their relationship evolves. Dolan is beyond preaching or proselytizing and the film's length (168 minutes) feels commensurate with its aim: plumbing the depths of love in the face of the radical. If people aren't quite up to the challenge, Dolan suggests, the cinema can carry them until they are. Streaming on Tubi.


Also on the blog: read about the UCLA Film & Television Archive's efforts to preserve trans stories and watch videos from our collection.