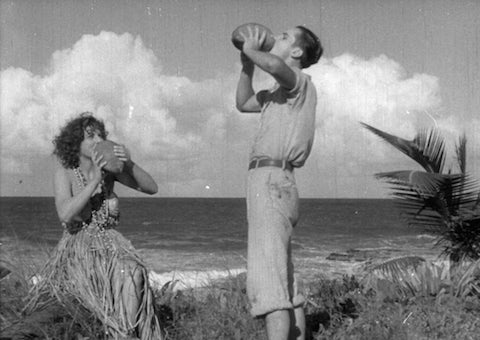 Romance tropical  (1934)
On November 4, 2017, UCLA Film & Television Archive presented the world re-premiere of Romance tropical (1934) as a part of our current film series, Recuerdos de un cine en español: Latin American Cinema in Los Angeles, 1930-1960.  Funded by the Getty Foundation as a part of Pacific Standard Time: LA/LA, an exploration of Latin American and Latino art in dialogue with Los Angeles, our program is focused on bringing back to memory the Spanish-language film culture that was indigenous to downtown Los Angeles, but has been forgotten by the mainstream.  The first Puerto Rican sound feature, Romance tropical was considered lost to the Puerto Rican people for over 80 years.  A screening after-party was attended by members of director Juan E. Viguié's family, as well as representatives of the Puerto Rican film archives.
The rediscovery of the film is an amazing tale of archival serendipity; not unique to the annals of film archiving, but certainly rare.  In September 2016, while searching the UCLA Film & Television Archive catalog, specifically an old list of Spanish-language titles, for films we might be able to include in the series, I came across the title Romance tropical.  The generic nature of the title first made me think of dozens of similarly named travelogues, but I could see from the record that it was at least eight reels.  I asked Motion Picture Archivist Todd Wiener if he knew anything about the title, and he did some research and found that the title may have been shot in Puerto Rico in 1934, and could be the first sound feature film produced on the island.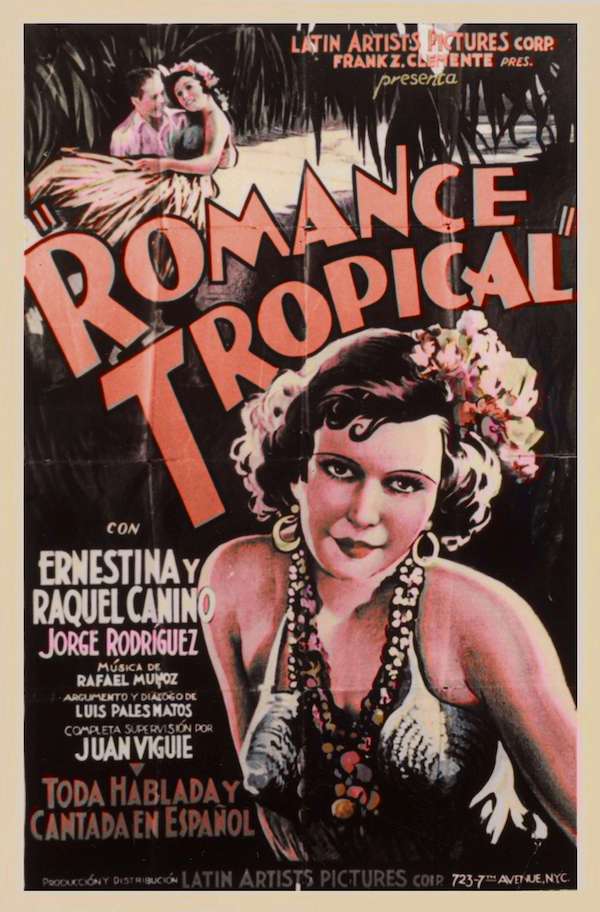 I then contacted my colleague at the Instituto de Cultura Puertorriqueña in San Juan, Marisel Flores-Patton, who responded almost immediately that it might indeed be the same Romance tropical that archivists considered lost for 83 years.  In February 2017, Mr. José Alfredo Hernández-Mayoral travelled to Los Angeles to inspect the nitrate print and confirmed it was the long-lost film.  Other than a few photos, a poster and newspaper articles from its initial release, nothing was thought to have remained of the film.
The original film production had brought together some of Puerto Rico's prominent artists.  The film was directed by Juan E. Viguié, a Puerto Rican film pioneer who had spent time in Hollywood before becoming a San Juan-based newsreel cameraman in the 1920s, working for Fox News and Hearst Metrotone News.  Viguié directed the film with a $10,000 loan, after seeing Santa (1932) in a San Juan cinema.  Romance tropical was written by Luis Palés Matos, one of the founders of Afro-Antillano poetry, which blends words from Afro-Caribbean culture with the Spanish verse of Puerto Rico.  Finally, the film features the music of composer Rafael Muñoz, the island's most famous big band leader, who is actually seen with his band in one scene.
Our Puerto Rican colleagues were ecstatic that our archival partner, The Packard Humanities Institute (PHI), agreed to preserve the film and make a new 35mm print for the people of Puerto Rico.  In the summer of 2017, then, PHI film preservationist Jere Guldin made a new 35mm negative from the nitrate original.  The preservation was particularly tricky because, while inspecting the nitrate on rewinds, we realized the variable density sound track was practically invisible at certain points.  Happily, Guldin, working with John Polito at Audio Mechanics, was able to digitally re-record the soundtrack and ultimately produce an acceptable track negative and sound print.  The print was also scanned by PHI, allowing for the creation of a DCP for digital projection.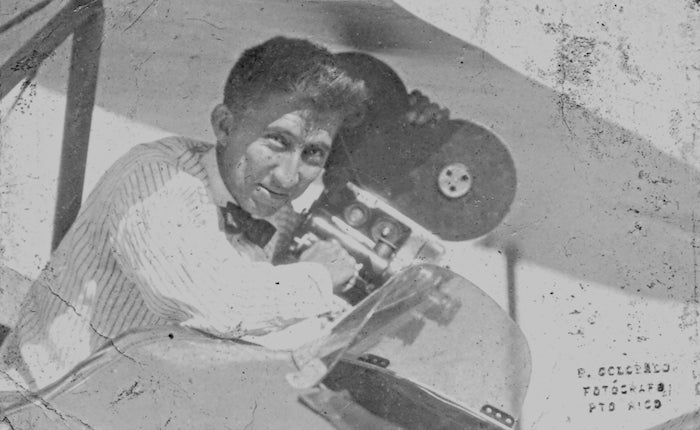 Filmmaker Juan E. Viguié
So, how did the film "disappear"?  Apparently, the film had been picked up for distribution by an MGM subsidiary, which screened it in New York in October 1934 (the New York Times reviewed it), but was then pulled from distribution after the Canino family sued Viguié.  The sisters Ernestino and Raquel Canino starred in the film, and after its initial success, father Canino, a lawyer who had invested in the film, wanted his daughters to get paid for their work.  According to Eduardo Rosado, the father may have also been upset about the story, which has Raquel appear in blackface.  That single print wandered into a Fort Lee, New Jersey nitrate film vault, which was eventually purchased by the Krypton Corporation, a Cleveland-based media company with ambitions to distribute the vault's many English-language holdings (only two films were in Spanish).  After the company went bankrupt, the vault's contents were purchased by PHI in 2008 and the Krypton Collection was placed on deposit at UCLA Film & Television Archive, where it remained – hiding in plain sight – until its miraculous rediscovery.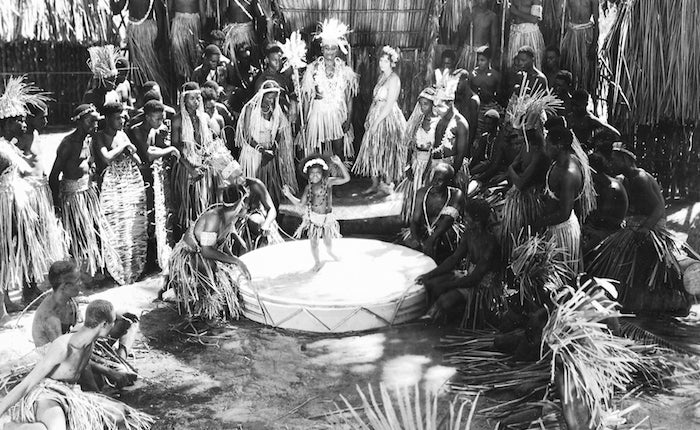 Romance tropical  (1934)