Admission is free. No advance reservations. Your seat will be assigned to you when you pick up your ticket at the box office. Seats are assigned on a first come, first served basis. The box office opens one hour before the event.


Broadcast on ABC from 1958 to 1963, the innovative police drama Naked City offered television viewers an uncommonly gritty glimpse of the mean streets and desperate citizenry of New York City. Based on Jules Dassin's acclaimed 1948 motion picture of the same name, TV's Naked City boasted location photography and a host of New York actors in thoughtful, original teleplays that emphasized character over action. Developed for television by Academy Award-winning writer Stirling Silliphant (In the Heat of the Night), with major contributions from story editor Howard Rodman (recipient of Writers Guild Laurel Award for lifetime achievement), Naked City was acclaimed for boldly presenting psychologically complex tales, sans the cliched cops and clean-cut endings found in genre-defining predecessors such as Dragnet. 
Following cancellation in its debut season, Naked City was quickly revived with an expanded hour-long format and revamped cast starring actor Paul Burke (Valley of the Dolls) as a gentle detective who strived to understand and help those he pursued. Burke led a gifted ensemble featuring character actors Horace McMahon (Detective Story) and Harry Bellaver (No Way Out), rounded out by the strong presence of Nancy Malone (later a pioneering executive at 20th Century Fox). More often than not, these series regulars took a secondary role to the semi-anthology format of the program that highlighted a plum visiting character role every week. Over the long run of the series, a litany of future superstars would guest on the program, including Dustin Hoffman and Gene Hackman, just to name a few. 
In addition to a wealth of acting talent, the Big Apple played a central role in Naked City as the series eschewed studio backlots for copious NYC locations captured in glorious black and white. For its noir mise-en-scène, the show's director of photography, Jack Priestley (Across 110th Street), won consecutive primetime Emmys in 1962 and 1963 for Outstanding Achievement in Cinematography for Television.  
"There are eight million stories in the naked city" — join us for two of them starring Diahann Carroll (Julia) and Jack Warden (Shampoo) and a Q&A in-between episodes with Alan K. Rode of the Film Noir Foundation and actor and writer Michael McGreevey.
Program notes by Mark Quigley, John H. Mitchell Television Curator.


Naked City: "The King of Venus Will Take Care of You" 
U.S., 5/30/1962
Veteran character actor Jack Warden (Twelve Angry Men) guest stars as a fugitive who takes refuge in a tenement rooftop hideaway belonging to a troubled child (Mike McGreevey). As police close in, the misfit pair confront each other and their individual life circumstances, which are untenable. The episode features a Nelson Riddle score, NYC location photography, and a tense, humanistic teleplay penned by blacklisted writer Arnold Manoff, credited here under his pseudonym "Joel Carpenter."
DCP, b&w, 51 min. ABC. Production: Shelle Productions; Screen Gems Television. Executive Producer: Herbert B. Leonard. Director: David Lowell Rich. Writer: Arnold Manoff. With: Paul Burke, Horace McMahon, Harry Bellaver, Jack Warden, Michael McGreevey. Use of Naked City courtesy of AMC Networks.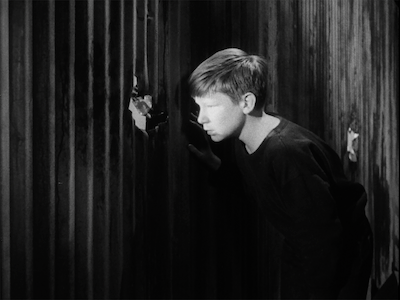 Television Academy Foundation: Diahann Carroll — excerpt
U.S., 1998
Beloved icon Diahann Carroll (Dynasty) discusses her Emmy-nominated performance on Naked City.  
DCP, color, 8 min. Courtesy of the Television Academy Foundation Interviews. Special thanks to Jenni Matz. 
Naked City: "A Horse Has a Big Head — Let Him Worry!"  
U.S., 11/21/1962
In groundbreaking casting, future superstar Diahann Carroll (Julia) guests as an earnest special education teacher searching for a sight-impaired student (John Megna) who, in defiant independence, wanders away on a field trip. The humanist episode, featuring extensive location photography of New York City streets, was directed by Academy Award winner Denis Sanders (Time Out of War) and penned by blacklisted writer Abram S. Ginnes.
DCP, b&w, 51 min. ABC. Production: Shelle Productions; Screen Gems Television. Executive Producer: Herbert B. Leonard. Director: Denis Sanders. Writer: Abram S. Ginnes. With: Paul Burke, Horace McMahon, Harry Bellaver, Diahann Carroll, John Megna, Nancy Malone. Use of Naked City courtesy of AMC Networks.