"If you love westerns, or wonder why others do, [Boetticher's] films speak loud and clear." —Los Angeles Times
"It might be said of Boetticher that he made not Westerns but the Western." —The Boston Phoenix
In 1967 Andrew Sarris declared Budd Boetticher one of Hollywood's "most fascinating unrecognized talents." Now, Boetticher is widely acknowledged for directing some of the greatest Westerns of the post-war era. Decision at Sundown (1957), The Tall T (1957), Buchanan Rides Alone (1958), Ride Lonesome (1959) and Comanche Station (1960) together came to be known as the Ranown cycle, after the production company formed by star Randolph Scott and producer Harry Joe Brown. When the trend was toward portentous super Westerns such as High Noon (1952), Boetticher's low-budget Ranown films were minimalist excursions into pure form. Brutal and ironic, their stark beauty verges on abstraction.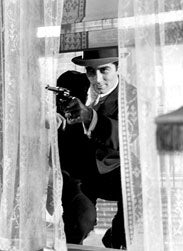 But Boetticher's career didn't begin or end with the Ranown films. Like most of his protagonists, Boetticher was a fierce individualist. In 1939, the Indiana-raised athlete took up professional bullfighting in Mexico, an idiosyncratic move that led to his being hired as technical adviser on Blood and Sand (1941). From there, Boetticher honed his expressive, economical craft directing "B" pictures for Columbia (under the name Oscar Boetticher, Jr) until John Wayne backed his story for Bullfighter and the Lady (1951), a stirring depiction of his days in Mexico.
Boetticher made two more films centered on toreros, The Magnificent Matador (1955) and Arruza (1972), a documentary on the legendary bullfighter Carlos Arruza that itself became a legendarily cursed production that derailed Boetticher's career for a decade, landing him in debt, in jail and, at one point, in an asylum.
He also made two undeservedly overlooked crime thrillers, The Killer is Loose (1956) and The Rise and Fall of Legs Diamond (1960).
One of the last of the classic Hollywood tough guy directors until his death in 2001, Boetticher lived passionately on his own terms. As Jim Kitses wrote, "Boetticher stands alone...working in the shadows, trying to create his art wholly out of himself."
Special thanks: Mary Boetticher, Dennis Bartok, Janet Bergstom.
Watch a before and after restoration clip, below: