The term "orphan film" applies to a wide variety of neglected works, many previously unpreserved because their owners have abandoned them, or because no copyright holder could be found.
UCLA Film & Television Archive is pleased to partner with Los Angeles Filmforum and New York University's Orphan Film Symposium to present an eclectic mix of screenings and discussions at the Billy Wilder Theater.
The Orphan Film Project consists of ongoing collaborations among archivists, lab and technology experts, scholars, filmmakers, curators and collectors with a shared passion for saving and screening neglected films from outside the commercial mainstream: home movies, outtakes, news film, sponsored works, silent-era cinema, fragments and experimental films.
Join archivists, film historians, artists, technical experts and scholars as they discuss their efforts in finding, researching and presenting these rare gems.
Passes
Passes are available at the Billy Wilder Theater box office.
Program
Friday Evening
7:30 p.m.
Progress, Indeed (2010)
Watch this trailer for the 7th Orphan Film Symposium created by Russell Sheaffer and Jim Bittl. Appropriated footage mashes John Wayne with the innovative film techniques of Helen Hill, Jodie Mack and Danielle Ash.
Madison Newsreel (ca. 1932)
Found in a barn in Bristol, Maine, this uncanny compilation of nitrate film references citizens of Madison. Introduced by Sean Savage (Academy Film Archive), who published a near-definitive study of the footage. Source: Northeast Historic Film, Ronald Yates Collection.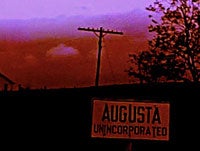 The Augustas (1930s-'50s)
This 16-minute, 16mm silent film edits together footage taken of 36 different places named Augusta extant in the US during the years of amateur filmmaker Scott Nixon's travels. Featuring road signs and other markers naming "Augusta," it celebrates the expressive potential of keyword labels, which in the film come to designate not only several concrete places, but also no one place in particular. In this way, Nixon's film offers a cinematic example of what have become familiar concerns in the context of recent social-networking communities: location awareness, self-documentation, and information-retrieval. Presented by Heidi Rae Cooley (University of South Carolina). Source: University of South Carolina Moving Image Research Collections (USC MIRC).
The Iron Horse in Hollywood(1925)
Fox newsreel footage shot on February 25, outside of Grauman's Egyptian Theatre. To promote the release of John Ford's epic The Iron Horse, a steam locomotive arrives on a flatbed truck, carrying Tom Mix's cowboys and costumed Arapaho and Shoshone performers (although Ford's cast and characters were Sioux, Cheyenne, and Pawnee). Introduced by Mark G. Cooper (University of South Carolina). Source: USC MIRC Fox Movietone News Collection.
Brother and Sister Motorcycle Act (1931)
On a back road in Hollywood, Putt and Dessie Mossman perform stunts for the Fox Movietone newsreel camera and microphone. Source: USC MIRC Fox Movietone News Collection.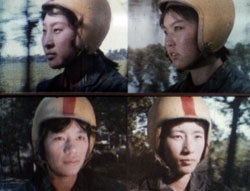 Light Cavalry Girl (1980)
Produced by the Central Newsreel and Documentary Film Studio in China, Light Cavalry Girl pays homage to the motorcycle stylings of the military's top female cyclists. This ten-minute film was directed by one the country's most prolific documentary filmmakers, Jie Shen. It won a Silver Medal at the Hungarian International Sports Film Festival. Introduced by Yongli Li (Beijing Film Academy and University of South Carolina). Source: USC MIRC Chinese Film Collection.
Rain Dance (1990)
After Hurricane Katrina floods devastated the New Orleans home of filmmaker Helen Hill and her husband Paul Gailiunas, all that remained of this animated student film was a 16mm work print with no soundtrack. The first of three films she made while an undergraduate at Harvard, Rain Dance shows Hill's fondness for the cut-out animation style of Lotte Reiniger. After her death in 2007, Colorlab and Harvard Film Archive made possible the immediate preservation of nine of her works. At BB Optics, Bill Brand and NYU MIAP students worked with Gailiunas to reconstruct the film and its lost soundtrack.
Lillian Schwartz: Two Films by the Pioneering Computer Artist.
Introduced by Bill Brand (BB Optics) and presented for the first time in 3-D. Thanks to the filmmaker and to Walter Forsberg (NYU Libraries). Source: Ohio State University Libraries.
UFOs (1971)
This playful graphic work by Bell Labs artist-in-residence Lillian Schwartz andcomputer scientist Ken Knowlton features an array of computer-displayed forms that evolve and mutate into layers of colored abstract shapes. Preserved in 2011 by Brand and students in his NYU Film Preservation class.
Galaxies (1974)
Lillian Schwartz collaborated with NASA computer programmer Frank Hohl to create this colorful computer-simulation of disk-like "galaxies" moving through space at various speeds. Preserved by Colorlab for the Orphan Film Symposium's forthcoming DVD.
Robert Abel Promo Reel (1970s)
This 35mm promotional reel highlights the work of pioneering visual effects firm Robert Abel & Associates, and includes the iconic, award-winning 7-Up television advertisement Bubbles (1974). Presented by Tony Best (UCLA Film & Television Archive).
And Then They Forgot God (1971)
Prolific television writer Sy Salkowitz wrote and directed this outré dramatic telefilm set in a dystopian future. With a grim plot twist that rivals the darkest of Twilight Zone episodes, this humanistic parable centers on an average couple (Joseph Campanella and Beverly Garland) as they face starvation due to a Kafkaesque bureaucracy. Also features Adam West as a policy-obsessed prosecutor. Presented by writer Paul Cullum and Mark Quigley (UCLA Film & Television Archive). Source: UCLA Film & Television Archive.
Muzak (1972)
This idiosyncratic and funny documentary first aired on WNET-New York's nightly TV news program The 51st State (1972-'76). Filmmakers Tony Ganz and Rhody Streeter record interviews with executives of America's "efficiency through music" corporation, revealing the pocket protector-clad social engineers of elevator music infamy. Introduced by Elena Rossi-Snook (New York Public Library). Source: Reserve Film and Video Collection, New York Public Library for the Performing Arts.
Saturday Morning
10:15 a.m.
Introductions by Dan Streible (NYU Orphan Film Symposium) and Mark Quigley (UCLA Film & Television Archive)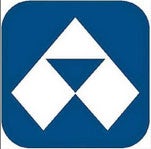 Designed by Saul Bass: The Alcoa Account
Presented by Jan-Christopher Horak (UCLA Film & Television Archive). Noted as a pioneer of distinctive credit sequences and posters for Hollywood feature films, Saul Bass' equally intriguing modernist television work is much less known. Some of these broadcasts works, including title sequences and commercials for the Aluminum Corporation of America, reveal that Bass was not only a student of artist, designer, and theorist György Kepes, but also of filmmaker Sergei Eisenstein.
Animated TV Station Indentification Reel (early 1960s)
Demo reel of Mad Men-era, mid-century modern broadcast ephemera by TV Graphics Inc., an advertising company owned by Lee Blair, husband of Disney artist Mary Blair featuring the work of Lee's brother, animator Preston Blair. Source: UCLA Film & Television Archive.
10:45 a.m.—100 Years of Home Movies: 1905-2005
[Francena Feeding the Chickens](1905)
Pioneering Western filmmaker Charles Camp (1860-1929) shot this footage of his niece Frances during a visit to "the Bickling homeplace" close to the time of his four-month-long engagement at the 1905 Lewis & Clark Exposition in Portland, Oregon. This short document of his niece at home in Colorado, along with a series of stills from the 1904 roundup footage reproduced in Camp's 1928 book Muggins the Cow Horse, may be the only surviving remnants of Camp's cinematic work. Snowden Becker (Center for Home Movies) introduces the rediscovered film in this 35mm re-debut screening. Source: Library of Congress.
Projecting 28mm: [New Hampshire Home Movie] (ca. 1920)
Most 28mm gauge film prints were copies of 35mm movies, sold or rented for nontheatrical exhibition. But shortly before 1920, the American company Pathéscope released its New Premier Motion Picture Camera, which made it possible for amateurs to shoot on safety film. Amateur-made 28mm home movies rarely survive, and even more rarely are seen on original projectors. Dino Everett (Hugh M. Hefner Moving Image Archive, University of Southern California) projects these found films on a 1919 model New Premier Pathéscope projector. Film and equipment made possible by the Hugh M. Hefner Moving Image Archive.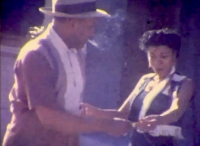 Marie Dickerson Coker Home Movies (1930s-'50s)
As an accomplished singer, dancer, and musician, Marie Dickerson Coker performed at Los Angeles hot spots, including the Cotton Club. She was also one of the first African American women to receive a pilot's license, performing in air shows as a member of an all-female flying team. Coker's charisma shines in these recently discovered home movies, which include footage of her travels to Hawaii and moments from everyday life. Presented by Trisha Lendo (UCLA Film & Television Archive) and Leah Kerr (Mayme A. Clayton Library and Museum).
Helen Hill's Home Movies (2003-'05)
The most recent preservation work on the flood-damaged Super 8 films shot by the late artist Helen Hill show the funky New Orleans scene that she and her husband Paul inhabited and animated. We see the couple's house post-Katrina and other pieces of film used in The Florestine Collection (2011), "a film by Helen Hill, completed by Paul Gailiunas." Introduced by Dan Streible (New York University), founder of the Orphan Film Symposium. Preserved by Harvard Film Archive with the Center for Home Movies video and digital transfers by the Library of Congress.
Fast Fax (1997-'98)
Animator Helen Hill made these witty whimsical micro-interstitials (from 3 to 15 seconds each) for the Canadian Broadcast Corporation's educational TV series Street Sense. Thanks to the research of New York University student Jim Bittl, the original CBC broadcast masters were preserved in 2010 and copies deposited with the Helen Hill Collection, Harvard Film Archive.
12:00 noon—Latterday Newsreels
NYC Street Scenes and Noises (1929)
In November 1929, a Fox Movietone newsreel van recorded synchronous-sound footage of two locations for the city's Noise Abatement Commission: Times Square and "Radio Row" (Cortlandt Street), with its many shops selling radio sets. Does the raw footage record noises, or a modernist city symphony? Source: University of South Carolina Moving Image Research Collections.
New York Street Scenes (1960)
B-roll newsreel footage of Manhattan seen from a car traveling Broadway, 7th and 8th Avenues. Numerous takes show Penn Station, Loew's State Theatre, the old Madison Square Garden facade, the Smoking Camel billboard, the Coliseum building in Columbus Circle, and other buildings and theater marquees that no longer exist. Preserved by UCLA Film & Television Archive in a newsreel preservation workshop as part of the Moving Image Archive Studies (MIAS) program. Presented by Roger L. Brown, MIAS alum.
Hearst News of the Day Newsreels (1963-'67)
Excerpts from Hearst's theatrically-released News Of The Day during its final years of production. In addition to a reel of newsreel stories compiled by a collector, and a newsreel issue covering the Watts riots of 1965, the presentation includes the final Heart newsreel, released in December 1967. Presented by Blaine Bartell (UCLA Film & Television Archive.)
Lunch Break
Saturday Afternoon
2:00 p.m.—Tele-visions
Meadow Gold TV Spots (mid-1950s)
Charming animation from TV Graphics, Inc., featuring characters from Mary Blair's award-winning "Little Golden Book: I Can Fly" (1951). Source: UCLA Film & Television Archive.
The American Archive Sizzle Reel (2011)
Stephanie Sapienza (Corporation for Public Broadcasting) presents on behalf of the American Archive, a CPB initiative to locate, preserve, and make publicly accessible thousands of hours of public media from local stations. The Archive's 2009 pilot project located 2,400 hours of audio and video recordings related to civil rights and World War II from 24 stations across the U.S. Rediscovered material includes a kinescope found by HoustonPBS: live coverage of a 1956 city council meeting addressing the racial integration of Houston schools. Dan Rather was in the reporters' pool, and the standing-room-only crowd was witness to a visceral public debate on race in America.
KTLA-TV Newsfilm of the 1970s
Television historian Mark J. Williams (Dartmouth College) presents selections culled from a larger collection of vintage KTLA news segments curated by UCLA's Archive Research and Study Center for an upcoming online exhibition. Starring: Mary Pickford and Eulia Love; Edith Head and Cesar Chavez; Anita Bryant and Roman Polanski.
"Help Thy Neighbor" (1952)
Described as "the first do-gooder of the airwaves," Hal Styles hosted the television series "Help Thy Neighbor." People appearing on this live program told of their problems and viewers at home were asked to phone in with pledges of help. In this episode, Styles hosts a pregnant 15-year-old and a man whose wife had been missing. While earnest in its good Samaritan aims, the proceedings are draped in eerie shadows of human despair and voyeuristic exploitation. Presented by Dan Einstein (UCLA Film & Television Archive).
3:45 p.m.—Break
4:00 p.m.—Experimental Outtakes
Outfest Legacy Project x2
Ross Lipman (UCLA Film & Television Archive) presents a pair recently preserved rarities.
Mona's Candle Light (ca. 1950)
Collector Geoff Alexander discovered this 16mm film in an unmarked box he bought at a flea market. The unidentified filmmaker recorded performers (singer Jan Jensen and "drag king, Miss Jimmy Reynard") and patrons of Mona's, a lesbian bar in San Francisco. A deceptively simple document, it presents exceedingly rare images of queer life on its own turf, and on its own terms, a generation before gay liberation.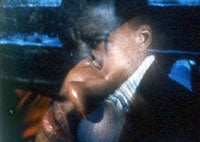 Epilogue / Siam (1969)
A diptych of intimate lyrical portraits by the late New York underground filmmaker Tom Chomont. Filmmaker/curator Jim Hubbard notes, "Chomont's films offer a lyric depiction of the ordinary world, but at the same time reveal an unabashedly spiritual and sexualized parallel universe."
A Fire in My Belly (1986-'87)
While an infamous four-minute video of this title—recently created and then censored by the Smithsonian—has now been widely seen, this longer (13-minute) rarely screened 16mm preservation print of David Wojnarowicz's Super 8 work-in-progress reveals a film far more subtle and complex in its meaning and texture. Presented by Bill Brand (BB Optics), who preserved the film for NYU Fales Library & Special Collections.
"The Word Made Flesh? Unresolved Thoughts on the Unchecked Curatorial Power of Archivists"
Mark Toscano (Academy Film Archive) offers a presentation that will include:
S.W. L.A. (1971)
Rob Thompson shot this short experimental film in Southwestern Los Angeles.
Snail Film (1972)
A mysterious and perhaps legendary piece made by animator Chris Casady while a student at CalArts.
5:30 p.m.—College Collage: A Trio of UCLA Student Films
Kinky (ca. 1966)
This UCLA student film captures a psychedelic, kaleidoscopic montage of students, beatniks, and hippies on the sidewalk in front of Canter's Deli on Fairfax Avenue. The happening is edited to music by The Kinks. Presented by the filmmaker James Joannides, who co-directed with classmate Maurice Bar-David.
Patient 411: A Progress Report (ca. 1965)
A faux case study of a male hustler, produced by the "California Institute of Neuropsychiatry." The film's onscreen credits for "technical staff" include "J. Morrison," which refers to famous UCLA film student Jim Morrison, soon to become the lead singer of The Doors. Morrison was cinematographer for the film and also provided creative input. Presented by the filmmaker, Ronald Raley.
Five Situations for Camera, Recorder and People (1965)
This beginning UCLA student workshop film intercuts absurdist sequences of increasing violence, providing a fascinating glimpse into UCLA's film school in the '60s, with then-student Jim Morrison as location sound man. Director Alex Prisadsky recalls that working on Morrison's student film a week earlier helped to inspire some scenes in this production. Includes footage of a bonfire celebration after a Bruin basketball victory.
Read Alex Prisadsky's entertaining account of making films with Jim Morrison.
6:00 pm Dinner Break
Saturday Evening
7:30 p.m.—Closing Screenings, Closing Remarks
The Transgressor (1918) Excerpt
Produced by the Catholic Arts Association amid the First Red Scare and released only in Catholic parishes and schools, this elaborately staged dramatic narrative promotes religious principles against the background of a violent clash between labor and capital. Presented by Andrew Myers (UCLA Cinema and Media Studies). Special thanks to David Shepard. Source: UCLA Film & Television Archive.
The Passaic Textile Strike (1926) Reel 5
This legendary labor film, made by International Workers Aid to support New Jersey workers amid a bitter strike, survived in incomplete form until NYU's Tamiment Library rediscovered a missing reel when it acquired the Communist Party USA Collection. The badly decayed nitrate film was painstakingly rescued by the Library of Congress, revealing a segment showing the plight of "the pale children of the hovels." Introduced by Steven J. Ross (University of Southern California), author of Working-Class Hollywood.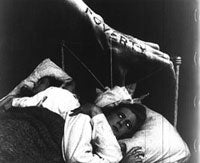 The Unshod Maiden (1932)
This Universal sound-era parody of Lois Weber's feature film Shoes (1916) uses a male voice-over commentary to mock a re-edited version of Weber's earnest plea for women's wage equity. Part of a wave of similar shorts, the movie demonstrates Hollywood's rapid disregard for silent cinema in the wake of recorded sound and a broader disregard for Weber's vision of politically-engaged popular cinema. Introduced by Weber scholar Shelley Stamp (UC-Santa Cruz), who was instrumental in the just-completed restoration of Shoes. Source: Library of Congress.
Two 16mm Paintings
Artists make films that are of, as, and about painting. Divergent approaches to visual pleasure are framed by a 1950s Uruguayan jazz improvisation and a 1960s minimalist gesture. Introduced by Bill Brand (BB Optics).
Color (1955)
This abstract work by Lidia García Millán is considered the first experimental film shot in color in Uruguay. Preserved by BB Optics, Trackwise, and the Library of Congress, for the Fundación de Arte Contemporáneo in Montevideo and the Orphan Film Project. Source: NYU Department of Cinema Studies. Special thanks to the filmmaker.
Black and White Movie (1968-69)
By painter and filmmaker Robert Huot. "A nude woman is revealed, and then obliterates herself entirely, in extreme slow-motion. This film is 'about' painting. Outside of painting itself, it is the only really intense criticism I have ever seen."—Hollis Frampton. Source: Canyon Cinema.
Sunday (1961)
A 50th anniversary screening of Dan Drasin's stunning document of a police crackdown on a peaceful demonstration of amateur folk singers in Washington Square Park, Sunday, April 9, 1961. Drasin was still a teenager when he made this early verité work. Every frame he shot that day appears in the film, along with a few shots taken by friends. Preserved by UCLA Film & Television Archive for the Orphan Film Symposium, with funds from The Film Foundation. Introduced by the filmmaker. Listen to NPR's recent interview with director Dan Drasin.
Daydream Therapy (1980)
Student film by Bernard Nicolas set to Nina Simone's haunting rendition of "Pirate Jenny." The film is one of the rediscoveries of the UCLA Film & Television Archive's "L.A. Rebellion" preservation and exhibition project, which explores this key artistic movement of Los Angeles-based Black filmmakers working at and around UCLA in the 1970s and 80s. Presented by Allyson Field (UCLA Cinema and Media Studies).
Three Super 8 Films by Andrea Callard
Introduced by Bill Brand (BB Optics). Source: NYU Fales Library & Special Collections.
Andrea Callard works in diverse media—drawing, photography, audio, video, painting, and collage. Based in New York since 1973, she was the Secretary of the artist group Collaborative Projects, Inc., popularly known as Colab. From 1975 to 1979 Callard made Super 8 films, as did other downtown artists during the "No Wave Cinema" movement that Colab spurred.
11 thru 12 (1977)
In this most untypical, and until recently unrecognized "No Wave" masterpiece, Andrea Callard uses the structure of the "I Ching" to explore the absurdity of explanation and the limits of the measuring mind.
Lost Shoe Blues (1976)
West of the recently completed World Trade Center, the yet-to-be developed Battery Park City landfill had emerged as an undeclared natural preserve. Andrea Callard found unexpected riches of clover that she surveys with her Super 8 camera. Her vocal rendition of "Lost Shoe Blues" adds to the ironic discovery a complex sentiment of regret.
Flora Funera (for Battery Park City) (1976)
Another natural discovery from the Battery Park landfill, this film features synchronized audio of stones being tossed against the reinforcement bars of a retaining wall to create musical notes.
Ron and Chuck in Disneyland Discovery (1969)
Boy meets boy on Main Street in the Magic Kingdom in this audacious queer courtship narrative covertly filmed in Disneyland, guerilla-style, by pioneer filmmaker Pat Rocco. Equal parts love story, travelogue, and pointed activist statement. From the Outfest Legacy Collection, UCLA Film & Television Archive.
Oddball Film + Video Finale
San Franciscan entrepreneurial archivist Stephen Parr assembles one of his signature mind-bending ironical short programs of film and video surprises.