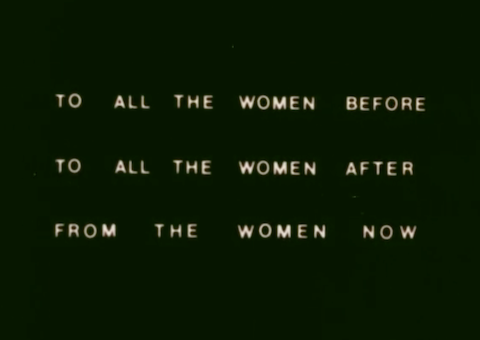 We're Alive (1974)


Robbie Hall and Doris Roldan share their reflections on the 1974 film We're Alive after serving decades at the California Institution for Women (CIW) where the documentary was filmed. Robbie is a 60-year-old Black woman who spent over 36 years in prison and Doris is an 83-year-old Jewish woman who was in prison for over 40 years. Due to their leadership and community organizing, Robbie and Doris were released in 2021 and 2020, respectively. They are both active members of the California Coalition for Women Prisoners (CCWP). Interviewer Colby Lenz is Deputy Director of Policy and Community Research at the UCLA Center for the Study of Women | Barbra Streisand Center.
A new digital restoration of We're Alive screens at the Billy Wilder Theater at the Hammer Museum on Saturday, January 28 at 7:30 p.m. with the filmmakers and other guest speakers in person. Free admission. Learn more.


Colby Lenz: How was it for you to watch this film after spending decades incarcerated at CIW?
Doris Roldan: I want people to understand that in 50 years, nothing much has changed with the prison system, which is fine if it were any good in the beginning. But it wasn't. I wanted to think 50 years ago, it was more idealistic, more caring, more compassionate. That wasn't true.
Robbie Hall: Watching the film brought back memories of how we're programmed in there and how it affects us after we've paroled. It made me think about how they still sexually harass us. We were in a system designed to program you, and it can cause you to be institutionalized. I'm still waking up at five o'clock in the morning. I find myself sitting waiting for count time.
Colby: Participants in the film talk about the rise of extreme sentences in the 1970s. What did you witness over the years?
Robbie: Early on I saw that life sentences were 5 or 7 years to life but that's no more. After I got sentenced in 1985, it went from 15 to 25-to-life. Now, you get 50 or 100 years to life or more.
Doris: When I got to prison in 1981, I was the second one sentenced to life without parole. Over time, more women coming in had longer and longer sentences. Lots of them young, too.
Colby: Film participants described the parole board's abuse of power in the '70s. One woman called the commissioners "bench gods." How does this compare to what you witnessed over the years?
Robbie: They don't look at us as human beings. They look at us as job security. Those commissioners used to be guards, wardens, police officers, all of those people that have locked people up, they keep us locked up. And racism plays a part. After I was in prison a long time more people started getting parole but we noticed they were mostly white. Black people, people of color, we were the majority left behind. I went to the board nine times and it built up to 36 and a half years. I went to prison in 1985 and paroled in 2021.
You have to say what the parole board wants you to say. They forced me to say that what happened to me didn't happen. So my attorney said just agree with them, say what they want you to say, but I said that's not the truth. I was kidnapped, I was raped, I was beaten. There were witnesses. Year after year I got denied. One time, they gave me 10 years because I told them I'm not going to say what you want, I know what happened to me that night.
Doris: As a Jewish woman, I thought of it like a Jew going in front of a board of Nazis. That's how I thought of the parole board. They don't understand that when they take you away from everything that you love and care about, that's enough punishment.
Colby: Did it surprise you that the wages for work in prison hadn't changed in 50 years?
Robbie: Pennies. I was making 32 cents and I had what's considered a good job. The lowest wage in prison was six cents an hour. It's almost like it's a slave camp. In prison if you don't work you get write ups which can make it so you can't get parole.
Colby: Is there anything else you want to share about watching We're Alive?
Robbie: I want people to know that the same things they went through have been going on and on and it just got worse. We were locked down all the time.
Doris: I want people to help change this system like CCWP [California Coalition for Women Prisoners]. I want them to volunteer their strength in numbers. I look forward to meeting some of them in Sacramento in the near future. I'll be the little old lady with the big mouth.

Watch the film:

Watch the post-screening conversation:

Additional reading:
Blog: "The Whole System": "We're Alive" and Feminist Anti-carceral Struggles
Blog: "We're Alive": The State as Great Big-armed Mother
UCLA Magazine: The Second Life of 'We're Alive'
UCLA Newsroom: Injustice remains: 48-year-old women's prison documentary shows how little has changed