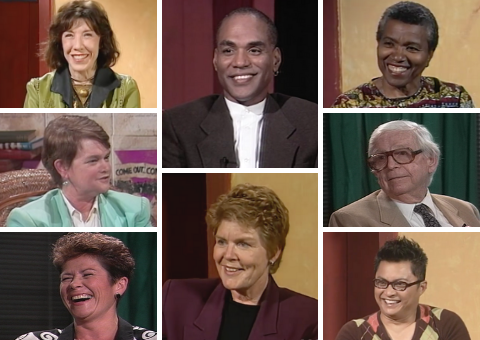 Clockwise, from top left: Lily Tomlin, Phill Wilson, Jewel Thais-Williams, Morris Kight, Alec Mapa, Torie Osborn, Kate Clinton, Sheila Kuehl.


For many gay and lesbian Americans, 1992 was a year of historic change in politics and public discourse: it was the first time that issues affecting their communities were brought to the fore in a Presidential election. Bill Clinton's win was seen as a cause for hope, "a rite of passage for the gay and lesbian movement," said Urvashi Vaid, a prominent leader (New York Times, 1992). Meanwhile, on the state level, equal rights advocates continued to battle to end discrimination, with some hard-fought victories and some setbacks.
Amid this political climate, UCLA alumna Sheila Kuehl—who would soon become the first openly gay or lesbian person elected to the California Legislature—co-produced and hosted a new talk show, Get Used to It (1992-2012). Inspired by the words heard at demonstrations across the nation—"We're here, we're queer, get used to it!"—the series brought together advocates and allies for thoughtful conversations, delving into landmark cases and legislation for equal rights, issues related to LGBTQ+ youth, race and racism in the community, immigration, faith and spirituality, HIV/AIDS, and much more.
A collaboration between the City of West Hollywood, which originally broadcast the series on its public access channel, and the UCLA Film & Television Archive has made all 177 episodes available online. Get Used to It joins over 41,000 other holdings in the Archive's Outfest UCLA Legacy Project collection, the largest publicly accessible archive of LGBTQ+ motion pictures and television.
"The Archive is grateful to the West Hollywood team for entrusting us in the dissemination of this historical LGBTQ+ television program as part of the Legacy Project," said Todd Wiener, motion picture curator and project liaison. "We hope that these important LGBTQ+ moving images are widely resourced by scholars and the public now and in the future."
For a reflection on the program's legacy, we interviewed Sheila Kuehl, this year's Edward A. Dixon UCLA Alum of the Year and a current Los Angeles County Supervisor.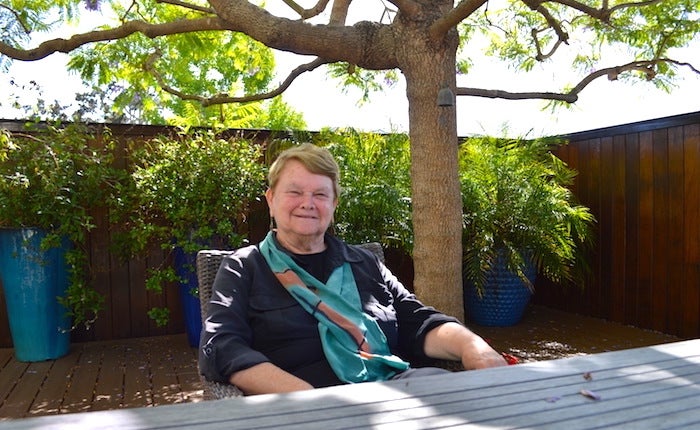 Sheila Kuehl at her home in June 2022.


The City of West Hollywood gave you complete freedom to shape the series. What was the vision you had for the show?
It felt like an opportunity to keep track of our history as it was happening. I wanted to make some permanent records about what was going on in the '90s, which looked to me to be a very, very important decade for us. I think something unique that I brought to the show is that I have always liked to understand the why of things. For instance, when we did a show about marching, my question to the guests was "why do we march? Who's the audience? What do we hope will happen?" So we explored what people might gain by seeing us march and what that might mean to them, our own experience as marchers and what that might mean to us—when half a million of us walk and dance down a boulevard with a mile-long rainbow flag.
I had already seen that a television series could have a collective impact over time, having done episodic comedy for four years on CBS [The Many Loves of Dobie Gillis, 1959-1963]. Our characters grew and the stories evolved out of the growth of the characters and they meant something to the viewers. So, my vision was to take it one month at a time and put something really interesting and maybe historical on tape and hope it would all add up to a unified whole.


The first episode discussed the 1992 election, and one of the final episodes examined the 2011 repeal of "Don't Ask, Don't Tell," with numerous legal and political battles covered in between. Was there a sense that the show was recording history in the making?
I did have a sense that something big was happening in the country. For the first time, we had a shot at being treated like full human beings. But we didn't know how it was going to turn out. I needed to record these people's stories because someday we were not going to be around. And I wanted to record, every month, what was going on in the movement and how it's going, or not going—Supreme Court cases, things that were unknown to us at the time.
I also wanted people to understand that nothing happens unless people do it and do it intentionally. There is no magic. There is no inevitability to a movement. Unless these people and others like them put in that energy, put in that thought, prepared that brief, led that demonstration, made that speech, wrote that book, whatever it was, we would not have moved forward.


Are there issues that remain just as urgent today?
When you make strides in movements and gain some legal backup for them, many people feel, "Look how far we've come." But then there's some awful Supreme Court decision and you realize, "I worked to get Roe v. Wade in 1973, and now I'm starting all over again." So, I guess the answer is, it ain't over until it's over, and it's never over. Things that seemed less critical can suddenly arise again. We could lose equal rights. It's so fragile when you rely on a court system, and yet, it's better than anything else.


Are there interviews that stand out in your memory?
I want to start with Paul Monette because that was a very different interview for me. Paul knew he was dying from AIDS complications. He was such a fine writer and a thoughtful, deep person. I decided to talk with him about art and death, and our conversation was certainly profound for me.
Another that really touched my heart was the interview with [LGBTQ+ rights advocate and political organizer] David Mixner, where he tells his story. He's a wonderful thinker and a great, articulate kind of a preacher.
The show I did with Connie Norman was one of the most important. She was one of the earliest transgender people that anyone knew of, and she was in the women's movement and the gay and lesbian movement, an AIDS activist, a wonderful hero. But, at the time, transgender issues had not arisen to people's consciousness. The interview was an incredible education for me.
My interview with Morris Kight, because he was so important in starting the Los Angeles LGBT Center in his apartment. To hear the stories about the way things were and how you expected to get beaten by the police and arrested every Saturday.
HIV/AIDS activist Phill Wilson talking about intersectionality, which is not a word we even had, was memorable.
Kate Clinton always stood out. A profound comic, one that I think was really important in our movement because laughter, of course, is a really good way to diffuse.
In general, there was much more attention on the gay men who were doing things. But, in California, the first four openly gay people in the Legislature were lesbians. I was the first, and then I interviewed Carol Migden, Christine Kehoe and Jackie Goldberg to get their stories crystallized. Their interviews meant a lot to me because they were colleagues.
And of course Torie Osborn who was a constant leader, a co-producer and a recurring guest on the show, and always brought the sharpest focus on the real issues, the real problems, the real direction we were taking or needed to take.


You took public office in the California State Assembly in 1994 while you were hosting Get Used to It. Did the show impact and inform your time in office, or vice versa?
We had to stop the show when I was running because the city was not allowed to promote me as a candidate. It was an interesting conflation because I was accused by the Republicans of undoubtedly having an agenda that only had to do with gay people. Indeed, on this show, that was my single agenda, but of course not in Sacramento.
When you're in office, people bring issues to you that they hope that you'll help solve. Sometimes I would hear through my work in Sacramento of something that was brewing. But, mostly, it was my friends here, people who were in the legal offices who were doing the cases, people who were engaged in community work that informed some of the work on the show. Like anything that you do—for your art, or your music, or your culture—and your work, they inform each other in so many ways.
The show was a kind of respite from politics. It was a way to sit back and think about "why?" and not just go, go, go, another bill, another vote, another hearing.


What does having these episodes publicly accessible online via UCLA mean to you?
I could not be more grateful to UCLA for doing this. I had no idea how the world would access these important stories, a part of history often not told because it was on the West Coast. So much national leadership came out of California. And yet, the stories that were being told were mostly from the East Coast. So, the show was a way to lift up the work that was being done here.
I am really glad that these are going to be available online because generations to come, and not very far in the future, won't have much of this history. Maybe they were kids in the 1990s and they're curious about how we got where we are. I think this is just one little piece along the road. But there are stories here that people will be able to incorporate in their own work, in their own lives.


—written and edited by Jennifer Rhee, Digital Content Manager; Russell Zych, Digital Communications Assistant


Watch Get Used to It on the Archive's YouTube channel.