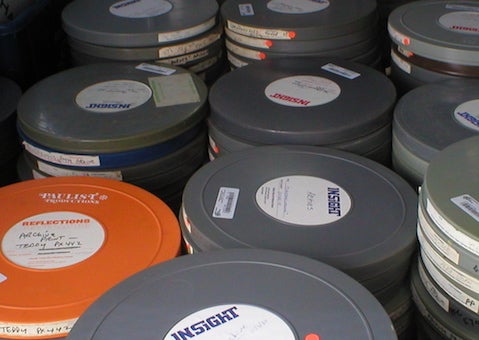 16mm prints of the Insight series
The long-running religious anthology program, Insight (1960-1983), holds a unique place in the history of public service television programming. The revered series, which has obtained underground cult status for its outré storylines and late night airings in the 1970s, was broadcast nationally in major markets for over 20 years without commercial sponsorship. Created, produced and hosted by Fr. Ellwood Kieser (1929-2000), the series boasted a long, diverse list of Hollywood contributors, including the likes of William Peter Blatty, Michael Crichton, Ida Lupino and Flip Wilson—all drawn by the show's reputation for consistently stretching the creative boundaries of television. Offbeat and experimental by design, the series won numerous Daytime Emmy Awards and received critical praise for addressing social issues (the Vietnam War, nuclear proliferation, and suicide, to name a few), often with black humor or stark realism, and almost always with a humanist theme.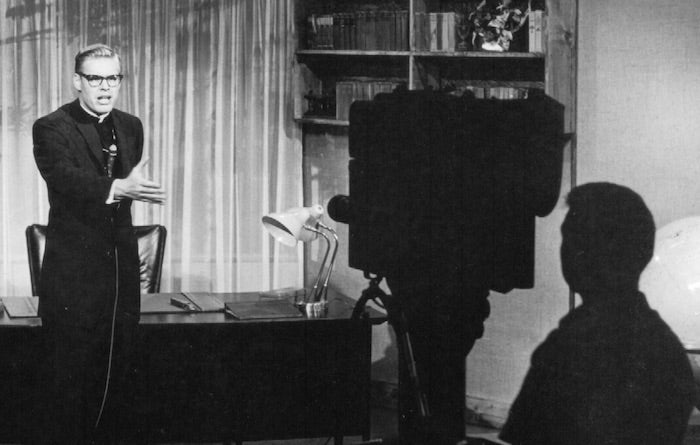 Insight creator, producer and host Fr. Ellwood Kieser
In 2003, UCLA Film & Television Archive initiated an extensive effort with Paulist Productions to help ensure the long-term conservation and preservation of the Insight series. In August of that year, the Archive began the process of retrieving and collecting over 450 rare holdings of the program, in legacy formats ranging from 2" videotape to 16mm prints, from Paulist Productions' unusual headquarters and improvised archive, located in an infamous, distinctive roadside property in Pacific Palisades (where screen star Thelma Todd once lived, ran a nightclub, and died, under suspicious circumstances in 1935).  Since 2003, the Archive has inventoried and cataloged the entire Insight collection, preserved over 20 episodes from original 2" tapes, screened episodes and presented talks about the series to large audiences at numerous events, ranging from the esteemed Orphan Film Symposium (at New York University, 2008), to a 50th Anniversary retrospective held at the Billy Wilder Theater in 2011, to a special event at the Nightingale Cinema in Chicago (2014).
Former headquarters of Paulist Productions
Thanks to our friends and colleagues at Paulist Productions, UCLA Film & Television Archive is pleased to present online viewing access to a curated selection of five Insight episodes preserved at UCLA from original 2" masters, featuring the talents of Hollywood luminaries such as Ed Asner, Beau Bridges, Patty Duke, Norman Lloyd, Juanita Moore, Ted Post, Rod Serling and many others. The notable episodes offered here tackle themes ranging from anti-Semitism to the death penalty, serving to illustrate both the quality and breadth of the series, as well as its high entertainment value, given the show's explicit aim to "reach those outside the church."
To learn more about the series and the Archive's acquisition of the program masters, please visit the article: Between Sign-Off Films and Test Patterns: Insight at UCLA (The Moving Image 9, no. 1 (2009): 224-229).
UCLA Library Special Collections holds Paulist Productions' historical records, including many items relevant to Insight. A finding aid is available online. For more information on UCLA Library Special Collections, please visit their website.
—Mark Quigley, John H. Mitchell Television Archivist

Watch a selection of episodes on YouTube:
"Locusts Have No King" (syndicated, 1965), prod. no. 157
A businessman must decide if it is his civic and moral duty to stand against criminal political corruption in his municipality. Executive producer and host: Ellwood Kieser C.S.P. Writer: Gilbert Ralston. Director: Ted Post. Cast: William Shatner, Geraldine Brooks, Kent Smith, Henry Beckman.


"The Hate Syndrome" (syndicated, 1966), prod. no. 172
A Hebrew teacher confronts a former pupil that has abandoned his Jewish heritage to become an American Nazi party member. Executive producer and host: Ellwood Kieser C.S.P. Writer: Rod Serling. Director: Marc Daniels. Cast: Eduard Franz, James Beggs, Harold Stone.


"The Poker Game" (syndicated, 1969), prod. no. 310
A card game becomes hostile when an idealistic young man reveals the hidden frailties among a group of middle-aged friends. Executive producer and host: Ellwood Kieser C.S.P. Writer: Jack Hanrahan. Director: Ralph Senensky. Cast: Ed Asner, Booker Bradshaw, Don Dubbins, Bill Bixby, Peter Haskell, Jeffrey Hunter, Beau Bridges.


"All Out" (syndicated, 1975),  prod no. 388
Television game show contestants are picked from an audience to participate in a series of tests to determine how far their greed will take them. Executive producer and host: Ellwood Kieser C.S.P. Writer: John Zodrow. Director: Paul Stanley. Cast: Pamela Bellwood, Bob Hastings, Juanita Moore, Nan Martin, Philip Abbott, Eric Laneuville, Pat Strong, Dean Santoro, Daxson Thomas, Peggy Doyle, Joey Prokash.


"The Hit Man" (syndicated, 1983), prod. no. 454
Four people stranded at a small airport become embroiled in a painful debate about the ethics of the death penalty. Executive producer and host: Ellwood Kieser C.S.P. Writer: David Field. Director: Norman Lloyd. Cast: Efrem Zimbalist, Jr., Patty Duke Astin, John Anderson, Al Ruscio.
Episodes preserved by UCLA Film & Television Archive, presented courtesy of Paulist Productions.