50th Anniversary Screening!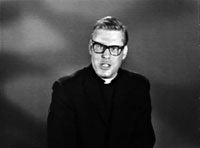 Created, produced and hosted by Paulist priest Father Ellwood E. Kieser (1929–2000), the landmark anthology television series "Insight" debuted in the 1960-61 season and aired nationally in syndication for well over two decades.  Top Hollywood artists such as Rod Serling, Ida Lupino, Bob Newhart, Patty Duke, William Peter Blatty, Michael Crichton and Martin Sheen contributed their talents to the series, drawn by the show's reputation for stretching the creative boundaries of television. Fondly remembered for its "Twilight Zone"-esque tone, "Insight" received critical acclaim and won numerous Emmy Awards for addressing difficult social issues and humanist themes, often with black humor or stark realism.
UCLA Film & Television Archive is pleased to join Paulist Productions in celebrating this lost television cult-classic with a panel discussion, a series highlight reel and a screening of the star-studded episodes "Locusts Have No King" (1965) and "The Poker Game" (1969).