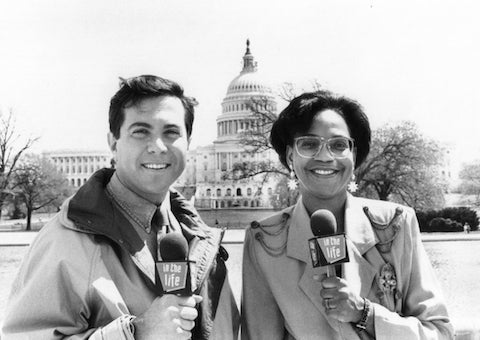 In the Life correspondents in Washington, D.C.
In 2005, UNESCO proclaimed October 27 as World Day for Audiovisual Heritage to raise global awareness of the vulnerability of audiovisual media and the importance of safeguarding our collective memory. This year's theme is Your Story is Moving: stories move through the act of playing and replaying media; they move as physical objects in an ongoing state of decay; they move across borders and cultures as they are increasingly shared digitally; and they move us emotionally as history comes to life through the power of moving images and recorded sound.
Today, UCLA Film & Television Archive celebrates the trailblazing legacy of In the Life, America's first and longest-running television series devoted to LGBTQ issues, which was generously donated to the Archive by its producers in 2013. With the support of our funders, the Archive has conserved the original In the Life videotapes, created backed-up digital copies, and cataloged the materials to make them searchable. Finally, all 197 episodes were made accessible online for free through YouTube and the Archive's website. Beginning in 1992 and for the subsequent 20 years, In the Life documented political, social and legal milestones in LGBTQ history, such as the galvanizing 1993 March on Washington for Lesbian, Gay and Bi Equal Rights and Liberation. But, just as importantly, In the Life shed light on the lives of ordinary LGBTQ Americans who showed bravery in the face of discrimination.
One of their most affecting stories addressed the 2001 murder of Fred Martinez, an openly transgender Navajo teen in Cortez, Colorado, whose death was not widely covered by national media outlets.



17 years later, the story remains a poignant reminder of the violent consequences of intolerance.
"It is imperative to share this moving and incredibly timely In the Life story on UNESCO's World Day for Audiovisual Heritage," says archivist and project co-curator Todd Wiener, "particularly in response to the current White House administration's abhorrently cruel and inhumane efforts to legislate 1.4 million trans U.S. citizens from existence. The harrowing story of Fred Martinez illuminates the tragic human cost of the kind of dangerous rhetoric and political discourse that encourages hateful acts of violence and abuse against all LGBTQ people. Sadly, given the current political climate, such acts are currently on the rise in this country. There are other heartbreaking stories of brutality and intolerance in the In the Life web portal that must remain documented and visible so that we never forget; and there are also hundreds of stories of rising queer power, advocacy, resistance and resilience. In the coming years, I truly hope we can utilize content like this online to motivate and promote our future leaders and herald much-needed LGBTQ advocacy, democracy, and human decency."


The project is part of the Outfest UCLA Legacy Project, a collaborative effort to collect, save and share LGBTQ moving images.
Learn more about the World Day for Audiovisual Heritage.

—Jennifer Rhee, Digital Content Manager