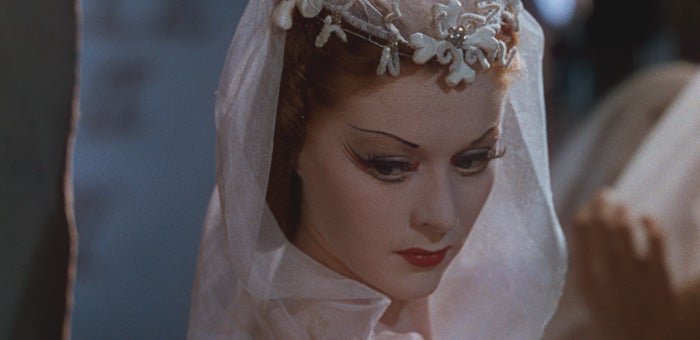 "A blindingly rich and refulgent print... you will not just be seeing an old film made new; you will have your vision restored."—Anthony Lane, The New Yorker
The UCLA Film & Television Archive restoration of Michael Powell and Emeric Pressburger's masterpiece, The Red Shoes (1948), had its world premiere at the 2009 Cannes Film Festival and subsequently played to sold out audiences in Los Angeles. Employing both traditional chemical and cutting edge digital processes, this restoration, supervised by former UCLA Preservation Officer Robert Gitt, eliminated years worth of damage, revealing a cinematic marvel even more vibrant and electrifying than many fans may remember. A landmark in film style and thematics, The Red Shoes has become a touchstone to cineastes, lovers of dance and filmmakers ranging from Vincente Minnelli to Martin Scorsese. Its astounding production design, music and choreography, its shockingly sumptuous color palette and revolutionary treatment of dance on film, now may be rediscovered and savored anew. The Red Shoes was restored by UCLA Film & Television Archive, in association with the British Film Institute, The Film Foundation, ITV Global Entertainment, Ltd. and Janus Films. Restoration funding provided by the Hollywood Foreign Press Association, The Film Foundation and the Louis B. Mayer Foundation.


About the 2009 Restoration
By Robert Gitt, former Preservation Officer. Reproduced from the booklet distributed at the 2009 Cannes world premiere, courtesy of The Film Foundation.
UCLA Film & Television Archive and The Film Foundation have been working on the current restoration of The Red Shoes from the fall of 2006 through the spring of 2009. Earlier, in the 1980s, the film had been optically copied from flammable nitrate to safety acetate film by the BFI and Rank Film Distributors, using the best celluloid technology then available. In undertaking this new restoration, our goal has been to build upon these past efforts, utilizing modern techniques to produce digital and film preservation elements of the highest possible quality.
We were provided access to over two hundred reels of 35mm nitrate and acetate materials, including vintage Technicolor dye transfer prints, nitrate and acetate protection master positive copies, original soundtrack elements, and—most important of all—the still extant three-strip Technicolor camera negatives. For quality reasons, we chose these original negatives as our starting point even though they were afflicted with a daunting number of problems: sixty-five per cent of the film had bad color fringing caused by differential shrinkage and sometimes by mis-adjustment of the camera during shooting; 176 shots contained color flickering, mottling and "breathing" because of uneven development and chemical staining; seventy sequences contained harsh optical effects with excessive contrast; and throughout there were thousands of visible red, blue and green specks caused by embedded dirt and scratches. Worst of all, mold had attacked every reel and begun to eat away the emulsion, leaving behind thousands of visible tiny cracks and fissures.
Extensive digital restoration was the only practical solution. Warner Bros. Motion Picture Imaging and Prasad Corporation Ltd. were chosen to undertake the immense task of digitally scanning 579,000 individual frames directly from the three-strip camera negatives, re-registering the colors, removing visible specks and scratches, mitigating color breathing, solving contrast issues, performing shot-to-shot color correction, and finally recording all 134 minutes back to 35mm Eastman color internegative stock. To obtain uniformly high quality results, 4K resolution was employed at every stage of the digital picture restoration work. Digital techniques were also employed by Audio Mechanics to remove pops, thumps, crackles and excessive background hiss from the film's original variable density optical soundtrack.
In the restoration process, the entire film was turned into ones and zeros, repaired, and then converted back into a motion picture again. In order to achieve a proper film look, we compared the new digital images with those in an original Technicolor dye transfer print and in a new Eastman color test print struck by Cinetech Laboratories directly from the YCM camera negatives. Careful adjustments were made in the finalized digital version to combine the best qualities of modern color film (greater image sharpness, more sparkle in highlights) with the most pleasing attributes of vintage Technicolor dye transfer prints (bold colors, deep blacks, gentle contrast with a pleasing range of tones in actors' faces). We have even retained the familiar Technicolor changeover cues, with their distinctive magenta circle surrounded by a bright green ring. The end result is a restoration that combines the best of the past with our digital present.

Read more about the restoration in the Los Angeles Times.
Available on DVD/Blu-ray through the Criterion Collection.