"For today's preeminent Portuguese filmmakers, no single figure has been more influential than António Reis." —Artforum
Little known in the U.S., António Reis is revered in his native Portugal as a visionary artist whose films—and many years as a beloved teacher and mentor—exerted an immeasurable influence over the post-Salazar rebirth of Portuguese cinema and the new generation of filmmakers that emerged in the 1980s and 1990s.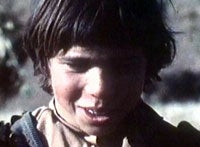 Born in Oporto, Reis found renown first as a poet before meeting the great Manoel de Oliveira who invited Reis to be assistant director on Oliveira's first radical masterpiece, Rite of Spring (1963), working alongside another important collaborator, Paulo Rocha. The pioneering mode of poetic ethnographic cinema which Oliveira and Reis defined guided the four extraordinary works Reis co-directed with his wife, the psychologist Margarida Cordeiro, culminating in Trás-os-Montes (1976), a lyrical search for the very "soul" of Portuguese culture and history in the myths and peasant folklore embodied in Portugal's remote far-north region.
Admired by the likes of Joris Ivens, Jean Rouch and Jean-Marie Straub, the films of Reis and Cordeiro invented a poetically liberated and hypnotically cinematographic film language, a style and sensibility that set the course of Portugal's lasting tradition of radical cinema.
This series has been adapted from a program curated by Haden Guest, director of the Harvard Film Archive. Program notes adapted from notes written by Haden Guest.
Presented in association with Los Angeles Filmforum. Los Angeles Filmforum members receive two for one admission at the Billy Wilder Theater box office!
Note: The final two programs in this series will be presented by Los Angeles Filmforum on July 15 and July 22. Info/tix: www.lafilmforum.org
All films in Portuguese with English subtitles.
Special thanks: Haden Guest, director, David Pendleton—Harvard Film Archive; Pedro Fernandes Duarte—Rosa Filmes; Alexandra Pinho—Instituto Camões; Paulo Cunha Alves—Consul General of Portugal in Boston; José Manuel de Costa, Luis Miguel Oliveira—Cinemateca Portuguesa; João Pedro Rodrigues; Pedro Costa; Ana Conboy, Sofia Soares—Boston College.