"Experiencing the films on a big screen...is a deeply exciting experience, filled with energy and passion." —Los Angeles Times

"The most contentious and inventive of Soviet filmmakers." —LA Weekly
Born Denis Abelevich Kaufman, but best known by his pseudonym, Russian filmmaker and film theorist Dziga Vertov (1896–1954) holds a major place in the history of cinema. His films, bold aesthetic experiments in documenting contemporary life, have influenced generations of filmmakers—from Jean-Luc Godard to Richard Serra to Steve McQueen—and are as revelatory today as when they first premiered. This retrospective, the most comprehensive ever presented in Los Angeles, includes an extensive selection of Vertov's silent films and sound features produced in what he called his "factory of facts."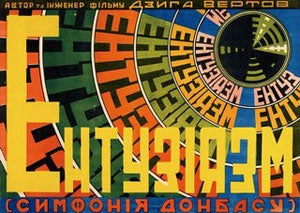 Included among the delights and rarities are the West Coast premiere of the EYE Film Institute Netherlands' newly restored print of Man with a Movie Camera (1929) along with 11 programs drawn primarily from the Austrian Film Museum's unparalleled Vertov collection, including 14 Kino-Week films from 1918–19, and all of his extant Kino-Pravda films from 1922–25. This one of kind series reveals Vertov's exhilarating body of work to be, not a succession of individual films, but one continuously evolving movie. "Free of the limits of time and space," Vertov wrote, his films would lead to "a fresh perception of the world" and a revolutionary passage from the Old to the New.
This series is modeled on the recent retrospective curated at The Museum of Modern Art by professor Yuri Tsivian of the University of Chicago, and Joshua Siegel, associate curator in the Department of Film at the Museum of Modern Art, New York. The majority of 35mm prints presented have been generously loaned by the Austrian Film Museum, Vienna. Film notes are by Joshua Siegel, adapted, in part, from texts by Yuri Tsivian from the 23rd Pordenone Silent Film Festival catalog. We are indebted to the staff of MoMA and the Austrian Film Museum for their collegial assistance.
Special thanks to: Andreas Lins, Deputy Head of Post/Consul—Austrian Consulate General, Los Angeles.

Thanks to: Joshua Siegel, associate curator—Department of Film, MOMA; Adelheid Heftberger, curator of the Vertov Collection—Austrian Film Museum; Marleen Labijt—EYE Film Institute Netherlands; Susan Oxtoby, senior film curator—Pacific Film Archive.