"Providing our audience not only with rare big-screen access to cinema's greatest classics and treasures, but also the even rarer opportunity to see them projected from beautiful, pristine celluloid prints..." —Pacific Cinémathèque, Vancouver
The Archive's renowned "UCLA Festival of Preservation" spotlights recently completed UCLA Film & Television Archive preservation projects. The Festival spans an entire century of moving image media, showcasing classic Hollywood feature films, television programs, newsreels, silent comedies, documentaries and contemporary independents.
For the first time ever, highlights from the month-long Festival screened for audiences outside of Los Angeles in select North American venues.
Some of the titles in the tour's eclectic repertoire:
• John Cassavetes' masterpiece, A Woman Under the Influence (1974), starring Gena Rowlands and Peter Falk.
• The Prowler (1951, by Joseph Losey), starring Van Heflin and Evelyn Keyes.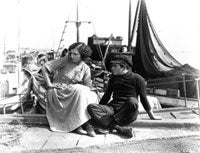 • Josef von Sternberg's first film, The Salvation Hunters (1925), shot on location in the mud flats of the San Pedro harbor district.
• Two films from director Frank Borzage: Young America (1932) and Song O' My Heart (1930).
• "Vitaphone Varieties (1927-31)," early examples of sound cinema that preserve rare performances from the height of the Jazz Age.
• Point of Order! (1963), Emile de Antonio's powerful indictment of McCarthyism.
• A double-feature of indie icon John Sayles' early work, Return of the Secaucus 7 (1980) and The Brother from Another Planet (1984).
• The landmark LGBT film, Word is Out: Stories of Some of Our Lives (1977, Mariposa Film Group).
• Two short features, the lyrical Oil: A Symphony in Motion (1933, Artkino) and Sunday (1961, Dan Drasin), which documents a police crackdown on NYC folk singers.
Dates and venues:
| | | |
| --- | --- | --- |
| August 7–30, 2009 | Berkeley, CA | Pacific Film Archive |
| September 4–28, 2009 | Chicago, IL | Gene Siskel Film Center |
| October 1–28, 2009 | Columbus, OH | Wexner Center for the Arts |
| November 20–December 2, 2009 | Portland, OR | Northwest Film Center |
| December 5-27, 2009 | Washington, DC | National Gallery of Art |
| February 5–28, 2010 | Houston, TX | The Museum of Fine Arts |
| March 11–29, 2010 | Vancouver, BC | Pacific Cinémathèque |
| June 28–August 5, 2010 | Seattle, WA | Northwest Film Forum |