Dorothy Arzner remains arguably the woman with the longest continuous career as a director in Hollywood. From early stints as a typist, editor and screenwriter, Arzner went on to direct 16 features in about as many years, a record still unrivalled by any female director in Hollywood more than 60 years after Arzner's professional heyday in the 1930s.
Arzner began making silent films, which sadly seem to have disappeared. But with The Wild Party (1929) she made the transition to sound, a technological change she embraced and reportedly even advanced: to put Clara Bow at ease and moving naturally in her first talkie, Arzner is said to have devised a microphone on a pole, the first "boom." Subsequently, she gained a reputation as a star-maker of up-and-coming actresses.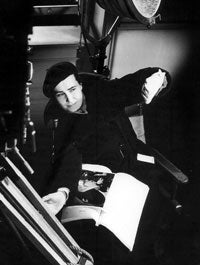 Rosalind Russell, Katharine Hepburn, even stage actress Ruth Chatterton and the young (though hardly a film novice) Lucille Ball, all were cast by Arzner in breakout roles. By the early '40s, professional setbacks had precipitated Arzner's retirement from Hollywood. Nevertheless, she continued to be active, directing Women's Army Corps training films during WWII and Pepsi-Cola commercials for Joan Crawford in the '50s. Eventually she landed at UCLA, where she taught filmmaking from 1959 to 1963; Francis Ford Coppola has spoken fondly of the encouragement she gave him as a student. In an echo of her career-long "exceptionalism," she occupies a special niche at UCLA today: she is the sole film school faculty member to be memorialized with a bronze sculpture, in the northwest corner of the lobby outside the James Bridges Theater.
Arzner's films were rediscovered in the '70s feminist reappraisal of classical Hollywood, and this rediscovery was given further life by Judith Mayne's 1994 book, Directed by Dorothy Arzner, which examines Arzner's career in light of her lesbianism. Arzner's works today appeal as much for their subversive interrogation of women's communities and female behavior as for their drop-dead wit, sparkling double entendres and playful gusto. If the sight of Clara Bow giddily chatting about "hard-boiled maidens" in all-female company connotes a certain gayness and gaiety, well, that's the prismatic marvel of Arzner.


A Note on the Film Preservation
With the cooperation of Paramount Pictures and Universal Studios, the six films in this series were preserved at UCLA Film & Television Archive from nitrate projection prints or acetate master positives. None of the original negatives have survived. Because of the potentially volatile nature of nitrate film, it was common practice for studios to transfer their nitrate elements to 'safety' acetate based film subsequently destroying the originals. Due to the technical limitations of the time, physical defects such as scratches and dirt were permanently printed into the master positive copies.
The nitrate prints exhibited their own imperfections from wear. Merrily We Go to Hell, which was once projected with a widescreen aperture plate, had emulsion scratches on the top and bottom of every frame. There were even a few cases of minor editorial differences between the print and master positive where a risqué line was apparently removed.
With the expertise of Cinetech, Film Technology Company, Triage and YCM Laboratories, UCLA Film & Television Archive was able to combine the best portions of the source materials to create new preservation duplicate negatives. Audio Mechanics provided digital sound restoration on Anybody's Woman, Honor Among Lovers and Merrily We Go to Hell. BluWave Audio worked on Sarah and Son.
Thanks to all the hard work of all the labs and the genrous funding by the David and Lucile Packard Foundation, the National Endowment for the Arts, the Myra Reinhard Family Foundation and Jodie Foster, we now have new preservation prints and preprint elements for present and future Dorothy Arzner fans to enjoy.
"Directed by Dorothy Arzner" runs from May 2003 to the end of January 2004 at more than 10 venues across the US and in England. The program consists of the following 6 titles:
The Wild Party  (1929)
Directed by Dorothy Arzner
Paramount's first sound feature, THE WILD PARTY was conceived as a vehicle for silent superstar Clara Bow—indeed the film was expressly designed as the "It" girl's talkie debut. A light-hearted comedy set at an exclusive women's college, the film features Bow as the most popular party girl in a dorm full of high-spirited flapper coeds. Critically acclaimed and a box office success, THE WILD PARTY confirmed Arzner's reputation as an exceptional director of actors, even something of a "star-maker," and established her as a resourceful and reliable practitioner in the new medium of talking motion pictures.
Paramount. Based on a story by Warner Fabian. Screenwriter: E. Lloyd Sheldon. Cinematographer: Victor Milner. Editor: Otto Lovering. Cast: Clara Bow, Fredric March, Shirley O'Hara, Marceline Day. 35mm, 77 min.


Sarah and Son  (1930)
Directed by Dorothy Arzner
Ruth Chatterton shared with Arzner a disdain for conventional ideas of what a woman could and could not do. In the 1940s she directed a play on Broadway and once piloted her own plane across the country. During the early years of sound, her stage-training and assured technique won her the title "Queen of the Talking Screen." In SARAH AND SON, she played a woman trying to reclaim the son from whom she was unfairly separated while he was still an infant. Her performance in this highly emotional drama (her first for Arzner) was rewarded with an Oscar nomination for Best Actress.
Paramount. Based on the novel by Timothy Shea. Cinematographer: Charles B. Lang. Editor: Verna Willis. Cast: Ruth Chatterton, Fredric March, Fuller Mellish, Jr, Gilbert Emery, Doris Lloyd. 35mm, 86 min.


Anybody's Woman  (1930)
Directed by Dorothy Arzner
Arzner reunited with screenwriter Zoë Akins and actress Ruth Chatterton in this story of a working-class woman's painful unease in high society. Chatterton plays Pansy Gray, a chorus girl out of work after being arrested for "revealing too much at a burlesque show." She meets a well-to-do lawyer (Clive Brook) who is slumming it since his wife dumped him, and after a night of drunken debauchery they wake up sober—and married. Soon Pansy must adjust to her new life where even the servants look down on her. Chatterton's character, like many of Arzner's heroines, may have been hard up, but not helpless.
Paramount. Based on the short story "The Better Wife" by Gouverneur Morris. Screenwriter: Zoë Akins. Cinematographer: Charles B. Lang. Editor: Jane Loring. Cast: Ruth Chatterton, Clive Brook, Paul Lukas, Huntly Gordon, Virginia Hammond. 35mm, 80 min.


Honor Among Lovers  (1931)
Directed by Dorothy Arzner
A secretary (Claudette Colbert) rejects her boss's advances in favor of marriage to a young stockbroker, only to discover that her former boss (Fredric March) is a man of character while her husband (Monroe Owsley) is an unprincipled weakling. The story is distinctly pre-Production Code—March announces at the outset that he is against marriage, and at the end of the picture it is not clear that he has changed his mind; Owsley openly takes a mistress after he and Colbert have been married less than a year—but Arzner demonstrates her skill at extracting dramatic gold from potentially lurid material.
Paramount. Screenwriter: Austin Parker. Cinematographer: George Folsey. Cast: Claudette Colbert, Fredric March, Monroe Owsley, Charlie Ruggles, Ginger Rogers. 35mm, 75 min.


Working Girls  (1931)
Directed by Dorothy Arzner
This rarely seen gem is a subversively funny film laced with Arzner's characteristically ironic view of marriage, work and class. Judith Mayne calls it "perhaps the most daring and innovative film Arzner ever made." Two Indiana sisters come to New York City to look for work. They learn how to be single girls in the big city and, after some intervening travails, find love and the right men. What makes the film tick, however, are the winks and double entendres the script (by key Arzner collaborator Zoë Akins) keeps throwing our way—from the brazenly suggestive title to wisecracks insinuating gender confusion. Anticipating DANCE, GIRL, DANCE, the film distinguishes the "ladylike" and the "hardboiled" woman only to embrace both at the end.
Paramount. Based on the play Blind Mice by Vera Caspary, Winifred Lenihan. Screenwriter: Zoë Akins. Cinematographer: Harry Fischbeck. Cast: Judith Wood, Dorothy Hall, Charles Buddy Rogers, Paul Lukas, Frances Dee. 35mm, 77 min.


Merrily We Go to Hell  (1932)
Directed by Dorothy Arzner
This pre-code comedy opens with Fredric March, as dissolute writer Jerry, wooing and wedding Joan, a naïve young socialite played by Sylvia Sidney. Their idyllic marriage heads south once Jerry's play becomes a Broadway hit and he reverts to the self-loathing libertine he was before he met Joan. A bitter comedic pill, essentially cynical about the prospects of modern romance and unblinking in its critique of soulless, pseudo-sophisticated high society, the film was nevertheless a great commercial success. It was Arzner's last film at Paramount, whose support of her had grown tepid; she went on to work as an independent rather than take a pay cut.
Paramount. Based on the novel I, Jerry, Take Thee, Joan by Cleo Lucas. Screenwriter: Edwin Justus Mayer. Cinematographer: David Abel. Cast: Sylvia Sydney, Fredric March, Adrianne Allen, Skeets Gallagher, Cary Grant. 35mm, 78 min.