Arkatov Productions was founded by musician and filmmaker Salome Ramras Arkatov to raise awareness of noted Russian pianist and master teacher, Rosina Lhevinne and how Lhevinne became a living link to the 19th century "Old Russian School" of piano, transmitting that tradition to generations of pianists and some of the 20th century's great musicians. Lhevinne's career as a teacher and concert artist flourished from age 65 to 96; her story is told in Arkatov's multi-award-winning documentary film, The Legacy of Rosina Lhevinne (2003).
The Archive holds extensive master footage and outtakes from The Legacy of Rosina Lhevinne documentary, including insightful interviews with pianist Arthur Rubinstein, musicologist Nicolas Slonimsky, violinist Robert Mann, and Rosina Lhevinne's daughter, Marianna Lhevinne Graham.  The Salome Arkatov Music Documentary Collection also includes unedited interviews and performances by notable pianists such as John Browning, Van Cliburn, Misha Dichter, Tong Il-Han, Arthur Rubinstein, and celebrated composer John Williams.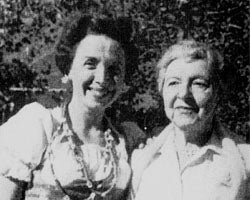 Download a list of additional footage and subjects in the collection of over 200 holdings in PDF Format.
To arrange onsite research viewing access, please contact the Archive Research and Study Center (ARSC).
For more information on The Legacy of Rosina Lhevinne documentary and Salome Arkatov, please visit: http://www.arkatovproductions.com/lhevinne.htm