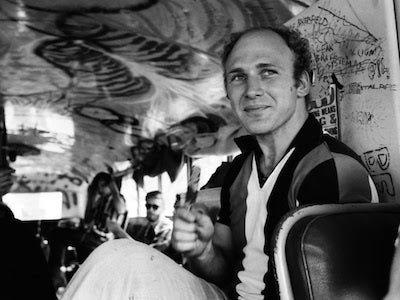 View our collection finding aid (PDF).
The UCLA Film & Television Archive holds the film collection of American writer and 1960s countercultural figure Ken Kesey (1935-2001), "who built a bridge from beatniks on the road to hippies in Haight-Ashbury; who brewed the cultural mix that fermented everything from psychedelic art to acid-rock groups like the Grateful Dead and Jefferson Airplane [...] and who, in the process of his pilgrimage, blew an entire generation's mind" (New York Times obituary).
As a student at Stanford University, Kesey volunteered to participate in a CIA-financed study of the effects of psychoactive drugs, an experience that inspired him to write the 1962 classic One Flew Over the Cuckoo's Nest. In 1964, Kesey embarked on an LSD, amphetamine and marijuana-fueled trip from the West Coast to New York City with a group of men and women who called themselves "The Merry Band of Pranksters," traveling together in a school bus covered in Day-Glo paint. On this road trip, Kesey intended to abandon writing and create a film using the footage they shot collectively. Returning to California, Kesey and the Pranksters continued to shoot film on Kesey's ranch in La Honda and at weekly parties known as "Acid Tests," which involved live music by The Warlocks (later known as The Grateful Dead), strobe lights, fluorescent paint and LSD.
The bulk of the Kesey collection at the UCLA Film & Television Archive is comprised of 16mm footage shot during the 1964 cross-country journey. Other kinds of footage in the collection include: the Pranksters at the 1969 Woodstock music festival; acid tests throughout California; a film produced by the Pranksters titled Cassady in the Backhouse; an unfinished film titled Atlantis Rising; and home movies of the Kesey family. Additionally, there is a significant amount of un-synced reel-to-reel audio tapes in the collection. 
To arrange an on-site research viewing appointment at UCLA, please contact the Archive Research and Study Center.