Jack Oakie, one of the most likeable players of the 1930s and '40s, appeared in over 80 films, from big-budgeted comedies and musicals, to B Westerns and football flicks. Born Lewis Delaney Offield in Sedalia, Missouri in 1903, Oakie hit Hollywood in mid-1927, before the talkie craze. He signed with Paramount in 1928, debuting in The Dummy that same year and appearing in 10 films in 1929 alone.  Among his most memorable roles was Napolini, Il Duce of Bacteria, in Charlie Chaplin's The Great Dictator (1940)--a thinly disguised slam at the Italian dictator Benito Mussolini, which earned Oakie an Oscar nomination for best supporting actor.
Victoria Horne-Oakie, perhaps best known for her role as Myrtle Mae Simmons in the James Stewart classic Harvey (1952), made memorable appearances in such films as Forever Amber (1947), The Ghost and Mrs. Muir (1947) and The Strange Love of Martha Ivers (1946). Ms. Horne-Oakie would appear in over 45 films until her retirement from the screen in 1952.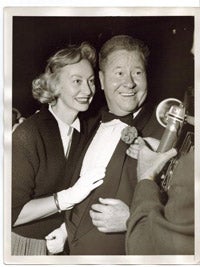 Each year the Jack Oakie & Victoria Horne Oakie Charitable Foundation supports numerous initiatives at colleges, universities and other institutions around the nation to support talented students in the performing arts. The Foundation generously supports four student scholarships each year at the UCLA School of Theater, Film and Television and has also established a collection of Jack Oakie and Victoria Horne-Oakie films on DVD for research and study.
In addition to housing the JACK OAKIE & VICTORIA HORNE-OAKIE DVD COLLECTION, UCLA Film & Archive has preserved a number of films featuring Jack Oakie, including Too Much Harmony (1933), Murder at the Vanities (1934), and It Happened Tomorrow (1944). The Archive has also preserved The Scarlet Claw (1944), featuring Victoria Horne.
Download a sample list of available titles at UCLA in PDF format.
To arrange onsite research viewing access, please contact the Archive Research and Study Center (ARSC).