Download a sample list of available titles and additional research resources at UCLA in PDF format.
Considered by some to be a movement and others a genre, the classic period of film noir stretched from 1941 to 1958, bookended by the seminal films The Maltese Falcon and Touch of Evil. Film noir (or literally "black film"), a term coined by the French film critic Nino Frank, was often used to describe films that exhibited low-key black and white cinematography reminiscent of German Expressionism and plots centered around moral ambiguity and a rampant fear of sexuality.
Often described and studied strictly in terms of its filmic manifestations, many of the stylistic aesthetics and narrative techniques of noir were prevalent on American television in such programs ranging from crime dramas (Johnny Staccato, The Man With a Camera, 77 Sunset Strip), and police procedurals (Dragnet, Naked City, The Untouchables), to science fiction anthologies (The Outer Limits, The Twilight Zone).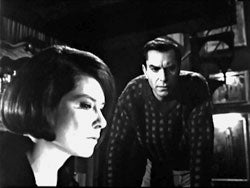 Many of these programs not only exhibit noir style, but showcase the artistic efforts of many film noir luminaries. John Brahm (The Lodger, Guest in the House) directed episodes of both Alfred Hitchcock Presents and The Twilight Zone. John Cassavetes (Shadows, A Woman Under the Influence) starred and directed in Johnny Staccato. Ida Lupino (High Sierra, On Dangerous Ground) directed episodes of both The Fugitive and The Untouchables. Joseph Cotten (The Third Man, Shadow of a Doubt) appeared in episodes of both Alfred Hitchcock Presents and 77 Sunset Strip. Lee Marvin (The Big Heat, The Killers) appeared on both M Squad and The Untouchables, while Gerd Oswald (Crime of Passion) and Joseph Stefano (Psycho) worked together on The Outer Limits. Stefano went on to produce, write, and direct the unsold gothic-horror TV pilot "The Haunted" (1964), which featured noirish cinematography by Conrad Hall, assisted by camera operator William Fraker.
While the bulk of these programs ran during the 1950s and '60s, the noir style witnessed a resurgence during the late 1980s and early '90s, mainly exhibited in the works of Michael Mann and David Lynch whose seminal programs Miami Vice and Twin Peaks showcased a baroque utilization of noir aesthetic.
However, these characteristics were also exhibited in overlooked programs, such as the Showtime anthology Fallen Angels (with episodes directed by Steven Soderbergh and Alfonso Cuarón), Wes Craven's short-lived Nightmare Cafe, and the HBO series The Hitchhiker. During this time there were also several made-for-TV noirs, both remakes (Dial M for Murder, Double Indemnity) and original telefilms such as Poodle Springs, which was adapted from an unfinished novel by Raymond Chandler (The Big Sleep, Double Indemnity and The Long Goodbye). Set in the shadows of New York's mean streets, NBC's noir series Johnny Staccato (1959-60) starred John Cassavetes as a jazz pianist turned private detective. Cassavetes also directed a number of episodes.
To arrange on-site research viewing access, please contact the Archive Research and Study Center (ARSC).