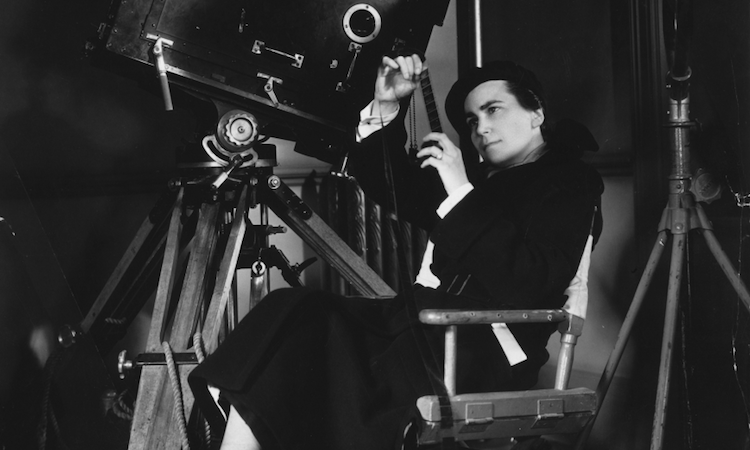 Dorothy Arzner
As a young woman Dorothy Arzner studied medicine but became interested in filmmaking after visiting a movie studio.  She held jobs as a script typist, reader and script supervisor, film editor (for films including Blood and Sand and Ruggles of Redgap) and screenwriter.  She directed her first film, Fashions for Women, in 1927 and was the first woman to join the newly formed Directors' Guild of America.  Her commercially successful career spanned 25 years, ending in 1943 with First Comes Courage.  After her retirement, Arzner initiated the first filmmaking course at the Pasadena Playhouse, filmed numerous Pepsi Cola commercials at Joan Crawford's request and taught at the UCLA School of Theater, Film and Television.
Although Arzner thought of herself as an ordinary working director rather than a pioneer, her status as one of the first women directors, and the only one at the time working within the Hollywood studio system, has attracted feminist attention.  By examining the critique of women as spectacle implicit in the Dance, Girl, Dance (1940) and pointing out the self-determined, ambitious and independent women in films such as Working Girls (1932) and Christopher Strong (1933), critics have reassessed the content and structure of her films.  Although she was working within the constraints of the studio system, Arzner has stated that because she was not dependent on movies for her living, she was always willing to give a film to another director if she couldn't make it her way.
Download a sample list of available titles and additional research resources at UCLA in PDF format. To arrange onsite research viewing access, please contact the Archive Research and Study Center (ARSC).
Paper and audio records of Arzner's life and career can be searched in the Dorothy Arzner Papers at the UCLA Library Special Collections.
For an extended profile of Dorothy Arzner by professor Allyson Nadia Field, please visit the Women Film Pioneers Project.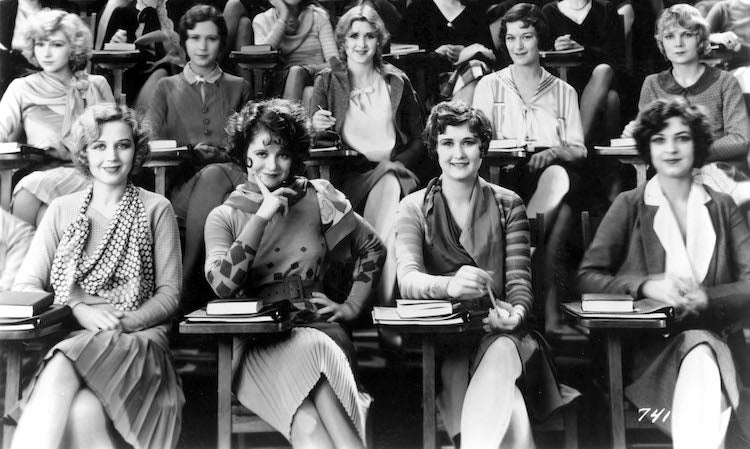 The Wild Party (1929)
Film Preservation
With the cooperation of Paramount Pictures and Universal Studios, six films were preserved by UCLA Film & Television Archive from nitrate projection prints or acetate master positives. None of the original negatives have survived:
The Wild Party (1929)
Sarah and Son (1930)
Anybody's Woman (1930)
Honor Among Lovers (1931)
Working Girls (1931)
Merrily We Go to Hell (1932)
Because of the potentially volatile nature of nitrate film, it was common practice for studios to transfer their nitrate elements to 'safety' acetate based film subsequently destroying the originals. Due to the technical limitations of the time, physical defects such as scratches and dirt were permanently printed into the master positive copies. With the expertise of Cinetech, Film Technology Company, Triage and YCM Laboratories, UCLA Film & Television Archive was able to combine the best portions of the source materials to create new preservation duplicate negatives. Audio Mechanics provided digital sound restoration on Anybody's Woman, Honor Among Lovers and Merrily We Go to Hell. BluWave Audio worked on Sarah and Son. Thanks to all the hard work of all the labs and the genrous funding by the David and Lucile Packard Foundation, the National Endowment for the Arts, the Myra Reinhard Family Foundation and Jodie Foster, we now have preservation prints and preprint elements for present and future Dorothy Arzner fans to enjoy.
Learn about UCLA Film & Television Archive's 2003 series, Directed By Dorothy Arzner, which toured more than 10 venues across the U.S. and England.  Arzner was also the focus of a retrospective in 2015.