Download a sample list of available titles and additional research resources at UCLA in PDF format.
Animation means more than cartoons. The term describes a wide range of frame-by-frame, two and three dimensional filmmaking techniques. Animation processes include the manipulation of drawings on clear acetate sheets (cels) or paper, cutouts, puppets, clay and models. Other techniques include pin screen animation, photokinesis, pixilation and computer-generated imagery. Animated films have entertained and educated, and sold products, and artists have used the techniques to give motion to purely abstract shapes. In recent years, animation has become the subject of serious critical examination.
The UCLA Film & Television Archive collections contain examples of virtually all types of animation. Among the holdings are over sixty animated films by Dave Fleischer, independent films by Ub Iwerks (one of the inventors of Mickey Mouse), and a large selection of Warner Brothers cartoons, featuring both the Looney Tunes and Merrie Melodies series. Other parts of the collection include animated commercials, movie trailers and episodes of "The Simpsons" and "Sesame Street," as well as works by artists such as Fernand Leger and films developed in the UCLA Animation Workshop. A study collection on video, donated by ASIFA-Hollywood (L'Association Internationale du Film d'Animation), provides an overview of the field. The UCLA Film & Television Archive's ongoing preservation program, which works to save film from nitrate deterioration, has restored the early color Betty Boop cartoon "Poor Cinderella," some Hearst Newsreel animation and George Pal Puppetoons.
View films online: Silent Animation Preserved at UCLA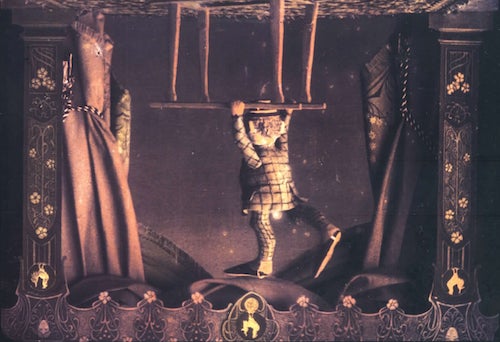 Thanks to an access grant from the National Film Preservation Foundation, UCLA Film & Television Archive has launched an interactive website showcasing select animated films preserved at UCLA. Although best-known for the restoration of feature films, UCLA Film & Television Archive has been preserving animated films for more than three decades, with over one hundred animation titles preserved to date. The animated short subjects presented in the Archive's online portal at animation.library.ucla.edu provide a representative sampling of that work from the silent era, preserved from best-surviving and sole-surviving 35mm nitrate and 16mm prints.
Visitors to the Archive's website may view or download eleven films originating from 1900 to 1928, including titles such as J. Stuart Blackton's The Enchanted Drawing (1900) and a promotional film for Harry O. Hoyt's The Lost World (1925). Audio track options to accompany the silent films include traditional piano and experimental scores by composer Michael Mortilla, as well as voice-over commentary by the Archive's Senior Film Preservationist, Jere Guldin.  To provide additional context for the works, the site features film notes by Guldin and animation historian, Jerry Beck ("The Animated Movie Guide"),  and an original essay, "Animation's Early Years" by historian Mark Langer (Carleton University).  The site also includes a study guide that serves as an introduction the Archive's broader collection of animation, much of it accessible for research via the Archive Research and Study Center (ARSC) located on the UCLA campus.


Watch "The Fascinating History of Animation," presented by the Archive's Mark Quigley: