Defining a Black Aesthetic in Black Art, Black Artists
On the Sunday evening of November 20th, UCLA's L.A. Rebellion program hosted the screening of three documentary style films that presented a uniquely unified body of work.  All of the films in some way addressed the creative processes behind the development of three different art forms.  More specifically, these artforms and how they have impacted, or been impacted by Black artists.  After a brief introduction by UCLA Film & Television Archive director Jan-Christopher Horak, the first film screened was Elyseo Taylor's Black Art, Black Artists.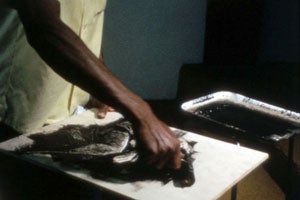 Serving as an apropos introduction to the bigger picture topic of Black contributions to the art community that all the films of the evening explored, Black Art, Black Artists is a deliberate, and conservatively paced film that showcases shots of paintings and sculptures in a museum setting, all created by Black artists.  The pieces shown are in high art forms, including oil painting, sculpture, and wood carving.  Panning the camera over several paintings side by side, and then moving it around a sculpture of a child's face up close from several different angles gives the viewer an approximate experience of walking through a museum his or herself.  The voices in the audio track serve as commentary for the art being shown.  Historically, the predominantly white art appreciation communities have overlooked the contributions of Black artists.  The film calls out that Black art is only now beginning to define itself via its own unique aesthetics.  Defining what makes art Black is something that is still developing.  The struggle to define aesthetic in the art forms depicted closely mimics the larger aesthetic struggles that all of the member filmmakers of the L.A. Rebellion movement dealt with in their own art.  Black Art, Black Artists along with the other films screened Sunday evening serve as a postmodern commentary about the nature of the L.A. Rebellion itself.
—Jeff McCluskey

---
Early Concerns of the L.A. Rebellion in Elyseo Taylor's Black Art, Black Artists
Elyseo Taylor's film Black Art, Black Artists (1971) offered a window into some of the influences behind the L.A. Rebellion movement. Taylor had an enormous impact on the movement as the founder of the Media Urban Crisis Committee (MUCC), which developed into the Ethno-communications program, and as the only Black faculty member at the UCLA film school in the early years. He was instrumental in recruiting many minority filmmakers into the program, and his Third World cinema screenings of African and Cuban films were hugely influential on the movement.  Considering how so many of the L.A. Rebellion filmmakers list Taylor among the central figures of the movement, it was fascinating to see the messages he tried to convey through his own film work.
Taylor's documentary film is a critical examination of Black art and artists, and in many ways the artistic issues he brings up parallel those that the L.A. Rebellion filmmakers had to grapple with in later years. He begins by critiquing the white-dominated artistic community, which historically has ignored Black artists whose skill was comparable to popular white artists of the same time period.  His criticism then extends to African Americans, stating that their work has too often been an echo or imitation of classical or modern Western styles rather than an authentic expression of Blackness. In his interview with woodcut printer Van Slater, Taylor seems to call for art that is unique to Black people and speaks to African rather than Western sensibilities, which many of the LA Rebellion films sought to do.
Finally, Taylor describes two conflicting impulses among Black artists; do they show beautiful imagery amongst the poverty of urban life, or do they use their art to convey a social message that openly condemns these conditions? This same contrast in ideology can be seen in the differing styles of L.A. Rebellion filmmakers. Charles Burnett's Killer of Sheep is shot poetically, conveying a surreal beauty in the neighborhood's impoverished conditions. Haile Gerima's Bush Mama, by contrast, conveys a darker and more claustrophobic environment in which systemic oppression has trapped its inhabitants in a vicious cycle of poverty. Burnett shows beauty in the decay, while Gerima conveys a social message condemning the poverty. Based on the opinions expressed in his film, Taylor would seem to have sided with the point of view that the Black artists have a responsibility to make a social commentary with their work, rather than focus on pure aesthetics.
—Dan Weisman