"Authentic portrayals have pitfalls," Clyde Taylor said in his keynote speech at the L.A. Rebellion Symposium on Saturday, November 12. This statement seemed to describe the entire L.A. Rebellion film movement so succinctly that it's not a surprise that he was also the individual to coin the term "L.A. Rebellion." His ability to synthesize the situation and critically analyze the artistic materials on a larger level was so astute that it was a sheer delight to watch. While having attended many different films and Q&A sessions, the words of Professor Taylor were on a whole new level; a level that contextualized the film movement much in the way that Professor Jacqueline Stewart had also contextualized the morning by discussing the work of Elyseo Taylor, just before the keynote.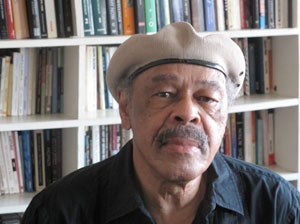 While so many things he discussed were indispensable to the full comprehension of the L.A. Rebellion on the whole, it was his ability to look at the entire historical moment from the nuanced microscope of someone who experienced it. One of his most salient arguments compared the L.A. Rebellion to the Renaissance humanist movement of the 14th and 15th centuries. While this may sound strange, it was a flawless analogy. As he stated, both of these movements "tried to free images from cultural imprisonment with style." By placing the L.A. Rebellion within terms of European humanism, Taylor really underscored how essential the filmmakers and their work is on the whole. What they did was difficult but groundbreaking and incredibly important, on a larger level than any group of "film school kids."
His stories about discovering these films out of an art film background, and contextualizing them himself were also integral to the discussion. "Haile Gerima seemed to me like Kurosawa. If there was more African cinema, I was going to find it," he laughed, as he discussed his introduction to these films. He called this and his time at UCLA a kind of "cultural springtime" where "each filmmaker added a stroke." But he also returned to the struggle and the multiplicity of perspectives shown within the L.A. Rebellion, one of its truly defining features. His statement that "We should not have expected that with the shade of obscurantism it [the L.A. Rebellion film movement] would fit with one size fits all," was not only penetrating but underscored the beauty of the work. The diversity of portrayals created a group of films that is not only unique but uniquely indefinable as a whole. Blanket descriptions don't fit here.
His concentration on the humanity of the filmmakers and the movement as a whole was intense. His synthesis of the artists and their engagement with their work in its different layers of ritual also managed to pull a connective tissue out of the films that serves as a very important item to ruminate on when considering these films and their creators. That ritual was crucial in establishing a new film culture and movement where there was none. Whether it was ritualistic engagement within the film text or simply the ritual of community engagement and ritually working on each others' films, ritual clearly played an important part in the formation of this group.
Clyde Taylor was unique in his outlook and relentlessly incisive. His emotionality and humor balanced with his keen sense of academic discourse perfectly. To say that this address set up the day impeccably is an understatement. To say that everyone who was in the Billy Wilder Theater to hear it was an extremely fortunate individual is an even bigger one.
—Ariel Schudson