Bernard Nicolas' short film Gidget Meets Hondo opened Friday night's screening. The film, made in response to the LAPD's murder of Eulia Love in 1979, is Nicolas' second film; his first (or Project One in UCLA terms), Daydream Therapy, can be streamed online. In an oral history conducted as part of the L.A. Rebellion project, Nicolas notes that after making Daydream Therapy, he wanted to learn how to make a film using "Hollywood techniques," aiming to mobilize them to communicate a revolutionary message. So, with Gidget Meets Hondo, Nicolas wanted to respond to the Eulia Love case through Hollywood's lens, narratively and formally.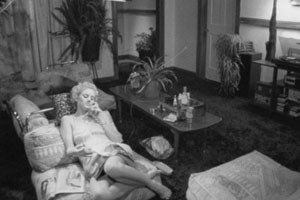 Though the final product clearly reads as a student film made with limited time and resources, Nicolas' attention to "Hollywood techniques" is clear, especially as viewed in conjunction with the larger L.A. Rebellion series: The vast majority of the film was shot on soundstages, allowing for ultimate control of lighting and set decoration; the performers are trained actors; and the storytelling is brisk and does not attempt to represent a "slice of life" in the same way we have seen in numerous films by, for example, Charles Burnett and Haile Gerima. Whether Gidget Meets Hondo is ultimately successful in communicating its revolutionary message is for the viewer to decide, but it nonetheless remains a thought-provoking, if somewhat perplexing, response to the use of lethal force by police in South Central Los Angeles.
Similarly, Jamaa Fanaka's Welcome Home, Brother Charles is also more interested in utilizing Hollywood techniques, although it does not fit squarely into any one genre, including Blaxplotation in relation to which it is sometimes referenced. Unlike the realism presented in Charles Burnett's Killer of Sheep or Billy Woodberry's Bless Their Little Hearts, Welcome Home, Brother Charles offers up the uncanny and absurd, even as it is laced with the very true telling of police brutality and the Black male experience with incarceration.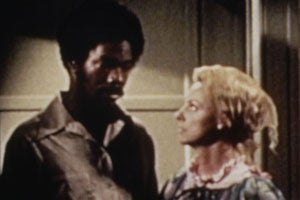 What is important to notice in Fanaka's film, even with the ridiculous situations presented is his engagement with the mythology and racial and cultural stereotypes that get retold and shaped throughout history. Perhaps by being able to provoke these traits from Blaxplotation that Fanaka was able to confront tales about Black sexuality, power, and emasculation that might be less accepted in more Art film or realist styles. Welcome Home, Brother Charles is a notable achievement as it was not just the only film, but one of three feature films that Fanaka directed, wrote, and produced while at UCLA While the film may not always be coherent, he presents a noteworthy and thought-provoking conversation, especially for a student. By comparing Welcome Home, Brother Charles to the work of Haile Gerima or Julie Dash, it is striking to see just how many ways the politics of the LA Rebellion agreed, disagreed, and manifested itself in diverse ways.
In his Q&A, Fanaka defended a piece of cinema that at first glance might seem to have no redemptive qualities. A narrative that centers on violent masculinity in its various forms (regardless of ethnicity) and homicidal genitalia can be somewhat difficult to navigate. However, the methods that Fanaka used to visually parse through this discourse are not only fascinating but also very refreshing. While many people might frown upon the road he walked or the tools he used to build it, his defense was one that could not be argued with.
Fanaka's film is stunning to the eye. Even in the most harsh and controversial scenes, it truly is a beautiful film. Fanaka said in the Q&A that he "just wanted to blow people's minds, to tell you the truth." However, Welcome Home, Brother Charles is no simple horror film; it's not torture porn, not a piece of "mondo cinema," not any of these things. It's not just there to "blow your mind" it's there to challenge your mind.
Upon being asked about the film and the scandalous content, Fanaka shook his head and just stated, "Sometimes when you exaggerate things, you show them for the ridiculousness that they are. [These myths] didn't help the black man, didn't help the white man." The exaggeration he is discussing, of course, is the fact that within the film, our protagonist learns how to control his genitalia and use it for hypnotism and revenge against those who have caused him harm. Fanaka created a character whose penis grows the length of a snake you might see in a city zoo.
Ridiculous? Perhaps. Pointless? Not in the slightest. Fanaka discusses that the reason he did this was due to the mythos that was created during slavery. He wanted to tackle the concepts of black male sexuality that slave-owners had instigated in order to get their women not to sleep with or lust after the slaves. As Fanaka laughed, "It didn't really work!" But as he discussed with the audience, the concept of male sexuality in this regard was actually quite harmful…to everyone. Within Welcome Home, Brother Charles, Fanaka was actively trying to make a difference in the world the best way he knew how: cinematically.
He said, "If you have the cure for cancer, but no one hears you or listens, what good is that? Film is by nature a mass audience medium." Welcome Home, Brother Charles, for all the explicit violence and sexual frankness, has a purpose. Fanaka's path is not the same path as everyone else among the L.A. Rebellion filmmakers, but that is what makes his work fascinating and it is no less complex. After all, it was Charles Burnett (camera operator on Welcome Home, Brother Charles) who said, "One of the features of my community is that it does not have a center. It does not have an elder statesman, and, more important, it does not have roots. In essence, it is just a wall with graffiti written on it." Welcome Home, Brother Charles is Jamaa Fanaka's graffiti. Read it how you will.
—Laura Paul, Alice Royer and Ariel Schudson