Unable to find any previous reviews of A Day in the Life of Willie Faust, or Death on the Installment Plan (1972) by Jamaa Fanaka, I reached out to the filmmaker on Facebook and pleasantly, to my surprise, he responded. In the interview that resulted, I gained insight on the film, how it was made and the inspiration behind it. His stories about the film were as fascinating as watching it.
The 8mm, 20-minute movie was Fanaka's first and only short film made while a student at UCLA. After receiving very positive feedback upon completion, he quickly assessed that he was not only good at filmmaking but that feature films would be his goal. Shortly after completing A Day in the Life, the prolific filmmaker went on to make three feature films while still a student: Welcome Home, Brother Charles (1975), Emma Mae (1976) and Penitentiary (1979). This is such an incredible feat that, to put it in proper perspective, one should know that what he accomplished as a student has never been done before or since by anyone in the entire history of UCLA.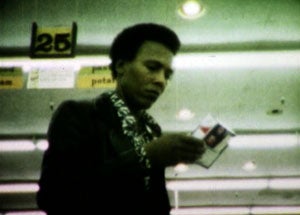 The movie is based on Goethe's "Faust," which is the classic German myth about a man who makes a deal with the devil and, in exchange for his soul, is given money, women and honor. So moved by this tale, which he learned about in junior college prior to attending UCLA, Fanaka created his own depiction and named his character Willie Faust, a Black man who sells his soul to the devil for drugs. In explaining the second part of the title, …or Death on the Installment Plan, Fanaka explained that, "every time Willie takes a shot of drugs he's making an installment payment on his own death."
Because it was his Project One, the first film completed by a directing student in the UCLA film program, and synch sound was not allowed, the morality tale was shot without sound. It is instead superimposed over a remake of Super Fly, which was added later during the editing stage.
A true independent filmmaker, Fanaka cast himself (as Willie), his wife Lynn, his infant daughter Katina, his sister Carmen, his brother-in-law Boots, and Snooks (a friend and drug addict whose arm was used in a real shooting up drug scene). As the result of his first effort being a true family affair, Fanaka will be present along with members of his family who were in the film at the 7:30 p.m. Friday night screening, which will be shown prior to his most successful film to date, Penitentiary. This is one screening and event you don't want to miss.
—Michelle Amor