Along with her lampoon rap video titled A Period Piece (1991), the UCLA Film & Television Archive chose to wrap up the opening weekend of its "L.A. Rebellion" series with director Zeinabu irene Davis' 1989 short, Cycles (1989). As the end of the opening weekend's programming, Cycles is a poignant choice. On the surface the film deals with one African American woman's fears, as her menstrual period is two weeks late in coming. Davis' treatment of the topic is interesting in how she imbues different aspects of her film with a cyclical nature.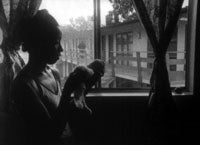 At first, performing what appear to be daily chores and grooming techniques, the main character, Rasheeda Allen, ritualistically performs these actions in an attempt to restart her lost period. The sound space of the film remains sparse throughout, as the rhythmic ticking of perhaps a clock or metronome marks the passage of time, accompanied by the introspective sounds of wind blowing. Even the passing of time becomes cyclical with this treatment.
Cycles also concerns itself with purification rites. Rasheeda feels ashamed and unclean, as the actions she performs rhythmically are a not-to-subtle way for her to restore balance and purity to how she now views herself. Scrubbing a toilet or a shower is no longer about the end result; rather it is about the action itself, as it is through the repetitive cycle of scrubbing that purity can be achieved. Repetition serves to ground Rasheeda, bringing her back in touch with her own inner cycles as well.
Originally produced in 1989, Zeinabu irene Davis made this film as part of what is now considered the last wave of the L.A. Rebellion school at UCLA. Perhaps more than any other film being screened at the Billy Wilder Theater this fall, its return to the theater poetically punctuates the tribute that is being paid to these historically important, and influential African American filmmakers. —Jeff McCluskey