After watching Haile Gerima's, powerful and preachy Bush Mama, I felt full of emotions but sadness, rage and bewilderment come to mind first. My sadness comes from the telling of the story of Dorothy, an unemployed and pregnant black welfare mother who spends most of her time in a daydream state due to her sadness over T.C., her lover's wrongful incarceration and her dire financial situation. She struggles to decide if she should abort her baby like the welfare department officials want her to, or to have it. She relies heavily on advice from T.C., her neighbors and friends all of who are happy to dole it out like a slice of sweet potato pie. My rage comes from the unfairness of the time and how many poor Black people in America during this era were truly stuck between a rock and a hard place and the powers that be could do whatever they wanted with no accountability or consequences for their actions, like the scene where Dorothy's daughter is raped by a white cop. My bewilderment comes from how far we have not come. There are still too many Dorothys in America today, which is a tragedy in and of itself, and too many people of color are behind bars, a motif of the film. Though the characters' frustration with the world and the film's political stance and message sometimes gets jumbled, Dorothy's evolution into an African militant heroine, makes Gerima's thesis film (UCLA, 1976) still one of the most thought provoking of our time.
—Michelle Amor
---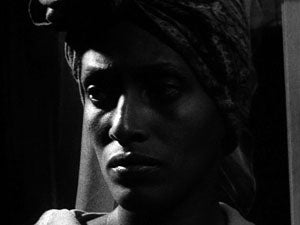 One of the common themes between Bush Mama and Daydream Therapy is using the power of one's reveries to find freedom and redemption. The dream space is not only a place of escape, but a scape of prophecy, of psychic awareness of things to come, of lucid landscapes whereby one may grab one's power, of hidden potentialities or latent chaos. The dream space is a place whereby what is unreconciled in one's consciousness or experience bubbles up to the surface.
Bush Mama was an interactive experience for me. Dorothy as a woman is the vessel of the collective memories of women of her class, race and gender. Many of whom face similar circumstances. I identified strongly with her to the point of tears. I felt disempowered when she did, I felt redeemed when she did.
The film's heroine, played by the striking actress Barbara O. Jones was a captivating vessel. Through her stoic demeanor, the audience could experience a poor woman of strength and vulnerability. Her intimate journey took place before our eyes and we saw that her "militancy" in the end was a direct result of the systemic attempts of authority to control her black body politic through "possessing" her body and intimidating her to abort the unborn child she carried. Audience experiences the colliding worlds of emotional experience, mental, physical and social, as if they were flies on the wall.
As a viewer, I experienced Daydream Therapy less viscerally. Because this was a short, I was less aware of the psychological spaces that exist between the boss and the worker. Still, Nina Simone's ballad which played underneath the film would convey her fury as well as the hope that things would change.
While Daydream Therapy prepared its protagonist to cope with a world with new consciousness, Bush Mama coaxed its protagonist to exorcise the demons that welfare authorities, prison system and alcohol nurtured in Dorothy's community.
—Iyabo Kwayana
---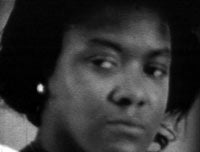 The screening of Daydream Therapy and Bush Mama at the Billy Wilder Theater was an eye opening experience. Previously, I had little familiarity with the subject of the L.A. Rebellion, so it was fascinating to finally see some films of the movement and uncover this hidden history of cinema and the UCLA film school. Both films offered a unique perspective and aesthetic that I had not seen from other films of the time period, daring to challenge the viewer with much grittier portrayals of African American life than the campier "blaxploitation" films of the same era.
Daydream Therapy was Bernard Nicolas's first student film, and as a result its message was raw and unfiltered. It was very interesting to get Nicolas's perspective in his interview, where he spoke of his film as having been a kind of therapy to alleviate his own internal rage, rather than act out those feelings through violence. He also noted that without the film school and the movement, he would probably not be alive today, which was a powerful statement. Though the violence in his film may be a bit jarring, it is emblematic of the simmering social unrest and racial animosity that characterized the time period in which Nicolas was living, and to make a film about this struggle was, as he said, a far more productive and impactful way of addressing the issue than resorting to violence.
Bush Mama did not feel like a student film at all, it reminded me more of something out of Italian neo-realism. The actors (both professional and non-professional) and naturalistic dialogue gave the film a sense of authenticity which made the main character Dorothy's struggles to overcome devastating poverty and racism seem all the more real. One significant moment of the film was when Dorothy, pacing back and forth, stares intensely at the image on her wall of an African mother holding an assault rifle. Here she seems to shift from passive acceptance of her own oppression to a mindset of empowerment, which culminates in her fighting back at the end of the film.
—Dan Weisman