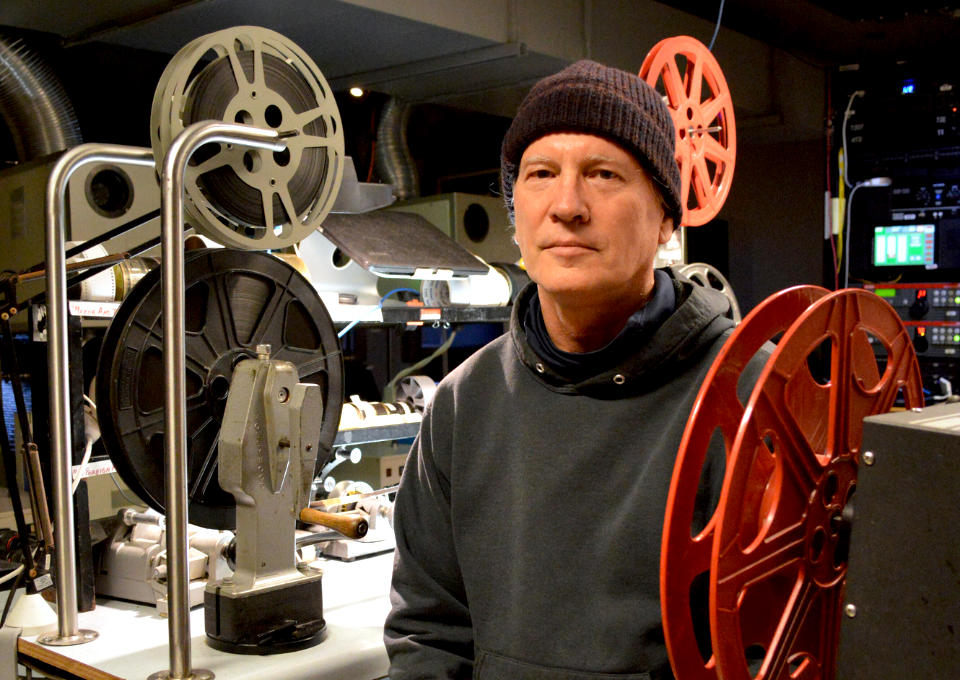 With great fondness and appreciation the UCLA Film & Television Archive announces the retirement of our longtime Senior Studio Projectionist, Jim Smith, who has projected almost every Archive screening in the last 16 years, from rare nitrate film prints to digital media. In the five years prior to that, Jim projected films for the UCLA School of Theater, Film and Television at the James Bridges Theater on campus.
Jim has been crucial to maintaining world-class projection standards at the Hammer Museum's Billy Wilder Theater, which opened in 2006 and has been the home of the Archive's public programs ever since. He oversaw major technical upgrades to the projection booth, including the installation of a four-way masking system and the infrastructure required to present nitrate films, and helped transition the theater into the digital era by advising on the implementation of a DCP system. Jim worked with visiting filmmakers to ensure that their works were properly presented, further contributing to the Archive's reputation as an exceptional screening institution.
The Billy Wilder Theater is among a handful of venues in the U.S. capable of exhibiting a century's worth of moving images, from early silent films requiring variable speed projection to digital cinema. "Digital imaging provides top production and presentation tools. Celluloid pictures differ with a liminal experience that particular makers and viewers value," said Jim, when asked about his thoughts on projecting archival film versus digital media. "I've felt enamored by digital projection, then instant relief on seeing the next celluloid show. It's more satisfying to work with a film that is tactile and still looks good after many years."
Prior to joining UCLA, Jim learned his craft in the commercial film industry, working as a projectionist for production, post-production and visual effects companies. His introduction to the business was screening a rough cut of Honey, I Shrunk the Kids (1989). "A motion picture techie told me that, due to the advent of replacement technologies, this vocation would be obsolete within a year," he recalled. "Somehow, it elongated into a 35-year, full-time operation, and in large part thanks to the Archive."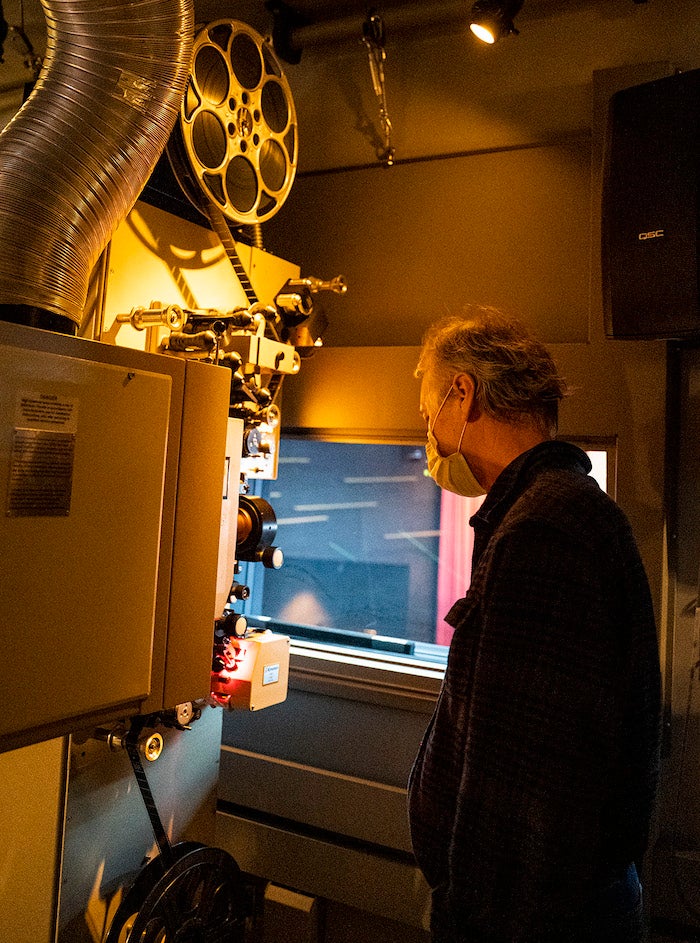 Jim in the Billy Wilder Theater projection booth, November 8, 2021.


When asked about the challenges of this highly specialized vocation, he said: "Successful projection can be performed quite unnoticed. Changeover cues [marks on a film that indicate when a reel is about to end] last a blink of an eye. Another challenge is in aligning three film gauges [16mm, 35mm, 70mm] on four projectors, eight lenses each, and magnified as through a microscope, with the image flipped upside down and backwards. Well-kept projection booths can seem temporarily soothing, but it becomes freeway-overpass-loud. A showing becomes joyful when the film flows silently; rectifiers, chillers, monitors and fans are at once perceived as a gratifying sound of soft rain."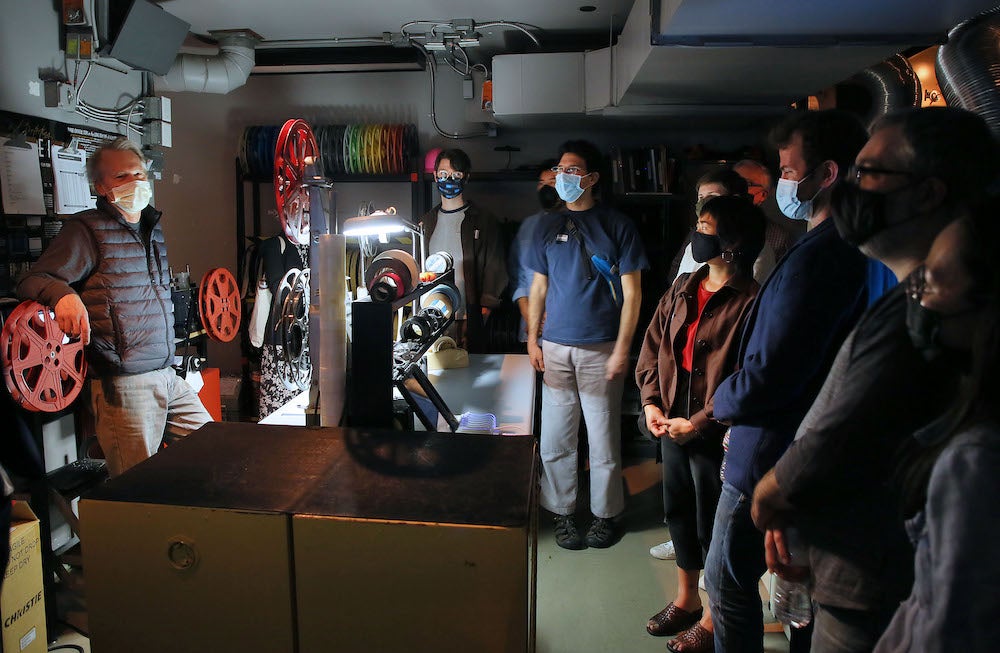 Jim giving a tour of the projection booth to a group of UCLA Media Archival Studies students before a screening of Chameleon Street (1990), November 13, 2021.


"Jim's kindness, patience, knowledge, diligence and professionalism will be greatly missed," said May Hong HaDuong, Director of the Archive. "We are thankful for his incredible service and wish him well in the next chapter of his life. There will always be a seat for him at the Wilder."
"It has been a pleasure working alongside Jim for the last 16 years," said Paul Malcolm, Senior Public Programmer at the Archive. "His expertise and diligence have been critical to the success of the public programming department during that time. We've thrown a lot of challenges his way, from nitrate prints to emerging digital formats, and he's met them all with patience and aplomb. He was generous with his time and resources, fully committing himself to the highest standards of showmanship and presentation. His personality and professionalism are indelibly stamped on the Billy Wilder Theater projection booth."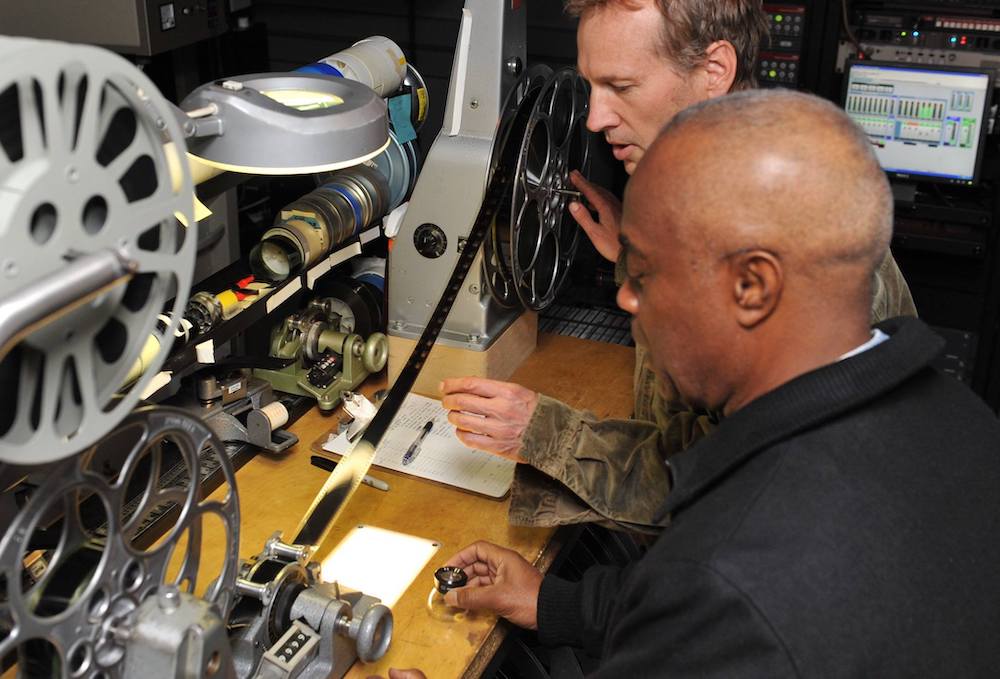 Jim and filmmaker Charles Burnett looking at a 35mm print of To Sleep with Anger (1990), December 7, 2011.