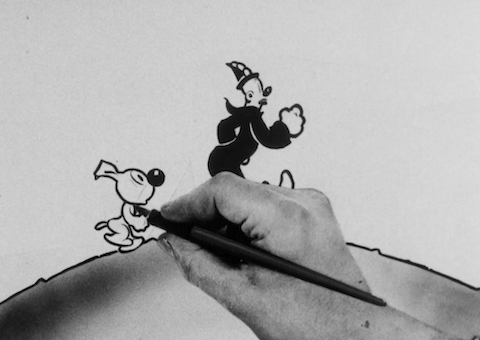 KoKo's Earth Control (1928)


Our guest writer is Jerry Beck, a writer, animation producer, professor and author of more than 15 books on animation history. He is a former studio executive with Nickelodeon Movies and Disney. He has curated cartoons for DVD and Blu-ray compilations and has lent his expertise to dozens of bonus documentaries and audio commentaries. Beck teaches animation history at CalArts, UCLA and Woodbury University, and serves as Vice President of the International Animated Film Society, ASIFA-Hollywood.
Here, Beck provides background on four imaginative short films that were part of his recent presentation at the Annecy International Animation Film Festival. These films were preserved by the UCLA Film & Television Archive with the generous support of the International Animated Film Society, ASIFA-Hollywood, and are now available for viewing online.

KoKo's Earth Control (1928)
KoKo's Earth Control is one of the best of Max and Dave Fleischer's silent-era cartoon shorts. The Fleischer cartoons were always imaginative and filled with hilarious ideas, but this may top them all. KoKo and Fitz find their way to the top of the world and enter a building that houses the "Control of Earth." While KoKo plays with the controls for Rain, Day and Night, Fitz tempts fate and pulls a control handle that will destroy the planet. Soon, all hell breaks loose — not only in the cartoon world, but out of the inkwell itself: in the live-action real world. Manhattan is submerged, KoKo reverts to an ink puddle. Just another day at Fleischer Studios — a hilarious vision of the end of the world as we know it.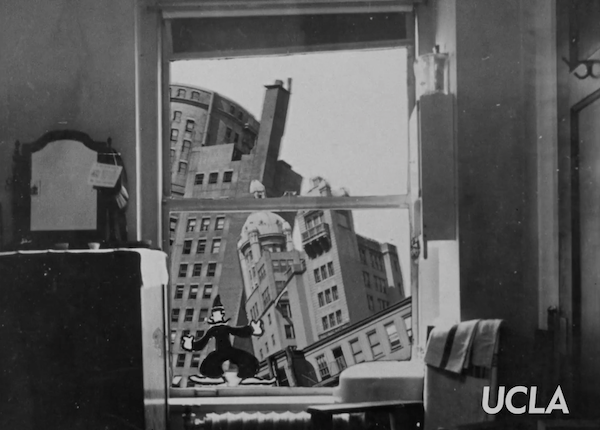 Watch online:
Sinbad the Sailor (1935)
Ub Iwerks, the "hand behind the mouse," designer and animator of Mickey Mouse, parted with Walt Disney in 1930 to create cartoon series for MGM, and later assorted shorts for other studios, during that decade. Between 1934 and 1936, Iwerks studio produced a series of "ComiColor" musical cartoon shorts for distributor Pat Powers. Each one was of a different subject — usually a fairy tale, nursery rhyme or a legendary storybook character — not unlike Disney's "Silly Symphonies." Iwerks' crew included famous animators such as Grim Natwick and Frank Tashlin, as well as musical scores by Carl Stalling. This particular short is an action-packed adventure, with lots of thrilling adventures and visual delights. It also makes great use of a limited color palette provided by the two-color Cinecolor process.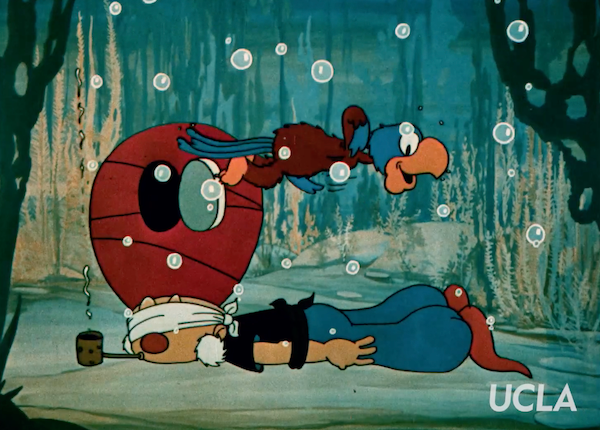 Watch online:
Raggedy Ann and Raggedy Andy (1941)
In the wake of the successful animated feature releases by Walt Disney (Snow White and The Seven Dwarfs) and Max Fleischer (Gulliver's Travels) in 1937 and 1939, respectively, Paramount immediately authorized the production a pair of extra-length two-reel cartoon subjects from Fleischer Studios. The first one, released in April 1941, was produced at Fleischer's lavish new animation studio in Miami, Florida, where the production of Gulliver's Travels took place, alongside the popular Popeye shorts and pre-production on their second feature, Mr. Bug Goes To Town (1941). Based on the classic books by Johnny Gruelle, Fleischer fashioned Raggedy Ann and Raggedy Andy as a musical taking place in the imagination of a little girl. The studio changed the relationship of Ann and Andy from brother and sister to boyfriend and girlfriend to give the story more drama. The book's popular Camel with the Wrinkled Knees makes an appearance, voiced by Pinto Colvig (better known as Disney's Goofy). Al J. Neiburg, Dave Fleischer and Sammy Timberg wrote four catchy original songs. It's a delightful film — and the Paramount animation department (known after 1942 as Famous Studios) made two sequels in 1944 and 1947.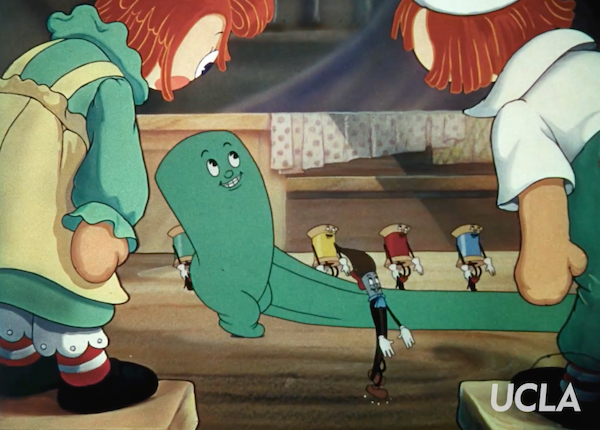 Watch online:
A Hatful of Dreams (1944)
One of the wonderful Technicolor George Pal "Puppetoons," a unique series of stop-motion shorts released by Paramount between 1941 and 1947. Animator Pal won a Special Academy Award for this series, for its "novel methods" of three-dimensional cartoon making — today known as "replacement animation," a technique widely used in films such as Coraline and TV productions like Robot Chicken. Before Pal's illustrious career as a live-action fantasy filmmaker (War of the Worlds, Tom Thumb, The Time Machine, among others), he produced Puppetoon shorts like this one, starring Rusty, a little boy with a big imagination. This short utilizes Paramount's exclusive arrangement with National Periodicals (DC Comics) for its use of Superman, whom Rusty imagines himself to be in his daydream. The art direction and character designs, as well as the models, sets and the lighting, are dazzling — noteworthy for their originality.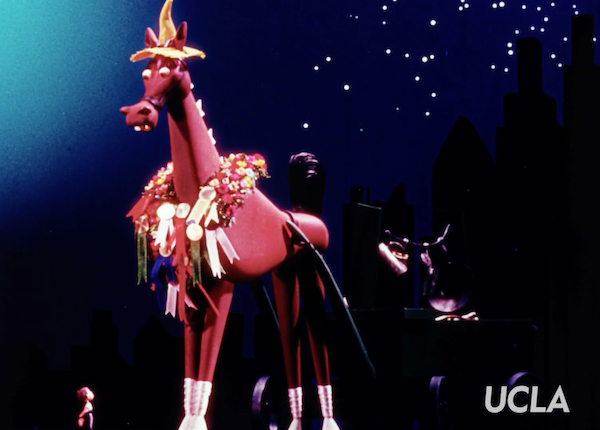 Watch online:
—edited by Jennifer Rhee, Digital Content Manager