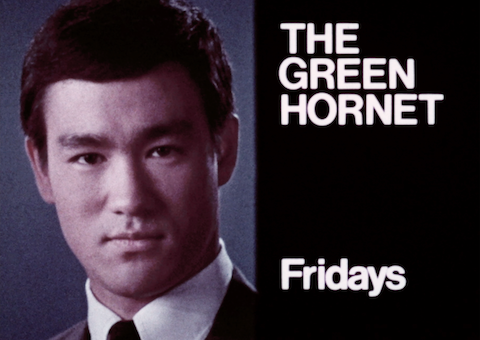 Bruce Lee in an ABC-TV promo for The Green Hornet, 1966.


In the television collection at the UCLA Film & Television Archive, which holds thousands of network prints, a single station identification break is emblematic of how historically significant 10 seconds of television can be. Case in point: icon Bruce Lee starring in an ABC-TV promo for the network's series The Green Hornet.
Archival television holdings (film and tape) often contain promos and bumpers broadcast once during a program's original run, omitted as extraneous from subsequent rebroadcasts, syndication and home video releases. Viewed within the flow of a vintage television program, these original spots that ran between sponsored ads serve as mini-time capsules that illuminate how networks utilized expensive airtime to create unique brand identities and distinguish their programming slates from the competition. Shoehorned into slots sometimes lasting seconds, the best of these promos employed modern graphics or star power to pack a punch and quickly leave an indelible impression.
Embedded in an archival 16mm network print of Marlo Thomas' groundbreaking, proto-feminist series That Girl (1966-71), then-unknown actor Bruce Lee emerges between the seams of the sitcom to speak directly to the camera. His gaze in the network promo, like his confidence, is unwavering; his very presence, front and center, seemingly in defiance of the standard operating procedures of network television in 1966, which, more often than not, kept people of color at the margins. This 10 seconds of film is perhaps the first time an Asian American starred solo in a network promo. Unfortunately, over 55 years old, the Eastmancolor film print now has color fading and is slightly worn, dotted with imperfections. Unequivocally, Mr. Lee deserves much better, so a brief, but important preservation project was initiated. The 16mm print was prepped, machine cleaned, then scanned on a LaserGraphics ScanStation. Color correction and digital clean-up were then conducted by the Archive's Digital Lab team (Randy Yantek, Bryce Lowe, Lauren Poleski-Schultz, Tim Wilson) to return the promo to as close as possible to the condition as it was originally seen in 1966, when Lee, a young, global star-in-the-making made history, introducing himself to ABC's primetime audience.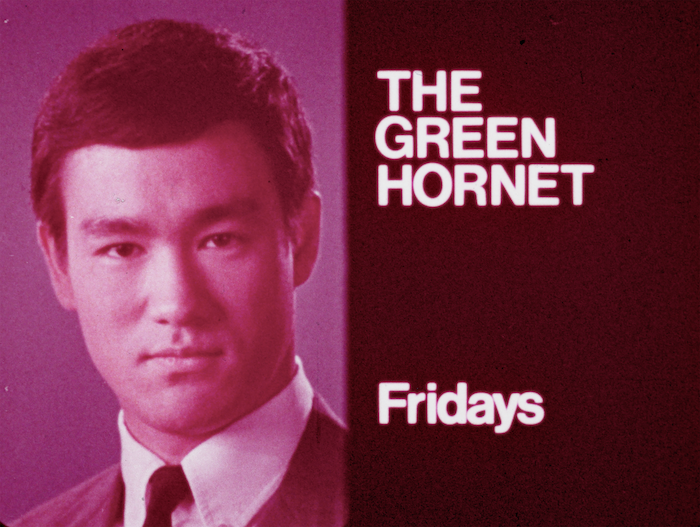 The Greet Hornet promo before color correction.


Born in San Francisco in 1940 and raised in Hong Kong, where he was a child actor and world-class martial artist in training, Lee's immortal acting career in the United States began with his casting as "sidekick" Kato in ABC Television's adaption of the radio serial The Green Hornet. In advance press for the TV series, amidst a television landscape that was mostly devoid of diversity, Lee indicated his influence on the role of Kato, stating in an interview in The Washington Post, Times Herald, "I am going to be more of a companion and partner of the Green Hornet … It sounded at first like typical houseboy stuff. I tell (series producer William) Dozier, 'look, if you sign me up with all that pigtail and hopping around jazz, forget it.' In the past, the typical casting has been that kind of stereotype. Like with the Indians. You never see a human being Indian on television." Soon after Green Hornet's premiere, Lee emerged as a breakout star on the program, his natural on-screen charisma and expert Gung Fu fight choreography providing U.S. audiences with television's first primetime Asian American superhero. However, as evidenced in his Washington Post interview, Lee well-understood that Hollywood's racism was a constant adversary.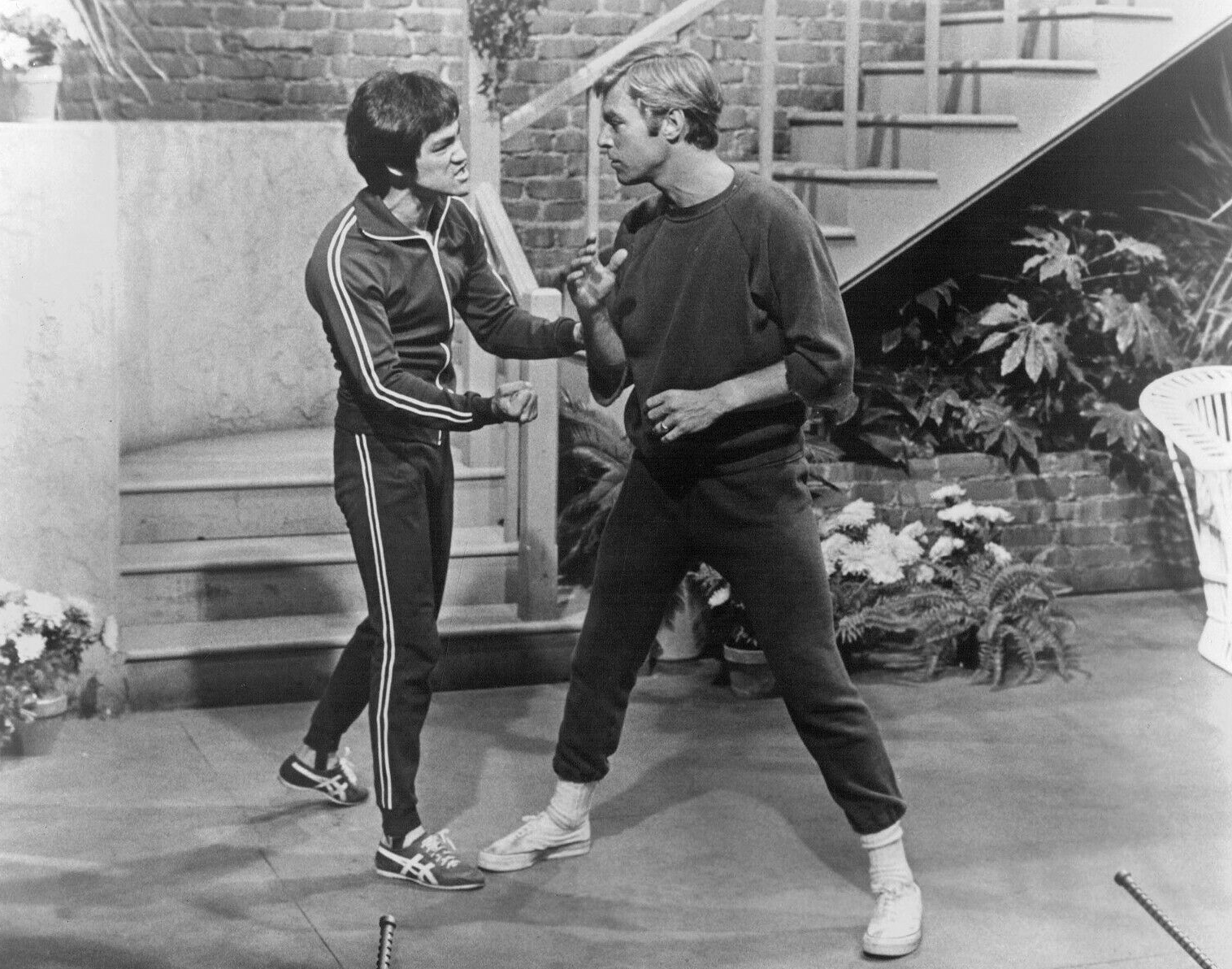 Bruce Lee and James Franciscus in Longstreet: "The Way of the Intercepting Fist" (ABC-TV, 9/16/1971).


TV Guide and Black Belt magazines featuring Bruce Lee and his role as Kato in The Green Hornet.


Despite Lee's demonstrated star power on The Green Hornet, deeply ingrained structural racial bias in Hollywood prevented his continued success on network television. Following the cancelation of Green Hornet after 26 episodes, the actor struggled to find roles, with an electrifying, scene-stealing part alongside James Garner in the neo-noir feature film Marlowe (1969) and memorable guest-star turns on episodes of ABC's detective series Longstreet (1971-72) inexplicably failing to break Lee further through Hollywood's color barriers. As a result, Lee returned to his adopted home of Hong Kong, where he toplined a series of runaway hit Chinese-language action films for Golden Harvest Productions (including Return of the Dragon, 1972, which he directed and starred in). Without Hollywood, Lee had propelled himself to international superstardom. However, further indignities in the U.S. still followed as television cast a white actor in yellowface, David Carradine, in Kung-Fu (1972-75), a series reportedly based on Lee's rejected pitch treatment for his own starring vehicle.
Enter the Dragon (1973) at the Grauman's Chinese Theatre in Hollywood. Source: TCL Chinese Theatres.


Lee would ultimately prove how self-defeating Hollywood's racism was with Enter the Dragon (1973), sadly, the only U.S. film he would headline as star in his lifetime. Released a few weeks after his untimely death at age 32, the film became a titanic hit, illuminating that Lee's massive box office appeal, both domestically and globally, could have been tapped years earlier in the U.S. Today, Lee stands as one of the most internationally beloved figures in cinema history, a timeless artist and potent symbol of resistance and triumph. The UCLA Film & Television Archive is honored to share and preserve his 1966 ABC promo, a monumental 10 seconds in Lee's esteemed, unparalleled legacy.
—Mark Quigley, John H. Mitchell Television Curator


Watch Bruce Lee in the ABC-TV promo for The Green Hornet: