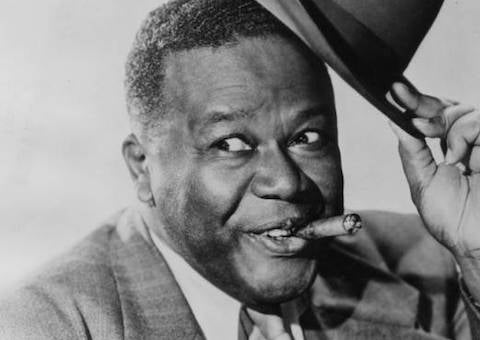 Spencer Williams, 1958. Source: Los Angeles Public Library.


Our guest writer Judith Weisenfeld is Agate Brown and George L. Collord Professor of Religion at Princeton University and the author of Hollywood Be Thy Name: African American Religion in American Film, 1929-1949 (University of California Press, 2007). The book, which draws on research at the Archive Research and Study Center, examines representations of religion in Hollywood films featuring stories about Black life and in Black-audience "race films."


Spencer Williams' career in film was one of seeming paradoxes. He was a prominent figure in the heyday of "race films," which were produced for Black audiences, contributing to several popular subgenres including the musical Western, horror, drama, and comedy. He was also a pioneer of the religious race film, producing and appearing in three religious melodramas in the 1940s.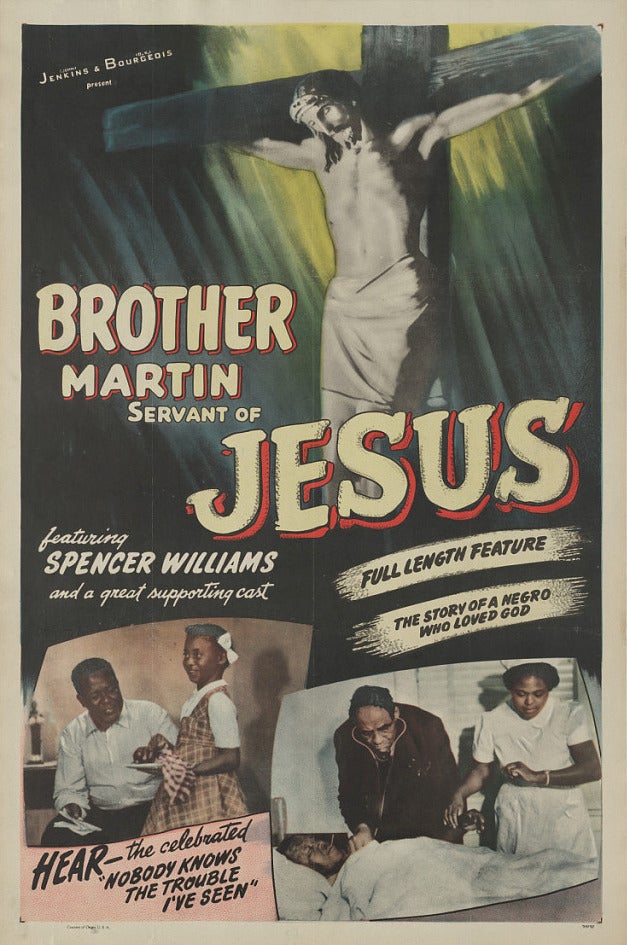 Williams' commitment to producing religious melodramas featuring Christian stories of sin and redemption may seem at odds with his appearances as an actor in Black cowboy films like The Bronze Buckaroo (1939) and his directorial work on comedies like Dirty Gertie from Harlem U.S.A. (1946) in which he dons a dress and a turban to play a "Voodoo woman." However, Williams' religious films had much in common with his other films, offering viewers humor, music, and melodrama along with representations of Black church experiences and cultures that would have been familiar to his audiences. His first religious film, The Blood of Jesus (1941), featured a soundtrack of "Negro spirituals" and a striking scene of a river baptism within a story about the travails of a woman whose soul must resist temptation in the city of sin, with its juke joints, drinking, and dancing. Williams used special effects to represent the migration of the woman's soul from her body to a spiritual realm and the appearance of an angel who guides her. The combination of representation of "Saturday sinners and Sunday saints" proved commercially successful, and Williams also directed and appeared in Go Down, Death (1944), inspired by a poem by James Weldon Johnson and showcasing the same combination of Black religious and entertainment culture and special effects.
(Pictured right, above: Poster for Brother Martin, Servant of Jesus. Source: Collection of the Smithsonian National Museum of African American History and Culture. Pictured right, below: The Billboard newspaper advertisement for Brother Martin, Cincinnati, May 1, 1948. Source: ProQuest.)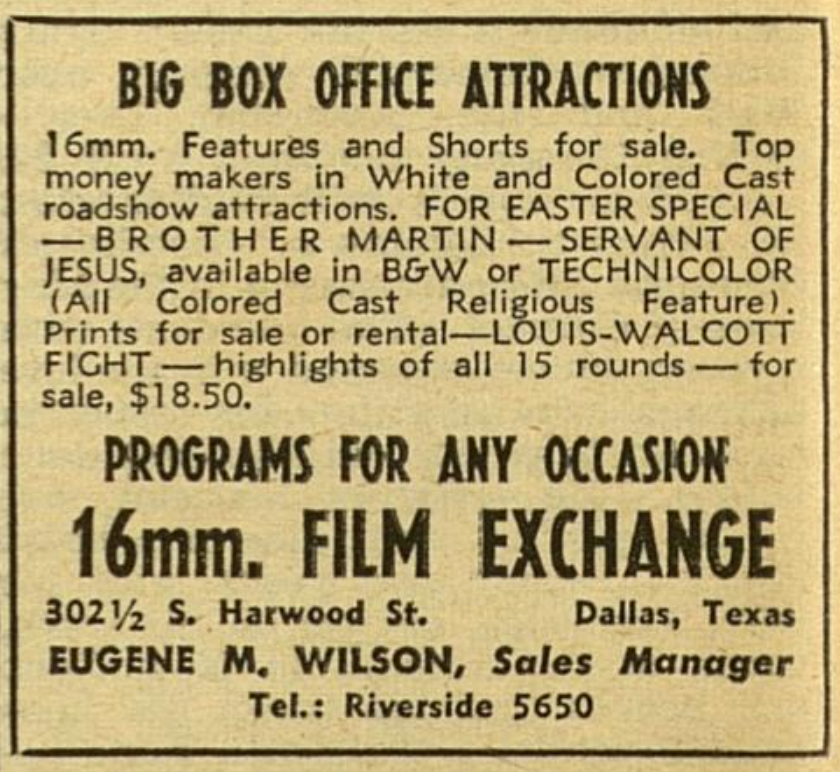 Another curious feature of Williams' religious films is the inclusion of Catholic iconography, devotional items, and liturgical music in narratives that are set in Black Protestant contexts. The Blood of Jesus features a print on a bedroom wall of the Sacred Heart of Jesus that becomes a touchstone for the central character's spiritual journey. While the inclusion of this image may reflect the circulation across religious lines of mass-produced Catholic items in mid-20th century America, it may also indicate Williams' familiarity with both Black Protestant culture, from his mother's membership in a Baptist church, and Catholicism, perhaps from his youth in Vidalia, Louisiana, or a later affiliation with the church.
The advertising trailer for Brother Martin, Servant of Jesus provides intriguing clues about Williams' possible Catholic commitments. There is no known extant print of the film, and the UCLA Film & Television Archive's print of the trailer is the only one known to exist. Some reports indicate that Williams made the film in Tulsa, Oklahoma, in 1942 at the request of a Black Catholic priest and other reports date the film's production to 1947 in Dallas and list Williams as a featured performer. The trailer reveals that the film's title refers to Martin de Porres, a 16th-century Afro-Peruvian Dominican brother famed for his healing and charity, beatified by the Catholic Church in 1837, and later canonized a saint in 1962. In the trailer, Williams, in the role of Uncle Jed, tells his niece that Brother Martin "is called upon to guide people and protect people through dangerous journeys" and that Blessed Martin had saved his own life once. Unfortunately, without the full film, it is impossible to know more about the narrative and how it sought to help viewers "understand the mysteries of Brother Martin's holy religion." The trailer does hint that, as in The Blood of Jesus, Brother Martin combined Catholic and Black Protestant religious culture, promising audiences that they would hear the "celebrated spiritual" "Nobody Knows the Trouble I've Seen." Whether or not the film reflected Williams' personal Catholic devotion, the lost film most likely provided insight into Black Catholic spirituality and veneration of Blessed Martin de Porres at mid-century. The UCLA Film & Television Archive's posting of the trailer for Spencer Williams' Brother Martin, Servant of Jesus to its YouTube channel is an enormous benefit to scholars of Black film and all those interested in the representation of African American religion in film.


Watch the trailer for Brother Martin, Servant of Jesus: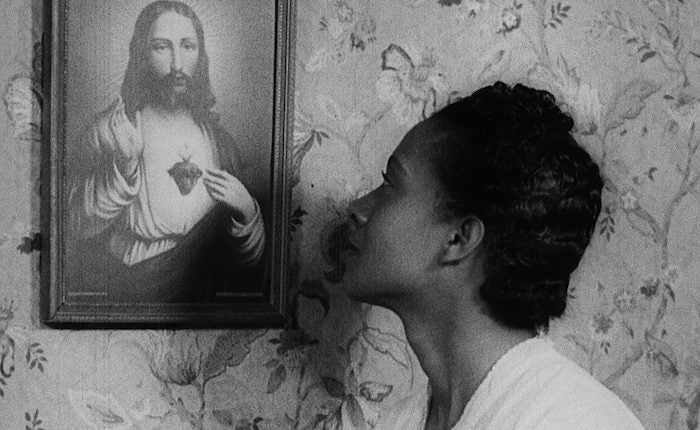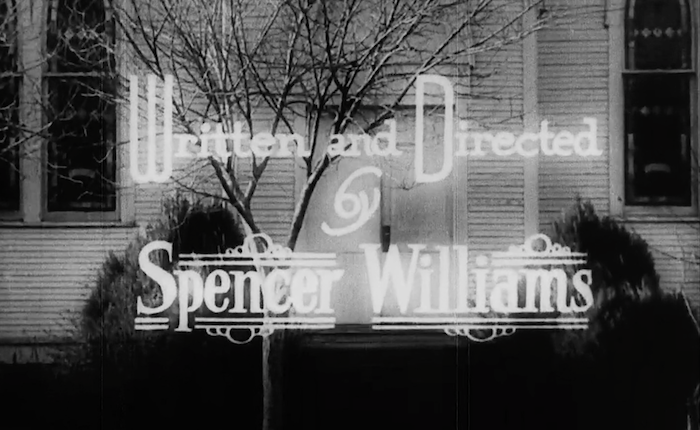 The Blood of Jesus (1941)