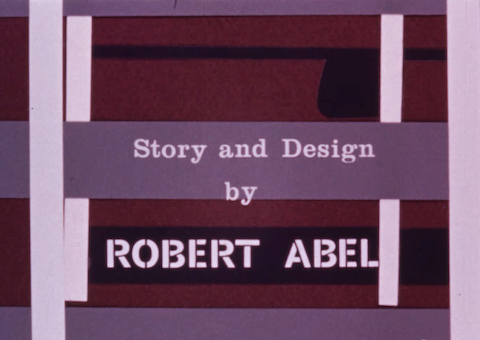 Freight Yard Symphony (1963)


Visual effects and motion graphics pioneer Robert Abel (1937-2001) began his career apprenticing with noted computer animation pioneer John Whitney Sr. and working with design giants Charles Eames and Saul Bass. Abel's creative arts training also included a fine arts degree in film and design at UCLA. These key mentors and experiences proved to be central influences in Abel's acclaimed experimental animated UCLA short, Freight Yard Symphony (1963). Abel's highly accomplished, original student workshop film utilizes bold graphics syncopated to a jazz score to present an evocative, expressionist take on the colors, movements and rhythms of a commercial rail yard. An important work in the development of a major visual communication arts figure, Abel's Freight Yard Symphony was selected by the Council on International Non-theatrical Events (CINE) to represent the U.S. in foreign film festivals in 1964.
Prominent animation historian and Cal Arts professor Jerry Beck (author of the reference book, The Animated Movie Guide, Chicago Review Press, 2005) notes that Abel's five-minute color film, Freight Yard Symphony, "demonstrates [Abel's] early thought process and employs a unique point of view on visual storytelling. Innovative use of cut-out animation, combining original artwork and photo collage; the film is an experiment on how to use graphics, music and camera movement to express ideas and immerse the viewer." As Beck indicates, Abel's highly stylized mixed media approach appropriates seemingly banal objects, such as a printed waybill of goods or rail yard signs, and incorporates them into a fast-paced sequence of imagery that distills the kinetic energy of a busy industrial train depot into bold, yet simple graphic elements. Defined by Piet Mondrian-inspired lines and Oskar Fischinger-style movement, the short evokes later animated title sequences by Saul Bass and the experimental films of Ray and Charles Eames. Abel's film represents not only an example of the advancement of emerging modernist animation styles popularized by such studios as United Productions of America (UPA) at mid-century, but also serves as a record of the dynamic output of the influential UCLA film school at a critical juncture in its early development.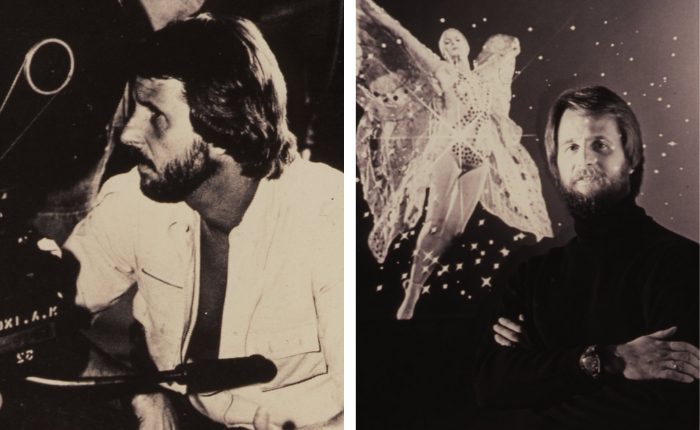 Robert Abel


Following his training at UCLA and the Bauhaus school in Ulm, Germany, Robert Abel went on to become one of the founding fathers of advanced computer graphics-based animation, contributing his distinctive creative talents to groundbreaking network television identification campaigns (utilizing state-of-the art slit-scan effects), as well as innumerable award-winning TV commercials. The recipient of two Emmy Awards for his documentary work (including one for co-directing The Making of The President: 1968) and over 30 Clio Awards for advertising, Abel and his renowned firm, Robert Abel & Associates, is perhaps best remembered for the kaleidoscopic 7UP "Bubbles" ad, one of the most visually impressive and technically accomplished television commercials of the 1970s. Abel's long list of achievements also includes innovative computer animated sequences for the Walt Disney Studio motion pictures, Tron (1982) and The Black Hole (1979). In an interview reprinted in Communication Arts in 2005, Abel summed up his creative career: "The essence of what I do is that I take risks.... That's what film and special effects are all about. Every time I set out to do a project, I go out to do something never done or seen before." Abel died of a heart attack in Los Angeles in 2001 at age 64. His influential work continues to be lauded by visual media historians today.
See our Robert Abel & Associates collection profile to view a sample list of titles available for on-site research (when the Archive Research and Study Center reopens).
Freight Yard Symphony was restored by the UCLA Film & Television Archive with funding provided by the National Film Preservation Foundation. Laboratory services by FotoKem, Audio Mechanics, Simon Daniel Sound, and DJ Audio, Inc. Restored from 16mm original A/B positives, 16mm mag track and 16mm print.
Before and after restoration work.


Watch Freight Yard Symphony on our YouTube channel:


Watch a compilation Robert Abel's commercial work (YouTube source):


—Mark Quigley, John H. Mitchell Television Curator