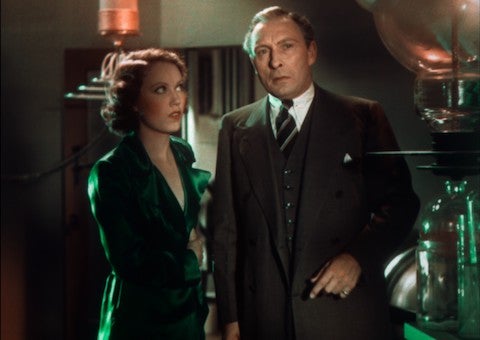 Fay Wray and Lionel Atwill in Doctor X (dir. Michael Curtiz, 1932)


When a rediscovered nitrate Technicolor print of Doctor X (1932) was first restored by the UCLA Film & Television Archive in 1985, then-producer Scott MacQueen detailed this technical achievement in American Cinematographer magazine, writing: "Doctor X has just been resurrected from the only existing color print, allowing general audiences to see this legendary film in its original color for the first time in 53 years. The new print is as accurate as it is compelling."
Now, in 2021, with Scott MacQueen at the helm of the preservation department, the UCLA Film & Television Archive and The Film Foundation completed a new restoration of Doctor X using digital tools never imagined three decades ago. The landmark horror film—restored in association with Warner Bros. Entertainment Inc. with funding from the Hobson/Lucas Family Foundation—is now available on Blu-ray/DVD thanks to the Warner Archive Collection.
For a closer look at the history of this Technicolor marvel and the recent restoration work, here is an interview with Scott MacQueen:


Do you remember the first time you saw Doctor X?
I was probably about nine years old when it aired on Chiller Theatre on channel 11 in New York. For some reason, I was savvy enough to know even then that it had been shot in color. So, I got my folks to drive me over to my grandparents in Connecticut because they had a color TV set. I parked myself down in front of Chiller Theatre and, to my dismay, it was in black and white! It was many, many years later that I learned the whole history of this film.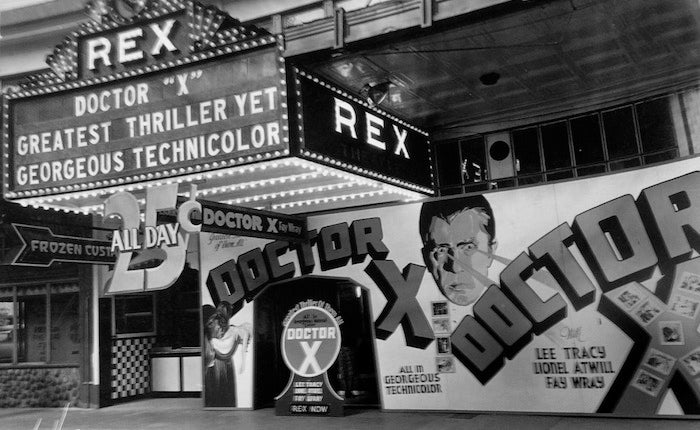 Promotional display for Doctor X at the Rex Theater in Miami, Florida.


How did Doctor X become a "lost" color film?
Doctor X had a couple of strikes against it. It was in the two-color Technicolor process, which was not easily serviceable commercially after three-color Technicolor came in. Then, it had censorship problems, which prevented it from getting a reissue; the Production Code office mainly objected to the theme of cannibalism. As a result, there was no commercial incentive to save the color negative and it disappeared. However, the black-and-white negative survived and was made into 16mm prints for TV syndication in the mid-1950s.
It wasn't until about 1969, when the nitrate Technicolor print was uncovered in studio mogul Jack Warner's personal vault, that Doctor X existed again in color.


Doctor X was a landmark work as the first horror feature made entirely in color. What other contributions did it make to the genre?
In terms of its color, the film made innovative use of specialty lighting. It saves its red and orange colors for its climactic scenes, like when the mad Moon Killer "creates" himself with globs of "synthetic flesh." In another scene where Fay Wray finds her father in the makeshift morgue after the first laboratory murder and they realize that the dead body has been cannibalized, the entire scene is saturated in solid green. Green lighting is traditionally a horror color; it's the antithesis of warm colors, it's unreal.
The film also brought to the Hollywood horror genre the idea of the serial killer, which is now the most common trope in modern horror films—think of Hannibal Lecter. The American love affair with the serial killer began with Doctor X.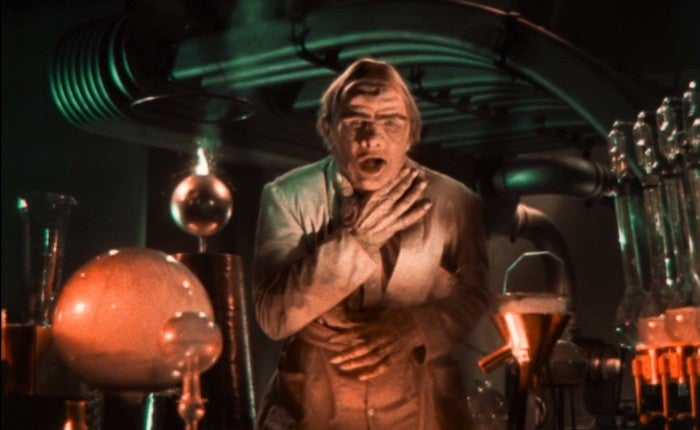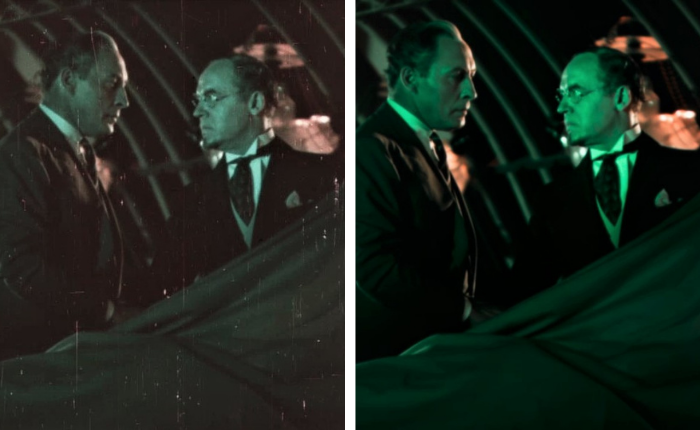 Above: the revealed "Moon Killer." Below: a scene with Lionel Atwill and John Wray before and after restoration work.
Images courtesy of Warner Bros. Home Entertainment.
Why did Warner Bros. also create a black-and-white version of the film?
When I was doing research at the Warner Bros. Archives at USC in 1988, I learned that they had two cameras on set and shot it twice, in color and in black and white. There was a great memo in there from Herbert Kalmus, the president of Technicolor, to Jack Warner. Basically, he was really ticked off when he found out that they were shooting a black-and-white negative of Doctor X. At the time, Warner Bros. had a contract with Technicolor and was eager to end the commitment. Jack Warner's idea was to make a Technicolor negative of Doctor X, thus fulfilling the contract, while producing black-and-white release prints in their own lab to save money. The Technicolor company caught wind of that right away.
Doctor X was actually very well received in color. In the trade papers, exhibitors reported that the color version was a sensation and made a big difference in their box office numbers. The black-and-white version was mainly distributed in Europe. Why didn't Jack Warner recognize the money-making potential of the color version? Possibly because he didn't like horror movies in the first place and the studio didn't have a history of making them.


What were you and our restoration partners able to accomplish with today's digital tools, not possible in 1985?
We went back to the original nitrate print and did 4K scans. We were able to achieve precise color separation, so we could manipulate and balance the colors more carefully, for example: bringing back the soft grey of a felt hat, the neutral color on a topcoat, or getting rid of accrued staining and contamination of the dyes. Those are things that could not be done without digital tools. We were also able to get rid of scratches, paint out bad splices, repair tears and erase the projectionist's multiple hand-slashed changeover cues. One of the more dramatic differences is seen in the scene where the butler and the maid are going down the stairs in the laboratory, when the reel changeover happens (illustrated in the video below).
We were also able to accomplish a different level of sound restoration. We got rid of multiple hums of camera noise, a high level of optical noise, clicks and pops and things. After not having seen it in color for so long, and then the compromised 1985 color copy, it's great to see the corrected version looking so rich and vivid. It's a truly different experience now to see what the Technicolor process could actually do. Its triumph of color design and cinematography now comes front and center.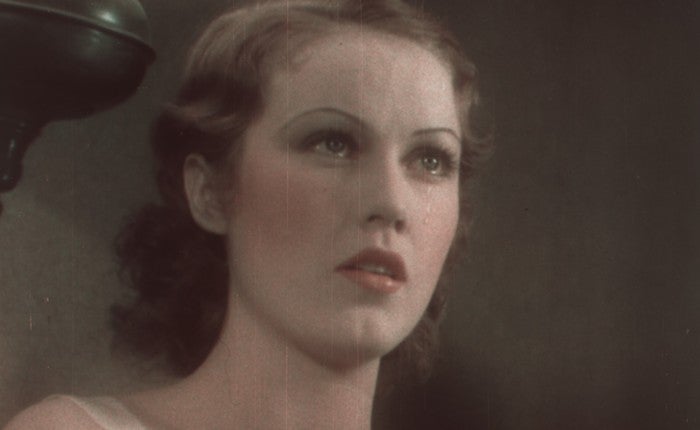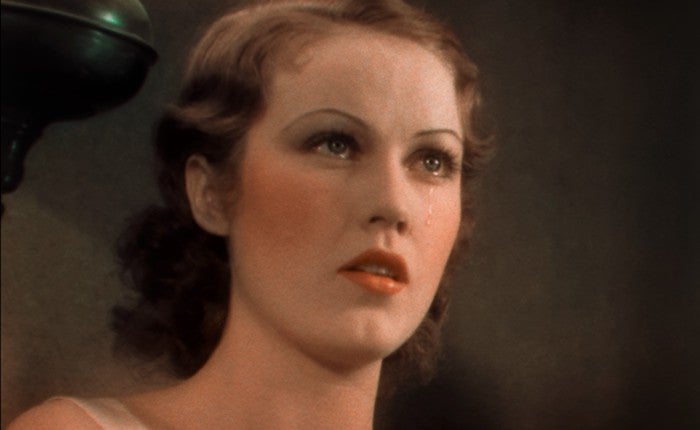 Closeup of Fay Wray before and after restoration work.


Watch restoration clips with commentary by Scott MacQueen on YouTube:


Further reading
Ghastly Grinning: Doctor X (1932) Coming to Home Video: Interview with Scott MacQueen
Archive Blog: Mystery of the Wax Museum, Restored: Q&A with Scott MacQueen
—edited by Jennifer Rhee, Digital Content Manager