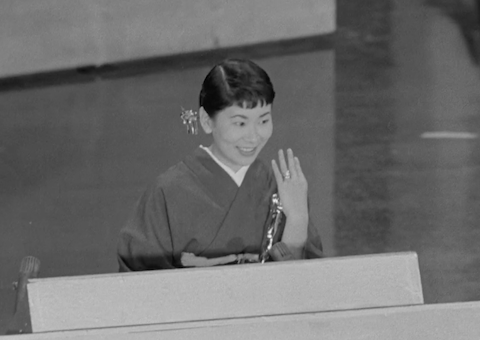 Miyoshi Umeki accepting her Academy Award in 1958


Born May 8, 1929 in Otaru, Japan, Miyoshi Umeki led a multifaceted and historically significant career as one of the few actors of Asian descent to attain prominence in Hollywood motion pictures, television and on Broadway. Today, some of her moving image legacy is archived at the UCLA Film & Television Archive and available for research viewing at the Archive Research and Study Center.**
Drawn to music at a young age, Miyoshi Umeki began her career as a nightclub singer and recording artist in Japan, performing popular American songs that she learned phonetically. Her accomplished vocals and endearing personality landed her a recurring spot on the CBS variety show Arthur Godfrey and His Friends and a contract with Mercury Records in 1955. Her performances on West Coast television earned her a regional Emmy Award for Outstanding Female Personality in 1958. That same year in film, Umeki made history as the first woman of Asian descent to receive an Academy Award, winning Best Supporting Actress for Sayonara (1957). Her next starring role in the stage (1958) and film (1961) adaptations of Flower Drum Song also broke new ground: it was the first Broadway musical to feature a predominantly Asian and Asian American cast, and garnered Umeki a Tony Award nomination. Following the success of Flower Drum Song, it was announced in trade papers that Umeki would star in a Universal picture about her own life, titled Eleven is Heaven (referencing Umeki's upbringing as an 11th child), but ultimately it did not make it to the screen.
After years of struggling to find parts in film, Umeki co-starred in the ABC sitcom The Courtship of Eddie's Father (1969-1972), which was one of the first American primetime TV shows with an Asian or Asian American leading role. For three seasons on the Emmy-nominated program, Umeki portrayed the beloved housekeeper and moral and emotional pillar to a single-parent family, before retiring from the screen.
Early recording of Umeki, billed as Nancy Umeki in Japan, singing "Sayonara" (YouTube)
 
Excerpt from The Courtship of Eddie's Father (Warner Archive)

Umeki's career was often limited to shallow, stereotyped roles (the overly docile "Oriental" doll), but she brought significant visibility to Asians across industries and a degree of dignity to her characters rarely afforded to Asians in Hollywood before and during World War II. Newspapers singled out Umeki's talent and charisma and recognized the resilience behind the five-foot-one frame: "Her appearance may be fragile but her strength is that of ten" (New York Herald Tribune, February 8, 1959). "Miyoshi Umeki has a look of melting submissiveness in her screen roles, but there is also a streak of fierce determination in her makeup" (Boston Globe, July 12, 1970).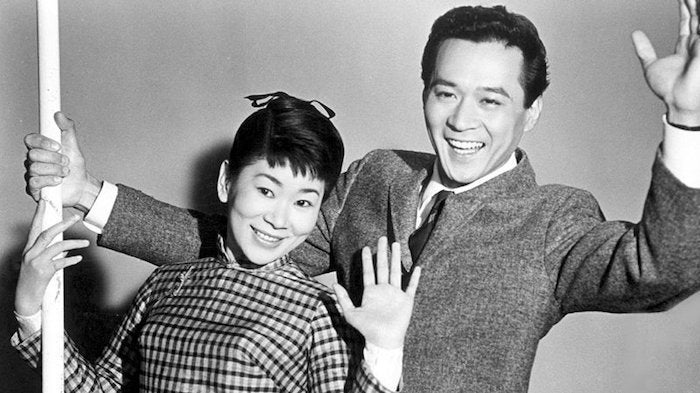 Umeki and James Shigeta in a publicity photo for Flower Drum Song (1961)


At the UCLA Film & Television Archive, Umeki's trailblazing career is most extensively represented in the John H. Mitchell Television Collection, including The Courtship of Eddie's Father, the anthology program Hallmark Hall of Fame, and variety shows such as The Andy Williams Show, The Dinah Shore Chevy Show and The Ford Show that featured her singing talent. The collection also includes an episode of The Mike Wallace Interview with Umeki, which aired on national primetime TV in 1959 and is now available for viewing on the Archive's YouTube channel. The interview offers insight into Umeki's family and pre-fame life, but, unfortunately, Mike Wallace's preoccupation with her Japanese nationality and cultural differences leaves little to glean about her experiences as a leading woman of the screen and stage.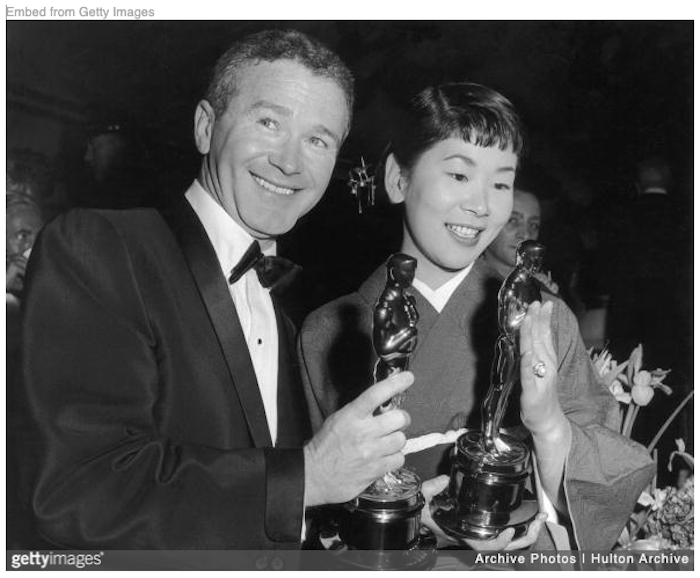 Sayonara co-star Red Buttons and Umeki at the Academy Awards (Getty Images)


A newly digitized 35mm newsreel from the Archive's Hearst Metrotone News collection documents Umeki's historic Oscar win for Best Supporting Actress for Sayonara (1957) at the Pantages Theatre in Hollywood. Set in post-WWII Japan, Sayonara tackled the controversial subject of interracial romance through its story of white American servicemen (Marlon Brando and Red Buttons) who fall in love with Japanese women (Miiko Taka and Miyoshi Umeki), but are met with prejudice and barriers created by the U.S. military and anti-Asian immigrant laws. The Warner Bros. film was a critical and box-office success that earned 10 Academy Award nominations and made Umeki a widely recognized star.
Newsreel from the Archive's Hearst Metrotone News collection
—Jennifer Rhee, Digital Content Manager

**Please note: the Archive Research and Study Center is currently closed due to UCLA's response to COVID-19. Subscribe to the Archive's email newsletter for updates on reopening and learn how to plan a research visit to view available titles in the future.