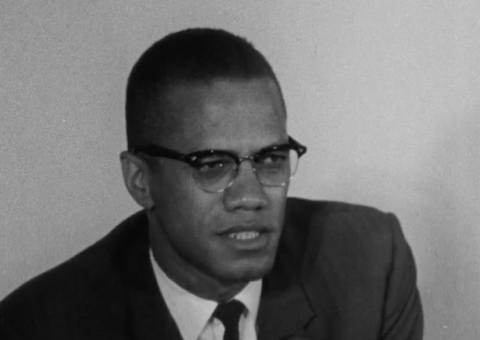 Malcolm X speaking in Los Angeles


On April 27, 1962, a confrontation initiated by Los Angeles Police Department officers against members of the Nation of Islam (NOI) at their Mosque No. 27 (located near downtown Los Angeles) turned deadly. What began as police harassment of two NOI members (falsely suspected of selling stolen clothing) escalated when officers used a racial epithet and attempted to place one of the men in a chokehold. Amid the physical struggle, NOI members inside of the mosque rushed outside to assist. 70 LAPD officers were ultimately deployed to the melee, where they conducted a brutal raid of the mosque. Unarmed NOI member Ronald Stokes, a Korean War veteran, was shot and killed by police from behind as he reportedly held his hands up in the air. Six other unarmed Muslims were shot by police, including William X Rogers, who was left paralyzed from a bullet wound to the back.
In the direct wake of the violent police attack, New York-based NOI minister and human rights activist Malcolm X, founder of Los Angeles' Mosque No. 27 in 1957 and a friend of Stokes, rushed to L.A. On May 4, 1962, Malcom X held a press conference at the Los Angeles Statler-Hilton Hotel to bring international attention to the deadly LAPD actions and the gross mischaracterizations of events in the press by LAPD Chief William H. Parker. Unedited and unidentified footage obtained from the Los Angeles City Archives contains substantial excerpts of what appears to be the Statler-Hilton Hotel press conference. The footage documents Malcolm X fielding questions from reporters, and directly assailing the racism and extreme brutality of the April 27, 1962 raid. In his remarks, Malcolm X presents graphic photos that illustrate the fatal injuries inflicted upon Stokes by police. The next day, May 5, Malcolm X delivered a powerful eulogy to an estimated crowd of 2,000 at a memorial service for Stokes, which was held at Mosque No. 27.


Footage includes graphic language and images. 
This historic footage came to the UCLA Film & Television Archive from the Los Angeles City Archives, via City Archivist Michael Holland. UCLA digitally scanned the single 16mm composite reel for preservation and access purposes; the original print was returned to the Los Angeles City Archives. The footage itself was likely shot by the news division of a Los Angeles local TV station—presumably originally obtained by the LAPD for intelligence gathering purposes. The 16mm composite reel includes additional footage (omitted here) of Nation of Islam leader Elijah Muhammad speaking at an unrelated press conference in Los Angeles in 1961 as well as extended, surveillance-style footage of members of the Black press attending one or both of the press events.
—Mark Quigley, John H. Mitchell Television Curator


For more details and context on the tragic events of April 27, 1962 in Los Angeles, review this New York Times excerpt of the Pulitzer Prize-winning book Malcolm X: A Life of Reinvention by Manning Marable.
Footage courtesy of Los Angeles City Archives. For licensing queries related to this footage, please contact L.A. City Archivist Michael Holland at michael.holland@lacity.org.