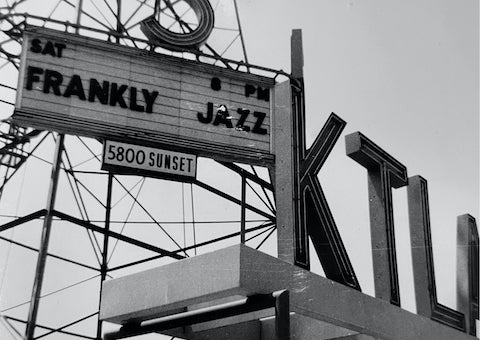 KTLA Channel 5 in Los Angeles


On Thursday, May 6, 2021, the Archive's Virtual Screening Room presents three preserved episodes of the local, Los Angeles-based music program Frankly Jazz from 1962. The series was hosted and co-produced by noted disc jockey Frank Evans—known for his laid-back cool, deep musical knowledge and trademark sign-off, "later." To help illuminate the man at the center of the series, UCLA's Television Archivist Mark Quigley interviewed Lance Evans, son of the late Frank Evans.


How did your father, Frank Evans, begin his career in broadcasting?
Lance Evans: Born in 1917, my father was raised in the Philadelphia area and worked his way to New York City as a college student, studying dramatic arts at NYU. He gravitated to theater for a bit, but then was hired at NBC in New York, first as an intern and then a radio news assistant. He was clearly taken with broadcasting. With his new bride, he headed to Ft. Myers, Florida, where he began his career in earnest at radio station WFTM. His next move was to WDNC in Durham, North Carolina, followed by KYW in Philadelphia, and KSFO in San Francisco, where he covered V-J day (1945). There, he worked with actor Jack Webb, which led to Frank being cast as a detective in the original Dragnet TV series. After a job as Station Manager of KSBR in San Bruno, California, Frank and the family headed to Los Angeles in the early '50s, where Frank worked as a disc jockey at KHJ and KDAY before being hired by KRHM (1957-1964). Jazz was now his specialty and he received city-wide acclaim as one of the top DJs in his field. Frankly Jazz was the title of his radio (and later TV) show and ultimately became his signature. He was also known for his other radio programs that were also a play on his name, like "For Evans' Sake" and "Frankly Speaking."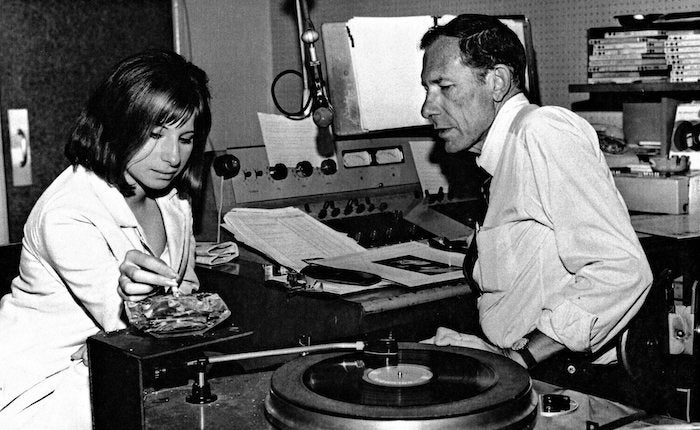 Radio guest Barbra Streisand and Frank Evans
 
How did your father become interested in jazz and who were his favorite artists?
Lance Evans: Family lore has it that he led a jazz combo in high school (playing the drums), which no doubt propelled his move to New York City, where the jazz scene was happening. During the early 1960s, Frank stayed current on the local jazz scene in Los Angeles and was a regular at live jazz clubs, including The Lighthouse Cafe in Hermosa Beach and drummer Shelly Manne's Manne-Hole club in Hollywood. In terms of Frank's favorite artists, the names that come to mind are very "Rat Packy"... during his KRHM radio and Frankly Jazz television period, my father was enamored with both Frank Sinatra and Sammy Davis Jr. When Sinatra was heavily criticized for hiring a supposed communist sympathizer, my father spent the entirety of his radio show playing only Sinatra. And in the late '60s, Frank Evans worked closely with Sammy Davis Jr., producing a radio show for him out of Las Vegas. I also remember a "Dizzy for President" bumper sticker on his very cool Rometsch sports car. Dizzy Gillespie may have also been a favorite.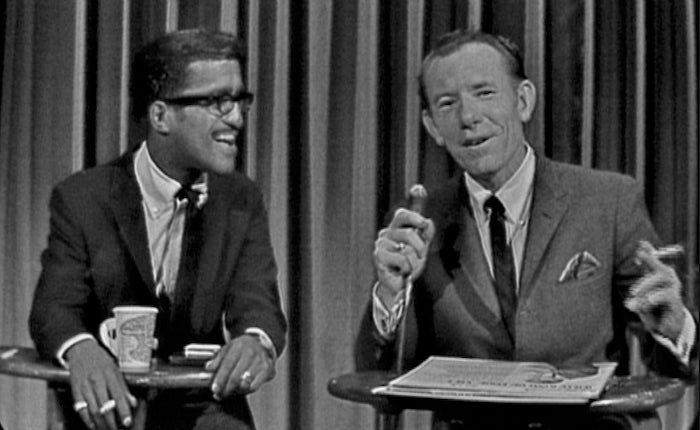 Guest performer Sammy Davis Jr. and Frank Evans on KTLA's Frankly Jazz


What was your father's experience in making Frankly Jazz and how did the show come about?
Lance Evans: The exact start-up of the show is not clear to me, but he likely had a close relationship with Dick Bock of Pacific Jazz record label. A great many of the artists featured on the television show were Pacific Jazz musicians. The popularity of Frankly Jazz the radio show was also instrumental in forming the KTLA program.
On the TV show, Frank had a connection to the artists and showed his appreciation for them. In addition to loving the music, he took great pride in the camera work and regularly complimented the technical staff on air. On what appears to be the last recorded Frankly Jazz episode, featuring Shorty Rogers and His Giants, Frank spends a few extra moments at the end to thank KTLA management, Dick Bock of Pacific Jazz, the musicians, and the incredible technical crew. He appears hopeful for another season.
Pictured, right: a letter from composer and musician Henry Mancini to Frank Evans.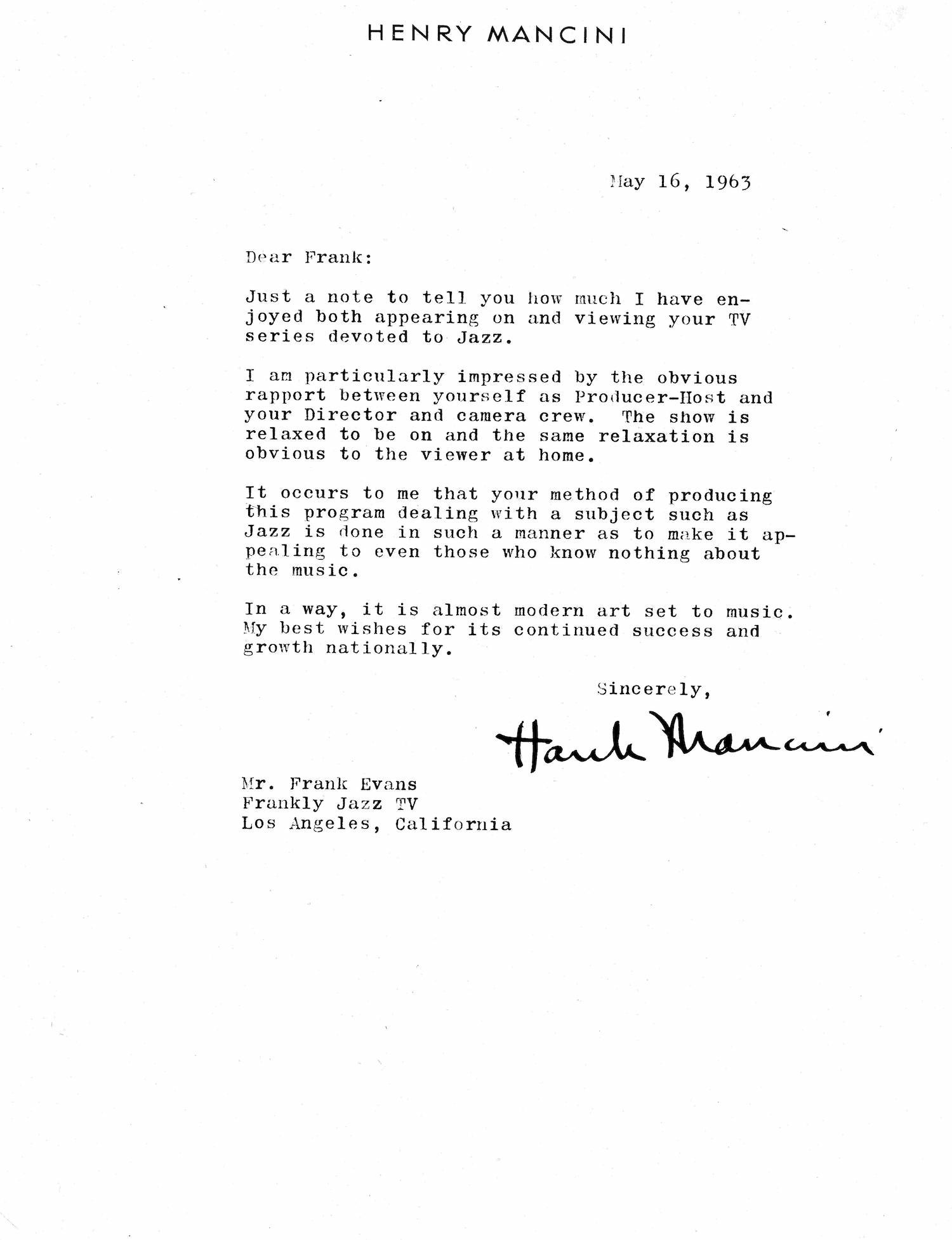 What did your father consider to be his career highlights?
Lance Evans: The KTLA program Frankly Jazz and the exposure provided by the KRHM radio show were the absolute solid foundations for establishing himself in the Los Angeles market, both as a jazz host and as a media figure in radio and TV. He also appeared in many episodic TV series in bit parts, to say nothing of commercial voice-overs and other related professional endeavors.
Frank was proud to feature his other son, my brother Peter Evans, as a guest artist on Frankly Jazz. Peter is an accomplished flamenco guitarist and studied music in Spain. My father said that he felt flamenco was similar to jazz in that it is improvised within cultural and musical parameters.
Later in his career Frank worked on occasion at KSRF, which featured an easy-listening format. The station was located in the lobby of King Neptune's Kingdom at Pacific Ocean Park (a local amusement park). Frank moved on to KGBS, which was the leader in country music in Los Angeles radio, but Frank's shows featured recorded comedy albums—a new addition to the station. His Los Angeles broadcast career ended at KFI, where he gracefully segued to the all-news station as a reporter and commentator. He died in 1973 at the age of 56. Jazz was his life.


Please join us on May 6, 2021, for the Archive's Virtual Screening Room presentation of three preserved episodes of Frankly Jazz. Learn more and RSVP.
Edited for length and clarity by Digital Content Manager Jennifer Rhee. Images courtesy of Lance Evans.