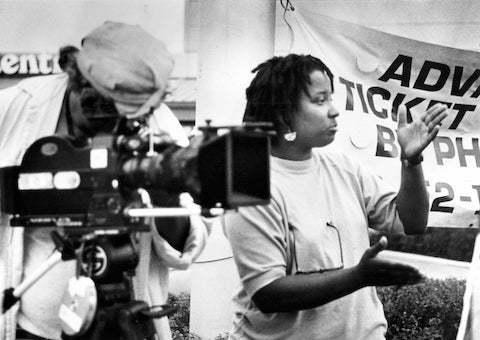 Filmmaker Zeinabu irene Davis (right)


In celebration of Black History Month, our staff members recommend streaming options that showcase some of the many Black artists and storytellers who have brought their singular visions and experiences to the screen, from the dawn of the film industry to contemporary television. Subscribe to our email newsletter to receive our streaming picks and other updates from the Archive.


Matt Hewitt, Collections Coordinator
A Rage in Harlem (1991, free on Tubi and Hoopla): A hyper-saturated and ultra-violent period crime film, Bill Duke's A Rage in Harlem strikes a balance between being gravely authentic and comically lurid. Loosely based on a Chester Himes novel of the same name and set in 1950s Harlem, the film is packed with memorable characters and animated performances. The juiciest roles might be a toss-up between Forest Whitaker's hapless momma's boy and Danny Glover as a Pomeranian-coddling ganglord. Elmer Bernstein's evocative music underscores the setting and anchors the (gleefully) excessive elements. After years of TV directing, Duke's first theatrical release is self-assured and chock full of the kind of vivid visuals, offbeat dialog and clean storytelling that define his output, particularly his crime films. The choreographed mayhem of the opening scene wonderfully sets the tone for the ride to follow, and beyond a few hapless hicks in the aforementioned sequence, it's an all-Black genre film that makes concessions to no one.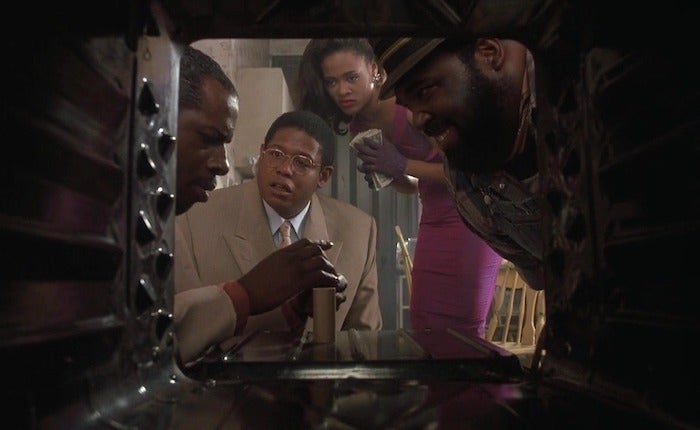 A Rage in Harlem


Miki Shannon, Film Preservationist
The Sty of the Blind Pig (1974, on BroadwayHD and Amazon Prime, free trial available): Originally produced by the Negro Ensemble Company and honored by Time magazine as one of the year's 10 best, Phillip Hayes Dean's play tells the story of a bossy mother, Weedy (Maidie Norman), her unmarried daughter, Alberta (Mary Alice), and raffish Doc (Scatman Crothers), who live in 1950s-era South Side, Chicago. When Blind Jordan (Richard Ward), a wandering street singer, arrives, Alberta is forced to confront her loneliness and her relationship with her mother. Director Ivan Dixon, best known as one of the few Black actors with a supporting role in a 1960s TV series (Hogan's Heroes), often lent his creativity to socially relevant productions like Nothing But a Man (1964) and The Spook Who Sat by the Door (1973), which are both on the National Film Registry. Dixon served as President of Negro Actors for Action and throughout his career worked for better roles for himself and other Black actors.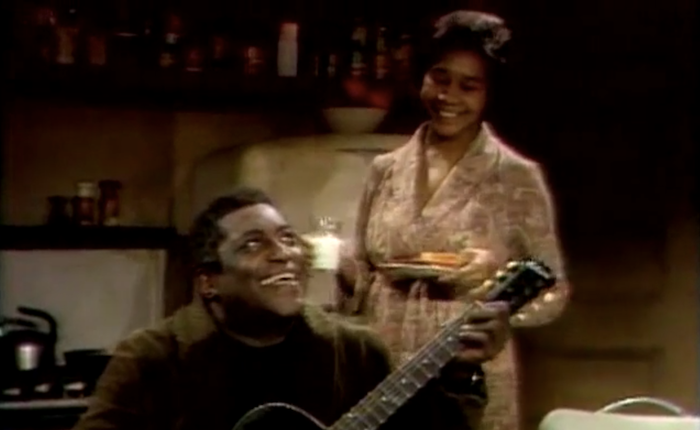 The Sty of the Blind Pig


Paul Malcolm, Film Programmer
Compensation (1999, on The Criterion Channel): A major figure of the L.A. Rebellion, writer-director Zeinabu irene Davis foregrounds the experiences of Black women in a restorative cinema of which her debut feature, Compensation (1999), is a powerful, multilayered expression. Inspired by a poem by Paul Laurence Dunbar, it tells parallel love stories set in Chicago at the beginning and end of the 20th century. In each, a deaf woman (played by deaf actress Michelle A. Banks) is drawn to a hearing man (John Earl Jelks) across intersecting differences of ability, culture and class. Davis rises to the challenge herself by making a film accessible to the Deaf and the hearing through the use of sign language and intertitles. This evocation of silent film form, along with the film's shimmering black-and-white photography and recurring archival photo montages of Black life, suggests the gaps in the cinematic record—historical and contemporary—that Davis seeks to fill in telling these women's stories in all their intimate complexity.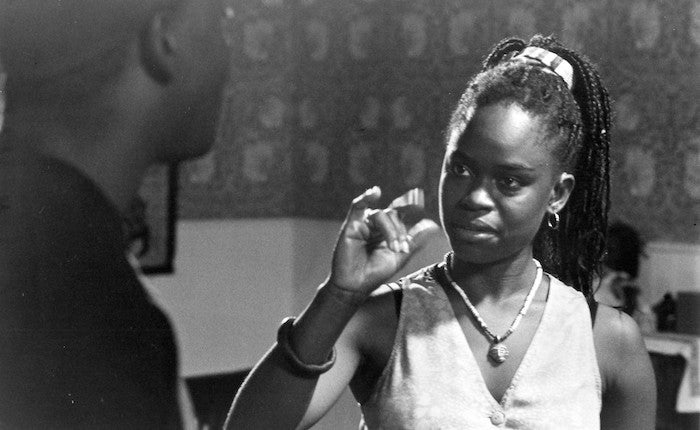 Compensation


Staci Hogsett, Collections Assistant
Chewing Gum (2015, on HBO Max): Michaela Coel, who you may know from her recent show I May Destroy You (2020, on HBO Max), also wrote and starred in Chewing Gum, a semi-autobiographical British comedy. The show centers on the life of 24-year-old Tracey, who lives in a council estate in London with her evangelizing mother and sister, and a cast of other colorful characters from around the neighborhood. The first episode begins with Tracey on a desperate mission to lose her virginity and, as the show goes on, she finds herself in the midst of even more absurd and hilarious scenarios. While many movies and shows depict public housing communities as centers of crime and drama, Coel's estate is sunny, supportive and, as we see Tracey grow and mature through the two seasons, so does her love and appreciation for her friends and family in this community.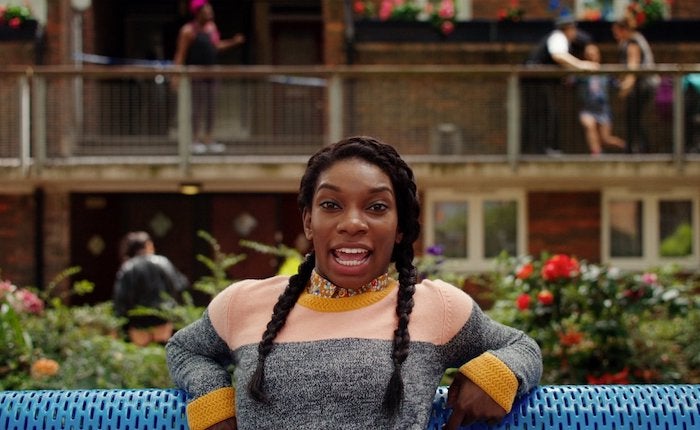 Chewing Gum


Maya Montañez Smukler, Archive Research and Study Center Officer
Blacks, Blues, Black! (1968, free through San Francisco State University's digital collection): In 1968, Maya Angelou wrote, produced and hosted Blacks, Blues, Black! for San Francisco's KQED/PBS, a series in which she explores the question: "What is Africa to me?" Angelou, who lived and worked in Africa during the 1960s and spent several years in Ghana, conceived of the program as a forum to celebrate and educate audiences on the transnational connection between African and American cultures. In each episode, Angelou, wearing an exquisite traditional African dress, begins a conversation that threads together poetry, song, dance and archival materials with philosophical discourse and historical narration. Her guests are local and internationally renowned: Angelou tours Watts with scholar Mary Jane Hewitt, interviews B.B. King, and sings with the Kas Bonsieh Quartet, the Heavenly Tones Gospel Singers and the Jimmy Ed Trio. San Francisco State University film archivist Alex Cherian rediscovered the material in 2009, which even Angelou had considered lost for decades.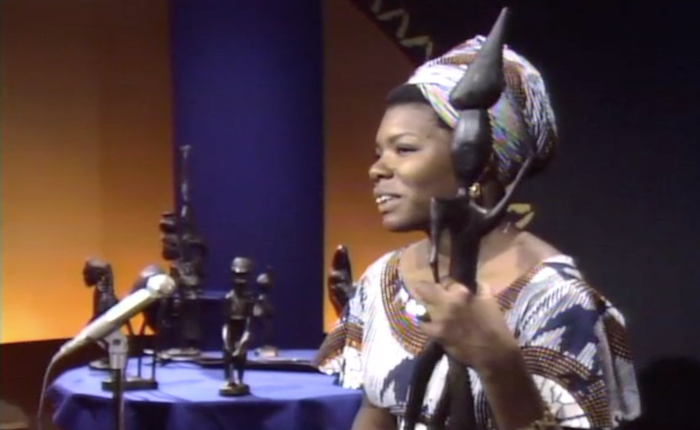 Blacks, Blues, Black!


Steven K. Hill, Assistant Motion Picture Archivist
Body and Soul (1925, on The Criterion Channel, free on Kanopy through participating libraries): In his 1925 feature film, pioneering African American filmmaker Oscar Micheaux turns a critical eye towards the institution of religion, creating a stark exposé on how spirituality can be abused by unscrupulous individuals hellbent on misleading and victimizing their vulnerable congregations. Famed actor and singer Paul Robeson made his motion picture debut in the film, playing the dual role of twin brothers—the scheming, alcohol-guzzling, sexual predator Reverend Jenkins, and his honest and hardworking sibling, Sylvester. Tragic consequences arise when both brothers pursue Isabelle (Julia Theresa Russell), a young woman whose devout mother (Mercedes Gilbert) is blinded to the Reverend's evil deeds by her misplaced faith. Only three of Micheaux's 22 silent films are known to survive today, and Body and Soul has been selected by the Library of Congress for inclusion in the National Film Registry for being "culturally, historically, or aesthetically significant."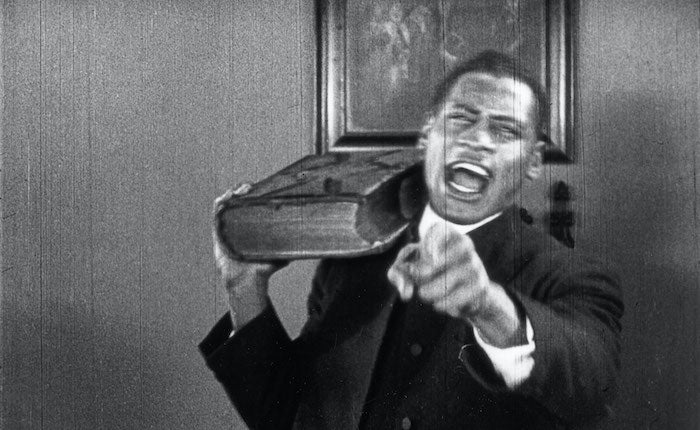 Body and Soul