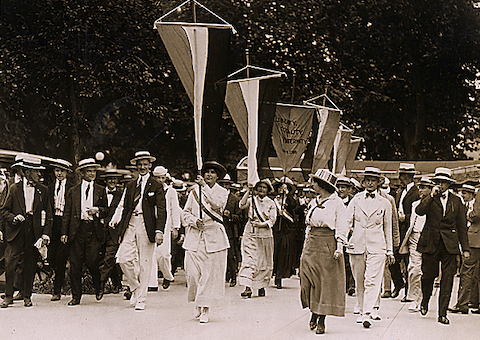 Suffragists picket the White House in 1917. (National Archives)


One of the resources that the UCLA Film & Television Archive frequently relies on and recommends to students and scholars interested in moving image history research is the American Film Institute (AFI) Catalog. Guest writer Sarah Blankfort Clothier, Manager of the AFI Catalog, discusses her recent project, "Women They Talk About," and how to use the AFI Catalog to search American silent films about the women's suffrage movement. This blog was made possible by the Myra Reinhard Family Foundation.
The AFI Catalog has been rapidly expanding its stores of information regarding the foundational influence of female filmmaking in the silent era—and making it accessible for free at AFI.com. Behind the camera and in front, women were prolific contributors to the establishment of narrative cinema, but their names have been widely omitted from historical documentation until now. Women were also the primary consumers of silent film, and movies were often geared toward female audiences, leaving us a wealth of suffrage-themed titles to explore from a century-old vantage point.
These stories and many others have been uncovered through AFI's "Women They Talk About" initiative, which is funded by the National Endowment for the Arts and will be formally launched in 2022. Named after a lost 1928 picture about a widowed socialite who campaigns for Mayor against her high-school sweetheart, the project uses scholarly research, database analytics and vast dissemination, including curricular resources and festival programming, to bring female filmmakers into our cultural vernacular and ensure they are indeed women we talk about.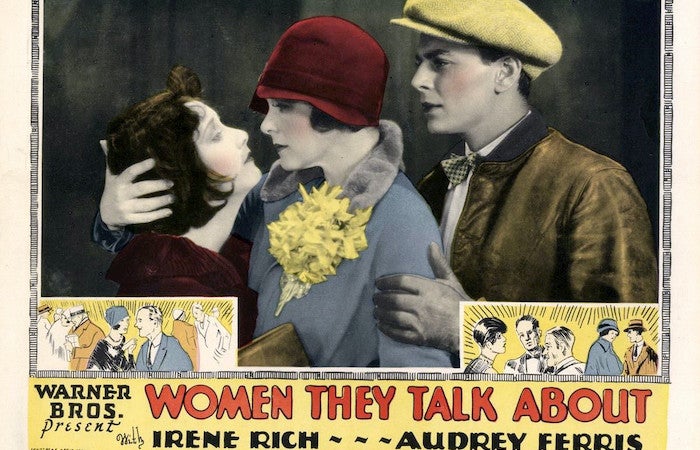 Women They Talk About (1928)


The AFI Catalog database is a mass collection of stories: the stories seen on screen by audiences of the day, described as plot synopses, as well as the stories behind how the films were made, which are detailed in historical essays about all aspects of production. These narratives also break down into specific, indexed and easily searchable data (including credits, physical properties, genres and subjects, and locations) that has been vetted by professionals for over 50 years, making the AFI Catalog the world's gold standard for film information. As a treasure trove of big data for the first 100 years of American releases (1893-1993), the AFI Catalog stands as a free and open gateway for digging up the past and making new discoveries—a tool to expand the canon well beyond the extensively celebrated white male auteurs who have been given thorough representation in our history books. Still, its resources have been relatively untapped outside of academia until now.
AFI welcomes all who are curious to mine its database and uncover the true story of women's influence in early cinema, including movies about women's suffrage that were made before and after the 19th Amendment was ratified into the Constitution 100 years ago. On the AFI Catalog homepage, which changes monthly to spotlight curated content, use the search dropdown to select "Movies by Subject" and enter "Suffrage." Other options support searches by title, release year or filmmaker. In search results, the left-hand column can be helpful in narrowing the list by year, production company and genre—yes, there are suffrage westerns, sci-fis and musical comedies.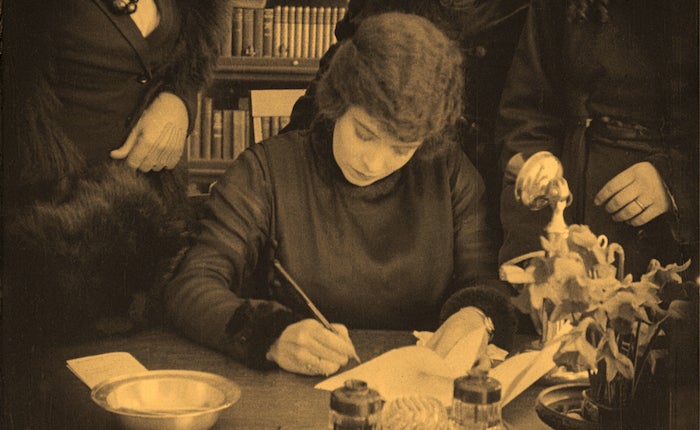 Mothers of Men (1917). Available for free viewing through the San Francisco Silent Film Festival.


AFI has augmented its collection of suffrage-related movies to provide a more complete account of how motion pictures portrayed this monumental moment in American history. Beginning in roughly 1909—over 10 years before women won the right to vote nationally—suffrage was one of the most popular themes in early film narratives, and production companies reaped the financial benefits at the box office. While suffragists advantageously harnessed the power of visual media to promote their cause with newsreels and documentaries such as Eighty Million Women Want—? (1913), featuring footage of real-life suffragists Emmeline Pankhurst and Harriot Stanton Blatch directly addressing the audience, or serious melodramas that championed suffrage such as Mothers of Men (1917), many more were short comedies that lampooned the movement with slapstick humor. To deride the suffragists and mock gender stereotypes of the day, male characters would cross dress and mayhem ensued, such as in A Busy Day (1914) with Charlie Chaplin (his first in drag). Even female filmmakers found absurdity in the suffragists, such as scenarist Anita Loos, who spoofed Emmeline Pankhurst as "Mrs. Spankhurst" in A Cure for Suffragettes (1913).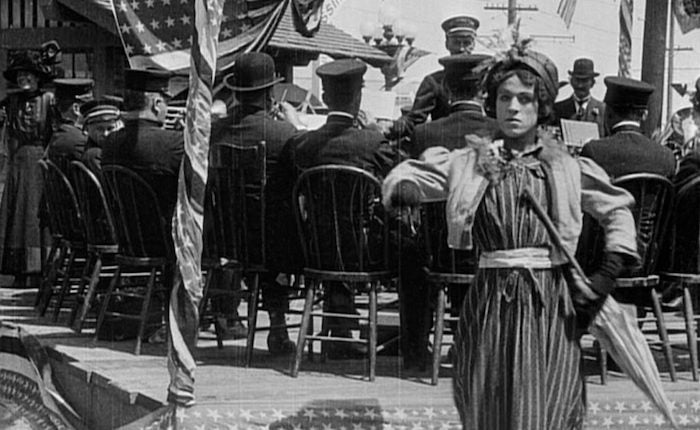 A Busy Day (1914)


Other extant titles are available at the UCLA Film & Television Archive, including one of Thomas Edison's first releases from his company's trip to England, A Suffragette in Spite of Himself (1912), and a battle-of-the-sexes satire from an unknown studio, titled A Lively Affair (1912). While both comedies took a swipe at the early suffragists, Edison's parody of the female British militants was unusually focused on a male adversary of the movement. When a disapproving gentleman unknowingly has a "Votes for Women" sign attached to his back by a gang of street urchins, he runs amok and his frenzy of mistaken identity provides a counterpoint to the cliché of female "hysteria." A Lively Affair similarly plays with role-reversal, depicting pantaloon-attired women who hoist their infants—and their domestic duties—onto their husbands as they leave home for suffrage meetings and poker games, the latter resulting in imprisonment. The husbands take revenge on their wayward wives by defiantly parading past the suffragists behind bars, babies in tow, reminding the women of their infraction against the presumed social order.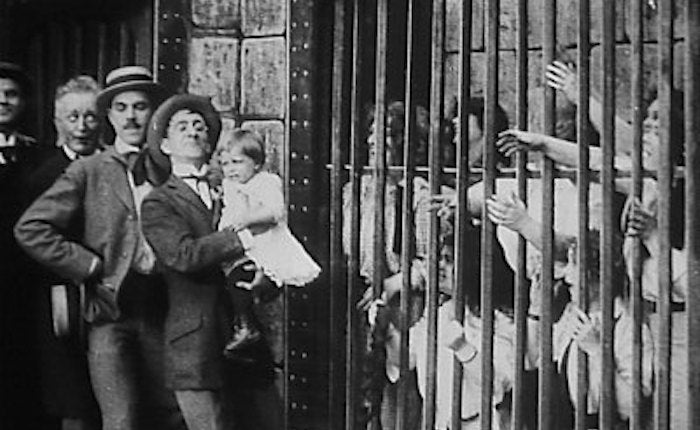 A Lively Affair (1912)


Consistently representing the white middle class, suffrage films notably used the diminutive form of suffragist in their titles, adding "ette," to diminish women's fight for equality and to punch up otherwise mundane movie topics. At a transformational moment in American culture, movies turned to suffrage as a means to attract audiences and to collectively imagine a new civilization on the horizon.
—Sarah Blankfort Clothier, AFI Catalog Manager

Please note: the UCLA Film & Television Archive's Research and Study Center is currently closed due to UCLA's response to COVID-19. Subscribe to the Archive's email newsletter for updates on re-opening and learn how to plan a research visit to view available titles in the future. A selection of rare newsreel footage of the U.S. women's suffrage movement is available for free viewing on our YouTube channel.