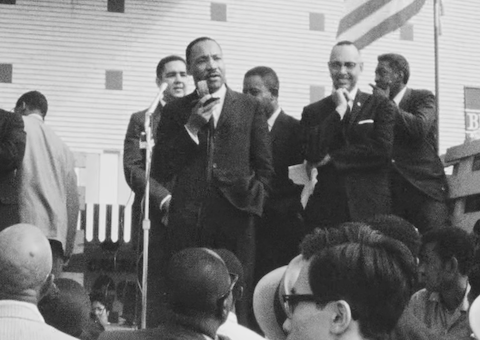 Today, October 27, marks the World Day for Audiovisual Heritage, established by UNESCO to raise global awareness of the vulnerability of audiovisual media. This year's theme, "Window to the World," emphasizes the importance of safeguarding the documentary heritage materials that allow us to witness events and hear voices from the past.
It's also the day that, 56 years ago, Rev. Martin Luther King Jr. visited Los Angeles to urge people to vote in the 1964 presidential election. King, who had just been named the winner of the Nobel Peace Prize for his commitment to nonviolent resistance, embarked on a cross-country get-out-the-vote campaign in support of incumbent Democrat Lyndon B. Johnson. Republican challenger Barry Goldwater opposed the Civil Rights Act of 1964 in favor of states' rights and represented, for King, a setback for the civil rights movement and "a great dark night of social destruction" (Los Angeles Times). King also advocated for more African American representation in Congress and spoke against ballot measures that would perpetuate discrimination. To vote was not only a civic duty, it was a moral imperative.
King's whirlwind trip to Los Angeles included a visit with the residents of a low-cost housing project at 112th St. and Compton Ave., an African American fraternal organization, Carver Middle School, Jefferson High School, McCoy Memorial Baptist Church, Los Angeles City College, South Park at 51st St. and Avalon Blvd., and The Boys' Market at Rodeo Pl. and Crenshaw Ave. The UCLA Film & Television Archive holds KTLA News outtake footage of King speaking to a mostly African American crowd outside the now-gone Boys' Market. As Americans head to the polls in 2020, King's message feels as current today as it did then.
"Each of us has a moral responsibility, if we are of voting age and if we are registered, to participate in that decision," King said to the crowd. "I come here to urge every person under the sound of my voice to go to the polls on the 3rd of November and vote your convictions."
"In these days of emotional tension, when the problems of the world are gigantic in extent and chaotic in detail, all men of good will must make the right decisions."
"We must decide next Tuesday whether America will take the high road of justice and peace, compassion for the poor and underprivileged, or whether this nation will tread the low road of man's inhumanity to man, of injustice, of short-sightedness."



About the KTLA Newsfilm Collection at UCLA Film & Television Archive
The Archive holds extensive 16mm footage of local and national news produced by KTLA from circa 1958 to 1981. The collection documents significant political, social and cultural moments, such as: Robert Kennedy in Los Angeles in 1966, stories about the Vietnam War, the Apollo missions, the career of former mayor Tom Bradley, the women's movement, and activism by African American, Asian American, Chicana/o, Latina/o and LGBTQ communities. This footage may be licensed for new media productions and will be available for on-site research when appointments resume at the Archive Research and Study Center. Approximately 180 KTLA news stories are available for free viewing online.

—Jennifer Rhee, Digital Content Manager